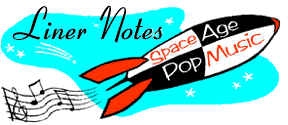 ---
For the authentic space age pop experience, these notes should be printed on the back of a slightly worn album cover, preferably with a suitably retro or exotic cover featuring a Playtex model holding (or, in the case of a Bob Thompson album, sitting in) an oversized Martini glass. But then, you would also have to be wearing a cardigan, smoking a pipe, and relaxing in front of your Admiral stereo console set while the little woman busies herself fixing your evening steak and potatoes.
Wake up, bud. Get used to life in the world of virtual nostalgia, and read on to learn more about the superb Space Age Pop Music Broadcast from the web's most dedicated booster, Basic Hip.
Pete Rugolo, "For Hi-Fi Bugs," Music for Hi-Fi Bugs

Ah, Hi-Fi. For you young uns, Hi-Fi was that short but stylish marriage of technology and culture that went the way of Reno when true love arrived in the form of stereo. It was mono at its greatest, when an arranger and his group had just one channel to focus all their energies on. As the title of this piece and the album indicates, Mercury Records was playing to audio aficionados with a serious case of mono macho. But for Rugolo, this and his other Mercury albums were experiments in harmony and orchestration no serious band leader or studio producer would have let him get away with.

Mat Mathews, "One, Two, Button Your Shoe," Swingin' Pretty and All That Jazz

Legit jazz history has paved over guys like Mat Mathews. For one thing, he played an accordion. Reason enough not to mention him. For another, he was from the Netherlands. No such place on the jazz map. And finally, he played subtle, tasteful, and light-hearted music that most of its audience used like acoustic air freshener. The guys who played this stuff dug the crap out of it--it was fun and required them to tuned up and tight.

Jerry Byrd, "Bird of Paradise," Byrd of Paradise

The steel guitar is a foundation of 20th century Hawaiian music. The Hawaiians learned about the steel guitar from early country music 78s, and country music returned the compliment by covering a bunch of Hawaiian (and imitation Hawaiian) tunes. So it's only logical that Nashville country steel player Jerry Byrd was able to cut an authentic Hawaiian album years before he ever got the chance to visit Hawaii. Well, as critic Lionel Trilling pointed out years ago, even the term "authentic" is something of an invention.

Muzzy Marcellino, "The Hukilau Song," Whistling on the Beach at Waikiki

Muzzy Marcellino had the lightest luggage of any working musician in Hollywood: his AFMU Local card and his lips. As Basic Hip's superb Online Guide to Whistling Records shows in loving detail, Muzzy and others brought to records a sound no synthesizer has a prayer of reproducing. There were finer virtuosi of the pucker, but Muzzy's toot is probably the one imprinted on your cultural DNA, since he stayed off the road and in the radio, television, movie, and recording studios for the better part thirty years.

Bob Rosengarden and Phil Kraus, "Mr. Ghost Goes to Town," Percussion Playful and Pretty

In contrast to Muzzy, Bob and Phil required a moving van and half the inventory of Carroll Bratman's instrument rental service when they cut this album. Originally recorded for RCA's "Stereo Action" series, this album came out just a little too late to catch the great wave of percussion showcase music, but with two of NYC's most proficient and discriminating studio percussionists (and life-long friends) in charge, this may well be the best of the batch. A regular mention on space age pop fans' Top Ten lists.

Les Baxter, A Night with Cleopatra, The Primitive and the Passionate

Had he been born fifty years earlier, Les Baxter could have fit in right beside Debussy and Stravinski--or at least Ketelbey and Delius. Instead, Baxter had to take on the guise of a popular recording artist to find an outlet for his impressionistic musical sketches. Luckily, he picked the right time to do that, and with strong support from his main labels, Capitol and Reprise, he released a remarkable number of albums with an equally remarkable number of original compositions between 1950 and 1964, when the market seemed to dry up and he was forced to scrape along as a film composer. This piece, from late in that period, is a choice sample of Baxterian tone painting.

Bert Kaempfert, "Afrikaan Beat," Afrikaan Beat

Bert Kaempfert belies the myth that German pop music is an oxymoron. The guy was huge in the 1960s, not only with his own instrumentals, but with musicians all over the planet falling over each other to cover his songs. This number, one of his earliest hits to make it across the Rhine, is a perfect example. In an odd musical migration, "Afrikaan Beat" became one of the seminal melodies in Jamaican reggae (although almost never under its original title)--and still is, as a quick listen to Yami Bolo's "Put the Weapon Down" will show.

Gene Rains, "Danse Arabe," Lotus Land

After Martin Denny blazed the exotica musical trail with his albums of the same name, just about every other Hawaiian (or would-be Hawaiian) cocktail pianist found record labels ready with a contract. One of these, Gene Rains, is something of a space age pop mystery, having left little trace but his three albums for Decca. His style--more delicate and subtle than most--betrays some classical training. But from where? And where did he go after Lotus Lands? Any clues would be appreciated.

Phil Moore, "Cold Water Flat," New York Sweet

Phil Moore's stock in trade was making singers sound better than they really were--as a vocal coach, accompanist, and arranger. But he also liked to try his own creative talents out once in a while, and was good enough to find record labels willing to give him an outlet. Each of Moore's albums is something of an experiment, none quite like another, and this cut comes from one of his best, a kind of musical/audio tribute to good days and bad in the Big Apple. With vocal assistance from a real singer's singer, Mr. Jon Hendricks.

Don Costa, "Echo of Love," Echoing Voices and Trombones

Don Costa's name was usually seen in small print on albums by singers of the likes of Frank Sinatra and Steve and Eydie, but United Artists put it on the cover of a number of instrumental albums in the early 1960s. This is from the hands-down best of them, a terrific combination of superb sound engineering, ace session men playing an air-tight arrangement, and a wordless vocal chorus with a "zu--zu-zu" that Esquivel would kill for. This could be the signature album of space age pop: somebody reissue it, please!

Buddy Merrill, "The Worm," The Guitar Sounds of Buddy Merrill

Buddy Merrill's mile-a-minute multi-tracking mania gives you a glimpse of the kind of talent Lawrence Welk strapped down and sedated to make his "Champagne Music." A guitar prodigy from the barrens of Utah, Merrill worked with Welk for years to pay the rent, then went home and dabbled with vacuum tubes, mag tape, pickups, and mikes to create a one-man audio collages in the guise of record albums. Hey, lesser men would have resorted to more self-destructive ways to face yet another week of comping behind Joe Feeney's insufferable Irish shtick.

Dick Hyman, "Mack the Knife," Electrodynamics

The chameleon of the keyboards, Dick Hyman introduced America to this number from Kurt Weill's "Threepenny Opera" years before Bobby Darin started imitating Frank Sinatra. At the harpsichord the first time he had a hit with it in the 1950s, and at the Lowry organ in this version from the mid-1960s--although it could just as well have been the electric piano, clavinet, Moog, pipe organ, calliope, tack piano, or celesta, all of which Hyman recorded on, sometimes with two at once. Hell, he might have been conducting and orchestrating at the same time, too. It's not true that Julian Gould had thirteen fingers, as the title of one of his albums suggested, but one suspects Dick Hyman might have had a spare arm or two.

Ray Anthony, "Wrong Number," Like Wild!

Ray Anthony helps space age pop fans feel reassured about their manliness. No pasty balding homonculous this guy. No, Ray Anthony had a tan like George Hamilton's, looks like Cary Grant, and no less than Mamie Van Doren for a wife. And he was no slouch on the trumpet, either. Anthony's covers of "Peter Gunn" and "Dragnet" outsold the originals, and while many of his albums are of the soporific "Dream Dancing" mold, he could also crank out a pretty decent up-tempo rocker when he had a chance to cut loose.

Bob Mersey, "Beatnik," Jazz from Great TV Shows

One of the least known of the many little-known names in Space Age Pop, Bob Mersey usually worked as a nameless contributor, arranging, conducting, or producing for others. The fact that he got credit for this album of choice crime jazz from the heydey of "Peter Gunn" and "Richard Diamond" probably says more about how cheap the label was--it was easier for them to use his name than to make up another. Heck, it only sold in the hundreds, so anyone who got a hot cup of coffee out of this was doing well.

Ruth Welcome, "Guaglione," At a Sidewalk Cafe

In Germany, the zither is taken seriously as a pop instrument, but in the U.S., it's at best considered pretty fringe-y. Mother Maybelle Carter is probably the only musician to wield one on record prior to Ruth Welcome. But America learned about the zither when they heard Anton Karas' evocative playing on the soundtrack of "The Third Man," and she rode the wake from it for ten years, through a series of albums for Capitol. Though it may be a little like saying, "You don't sweat much for a fat guy," Ruth Welcome certainly had a light and smooth style on the zither.

Percy Faith, "El Bodeguero," Malagueña: Music of Cuba

Percy Faith's cover of "The Theme from 'A Summer Place'" was one of the top five biggest instrumental hits of the 1960s, but it earned him an undeserved rap as a purveyor of elevator music. It takes just one listen to a Latin tune arranged and conducted by Faith to recognize that he was quite capable of jumping out from the background and taking your ears by the throat, so to speak, and delivering a powerful musical punch. Not doubt he cut his share of easy listening albums, but as this sample shows, he was plenty comfortable with serving his Velveeta with a healthy dollop of salsa on top.

Jack Fascinato, "An Old Saw," Music from a Surplus Store

Fascinato was Tennessee Ernie Ford's arranger and conductor for most of Ford's recording career, but he took a short sabbatical from folk ballads and hymns to write, arrange, and conduct this novelty music album for Capitol. In each number, Fascinato takes the sounds made by something typically found in a surplus or hardware store and writes a full original setting for it. In this case, the something is technically a musical saw and hence not a common item in one of these stores, but let's not split hairs. Heck, it might well have been a genuine saw. The liner notes don't tell us if it was a rip or crosscut.

Enoch Light,"Swamp Fire," Dimension 3

Now we come to one of the key figures in Space Age Pop. Light not only led the orchestras on his albums, he also pioneered dozens of aspects of record-making. He created the Command label, masterminded their state of the art (at the time) sound engineering and mastering technqiues, and pushed for the first use of original abstract art (for the first year Command albums, it was by the legendary modernist painter, Josef Albers.

Esquivel, "My Number One Love," Exploring New Sounds In Stereo

Esquivel's name has become synonymous with Space Age Pop, and rightly so. His life and work sums up much that characterizes this genre. He took conventional material and did unconventional things with it, introducing novel sounds, testing the limits of recording techniques, and creating something that's neither jazz nor rock nor easy listening. He was a tremendously gifted musician who produced a significant oeuvre, and yet was unknown for most of his career precisely because his music didn't line up neatly under one of the above labels. Fortunately, he had a chance to enjoy a bit of belated fame with the revived interest in lounge music.

Sir Julian Gould, "Boulevard of Broken Dreams," A Knight at the Organ

Julian Gould revs up this Depression-era dirge into a high speed showcase for his nimble fingers. Although very much in the mainstream of pop organists, Gould's unusual approach and improvisational breaks show strong jazz influences, particularly that of another keyboard speed demon, pianist Erroll Garner. Most pop organ albums don't age well, but Gould's are so full of vitality and verve they're perennial faves with space age pop fans.

Michel Magne, Perhaps, Perhaps, Perhaps, Tropical Fantasy

Magne, a French composer and arranger, inspired perhaps by the tape manipulation and concrete music experiments of Pierre Henry and Andre Popp, took a playlist of well-worn exotica standards into his lab, where he poked, prodded and jolted them, grafting in bits of his own invention, including sped-up and reversed tape loops. The result is, in effect, the great jungle exotica album Henry and Popp never made.

Richard Hayman,"Dansero," Genuine Electric Latin Love Machine

Somewhere along the long and winding road that took him from boy harmonica player to featured conductor with symphonies around the U.S., Richard Hayman detoured into the studio, taking along an electric organ, and electric harpsichord, and a hot new musical novelty known as the Moog synthesizer. Hayman played his own harmonica to feed the synthesizer, then assembled a light and charming set of covers of tunes by the Beatles, Bacharach, and others.

Vincent Bell, "The World We Knew," Pops Goes the Electric Sitar

One of the busiest session guitarists around, Vinnie Bell loved to experiment with electric guitar technology, so when the sitar was introduced to the U.S. through the work of Ravi Shankar and other Indian musicians, he was inspired to devise a way to create an electric version of it. As a veteran session player, he may have been a little too restrained to heat up his own album with the pyrotechnics he was technically capable of producing, so while most pop sitar albums are over the top, Vinnie's is immaculately tasteful. I suspect people who've resold their copies over the last few years made more money from it that Vinnie ever did, but he was soon to invent a special outboard device that made his guitar sound like it was being played underwater--and won him tons of sessions over the next few years.

Lester Lanin, "A Man and A Woman," Thoroughly Modern

The biggest name in the business of playing to weddings, debutante balls, and other New York high society affairs, Lanin kept up with all the latest dance and music crazes so that he always had a few numbers in his books if the patrons asked for a mambo, watusi or frug. On this cut, he covers the title tune to Claude Lelouch's film, which was pulling record crowds into art film houses around the country at the time.

Claus Ogerman, "Nightmare," Saxes Mexicanos

German-born arranger and composer Ogerman had a magic touch when it came to Latin music, getting tapped to arrange when Frank Sinatra teamed up with the superstar of Brazilian music of the 1960s, Antonio Carlos Jobim. On this cut, he turns one of Artie Shaw's swing band hits into a smoking go-go steamroller, probably my personal favorite among the many great tracks of 60s space age pop.

Kai Winding, "Simian Theme," Mondo Cane #2

A primo cut from a series of superb "now sounds" albums Ogerman arranged for ace jazz trombonist Winding, with the uncredited assistance of Jean Jacques Perrey on the ondioline. Like many other Verve albums from the period produced by the legendary Creed Taylor, these had jazz purists turning up their noses and other players taking potshots in Downbeat magazine's "Blindfold Test" column, but in the last decade they've finally earned the R-E-S-P-E-C-T they deserved.

Don Ralke, "Black Panther," The Savage and the Sensuous Bongos

Written and recorded, obviously, a few years before the term "Black Panther" took on a less romantic meaning. Ralke, a veteran of the Hollywood studio coal mines, demonstrates the simple formula for creating a piece of jungle exotica: crack musicians, a smattering of oddball percussion instruments, motifs from old Tarzan movies, and a dash of insinuated eroticism. Mix well and etch into vinyl. Serves thousands.

Leo Diamond, "La Vie En Rose," Exciting Sounds from Romantic Places

Diamond was really the first person to believe that arranging for the harmonica was more than deciding where everyone in the group stood on stage. And once the concept came to him, he held on to it with all his might for the rest of his life, usually leaving his less zealous colleagues behind him. In this case, he introduces a new ingredient, multi-tracking, to allow him to create the one-man harmonica symphony he must have been hearing in his head for years before.

Robert Maxwell, "Hong Kong Holiday," Spectacular Harps

Another case of a musician who wouldn't let his choice of an unpopular instrument keep him from making his own style of popular music. Like the previous cut, this one features the star doing a bit of audio cloning through the wonder of multi-tracking. Thanks to Ernie Kovac's choice of his tune, "Solfeggio," for a memorable recurring skit on his television comedy series, Maxwell would actually break into the bottom end of the Top 100 chart in 1961 with a rendition using its more familiar title, "Song of the Nairobi Trio."

Ferrante and Teicher, "The Moon Was Yellow," Heavenly Sounds in Hi-Fi

This cut comes from Part One ("Fun") of "The Ferrante and Teicher Story," when they were too busy tinkering with the insides of their pianos and coming up with new sounds that would have had their teachers at Juilliard cringing in horror to think about tax brackets and retirement plans. Very soon after, however, they moved into Part Two ("Money"), in which they dumped novelty in favor of normalcy, and sold millions of records. Crime pays.

Jimmie Haskell, "We Get Messages," Countdown!

Another craftsman of the studio system producing to order, Haskell wrote and arranged this and the other originals on this album, tossing in a few electronic sound effects for atmosphere. His more usual gig was putting all that orchestration stuff together so that teen idols like Rick Nelson could meet their monthly quotas of hit singles. In this case, however, he got rare top billing and the right to make a few decisions for himself--such as taking a wry rather than sombre approach to a set of outer space-themed cuts.

Frank Comstock, "Out of This World," Music from Outer Space

And yet another studio craftsman doing an outer space album. Comstock stuck to standards with spacy-sounding titles and put his energy into the instrumentation instead, bringing in such space age hardware as the electro-theremin (played by Paul Tanner) and the electric violin (played by Elliot Fisher). So far at least, this record remains a UFO: Unreissued Forgotten Object.

Mary Mayo and Dick Hyman, "Bye Bye Blues," Moon Gas

Hyman and Mayo (with assistance from Vinnie Bell) take this mundane old standard and launch it into outer space. Despite the superbly alien sounds the trio creates, they are working with nothing more than voice (Mayo), Lowry electronic organ (Hyman), and guitar (Bell).

Marty Manning, "Invitation," The Twilight Zone

This is the separated at birth twin of Project Comstock. A veteran arranger (Manning) works with a crew of first-call session musicians (e.g., Howard Roberts, and a selection of great American pop standards, and records an album that die-hard fans later pay a bundle for on eBay. For the cats involved, it was probably just another paycheck. Session musicians never seen to remember the recordings that fans are most obsessed with.

Don Elliott, "Voca Jazz," Music for the Sensational Sixties

Elliott was one multi-talented hipster. He could be-bop on vibes, French horn, and mellophone, which is sorta like a weight-challenged fluegelhorn. He could sing vocal group jazz all by himself, as in this cut, thanks to the miracle of multi-tracking. Thanks to the miracle of tape speed control, he could cut a hep take on Alvin and the Chipmunks as "The Nutty Squirrels." And he could produce sounds with his mouth so cool that he earned a credit for "Vocal Effects" on Quincy Jones' soundtrack for In the Heat of the Night. Shoo-wee, baby!

Kenyon Hopkins, "Cool Village," Contrasting Colors

Hopkins may take the prize as the most talented and least recognized musician on this list. Despite a series of jazz-inflected soundtracks and albums of standards and original compositions (such as this one), his work--aside from "West Side Radio," a cut from his score to Mister Buddwing--remains utterly unreissued.

Roy Harte and Milt Holland, "The Kick," Perfect Percussion

Harte and Holland are veteran Hollywood session men. Harte owns Drum City, where the best studio tappers buy their sticks, and Holland, who proudly refers to himself as a "percussionist," has mastered just about every inanimate object that can be beat upon. On this 1961 album, they pooled their collections of instruments and beat their hearts out in front of a rhythm section to die for: the Mastersounds (Buddy and Monk Montgomery and Richie Crabtree) and, on guitar, Wes Montgomery.

Neal Hefti, "The Perfect Beginning," Synanon

Hefti in the Sixties, when he bit the bullet and allowed rock and roll to elbow its way next to jazz in his influences. What he wrote, though, was neither jazz nor rock but Sixties Space Age Pop: a strong but not overbearing beat; still the familiar old bid band instrumentation, although electrified on guitar and bass; and a light and slightly goofy humor, as if acknowledging that there was something comical about a middle-aged guy writing music for teenagers.

Dickie Harrell, "Thumper-Stumper," Drums and More Drums

In contrast with Hefti, here we have a true rarity: a rock and roller playing Space Age Pop. Harrell was the original drummer in Gene Vincent's band, the Blue Caps. In 1961, Capital Records producer Ken Nelson lured Harrell to Hollywood to record Drums and More Drums. The idea must have been to hook into the current fad for percussion records, but as Harrell himself puts it, "the record sold 50 copies--51 if you count my mom."

Marty Gold, "Little Sir Echo," It's Magic

One of RCA's yeoman house arrangers, Marty Gold delivers the goods on this number from the label's classic Stereo Action series, a set of albums that epitomises Space Age Pop. Pristine production values, first-call session players, a mix of typical standards such as "Caravan" and "The Third Man Theme" and specially-written originals, and arrangements (including a generally restrained use of sound effects like the echo delay here) written specifically to showcase the wonder of stereo. RCA thought this was the music that would knock rock-n-roll off the sales charts. Guess the one thing they skimped on was market research.

Dean Elliott, "You're the Top," Zounds! What Sounds!

Unlike RCA, Capitol never saw stereo showcase albums as anything but niche products. But in the case of this rare LP, their disregard allowed those involved in the recordings to stretch the envelope a little further than RCA would have allowed. Instead authorising the rental of half the town's supply of exotic percussion instruments, they sent their arrangers to the junkyard--literally.

The Anita Kerr Quartet, "Mr. Lucky," We Dig Mancini

To me, Anita Kerr embodies the quintessential paradox that seems to be at the heart of space age pop. On the one hand, her soft and sweet vocal quartet backings contribute the toxic secret ingredient in some of the worst whitebread pop music of the 1960s. On the other hand, you have a string of albums and ensembles that represents a creative and productive oeuvre equalled by few other women at the time. And to top it off, you have perfect pop gems like this number or her cover of Burt Bacharach's "A House is Not a Home." Ah, there's no making sense of it. Enjoy the pearls and ignore the pablum.

The Hollyridge Strings, "Love Me Do," The Beatles Songbook

Capitol Records and arranger Stu Phillips had an unexpected hit with the Hollyridge Strings, fostering a slew of similar easy listening interpretations of rock-n-roll hits. They gave Muzak a shot in the arm and rockers a rich supply of nightmares. Almost forty years later, the idea, labelled loungecore, would appear quite hip and trendy. At the time, it was just pushing product.

Howard Roberts, "It Was a Very Good Year," All-Time Great Instrumental Hits

As we now know, thanks to Carol Kaye and other great session players, the dirty secret behind much of the recorded rock-n-roll of the 1960s was that it was really being played by middle-aged musicians with mortgages who could sight-read their assess off. Here, one of the all-time best of the best gets a chance as cover billing. I suspect doing a version of Frank Sinatra's dreckiest hit of the decade wasn't Roberts' choice, but he still manages to make it hipper than Keith Richards dared to dream of at the time.

Hugo Montenegro, "MacArthur Park," Moog Power

Everyone's favorite awful Sixties song made palatable with the help of a top-notch arranger and that great late-Sixties novelty instrument, the Moog synthesizer. We now get nostalgic for the Moog because we've since been pervaded by synthesizers being used as substitutes for real instruments (and real instrumentalists). Here, we can enjoy a synthesizer in its genuine fakeness: genuine fakeness--in contrast to the false authenticity that characterizes much of pop music in the last few decades--being perhaps the thing we cherish most in this music.

Henry Mancini, "The Donk," Two for the Road

What an amazing phenomenon Mancini was: a hugely successful composer, who had a string of hit tunes that left his peers green with envy, a celebrity in his own right, by all accounts a nice guy to work with, one who kept learning and trying new ideas when he could have sat back and watched the royalties roll in. And, to the delight of fans who like to explore past the familiar works like "Peter Gunn," one who let wonderful little music tidbits like this track scattered across dozens of soundtrack albums.

The Dave Pell Singers, "Keem-O-Sabe," Mah-Ná-Mah-Ná

Pell, a big band vet and, in the 1950s, a jazz star in his own right, was one of Liberty Records' main producers in the 1960s, when he usually got his credit on the back of the album. But on occasion he put together an excellent team of session singers and knocked out a nice bit of vocal jazz. This is from the last of these albums, which is something of a sampler of one-hit wonders from the late 1960s.

Quincy Jones, "Copy Cat (Wack a Doo)," Walk Don't Run

A goofy little cut from one of Quincy Jones' earliest scores and one of Cary Grant's last films. As you can hear from a number of cuts on this playlist, there is nothing quite like the way a cat with a solid jazz background can come with addictive instrumental pop. Jones is one of the genuine class acts in Hollywood, a rare combination of power and cool. But back when he wrote this, he had to work his ass off to prove to the studios that a black guy could be trusted to score a film.

Herb Albert and the Tijuana Brass, "Whipped Cream," Whipped Cream and Other Delights

The title track from one of the top 10 Space Age Pop albums, one that was so successful that it's become part of our aural (and, in some collector's house's, actual) wallpaper. This album was as big as Sergeant Pepper--heck, bigger, because your Mom and Dad owned a copy. We know this music so well that we truly need to exercise our attention to hear it in its own right, without our memories filling in all the blanks before we've heard the third bar.

The Brass Ring (Phil Bodner), "The Dis-Advantages of You," The Dis-Advantages of You

First heard on a memorable television campaign for Benson & Hedges cigarettes, this jingle took off on its own and led veteran session musician Phil Bodner to put together a group and record this and a series of other albums. Unlike Herb Alpert, though, Bodner refrained from creating a touring version of the band, which was probably a wise choice. Having to choose which brass ensemble to see perform live would have been more than Mom and Dad could have handled and they probably would have just stayed home and watched "Hollywood Palace."

Martin Denny, "The Enchanted Sea," Exotic Moog

This is the most obvious case where Liberty Records produced a Martin Denny record with minimal involvement by Denny himself. Here, the keyboard work is by Paul Beaver, the arrangements most likely a collaboration between Bob Florence and producer Dave Pell, with inputs from Beaver and perhaps creative advice from Denny. As with tne Ventures, among very successful Liberty act, it simply wasn't feasible to keep the artist on the road with a busy schedule of appearances and crank out 3-4 releases a year without the magic of substitution. Once again, the studio pros ride to the rescue.

Stan Kenton, "Mission Trail," Viva Kenton!

Cut in a back-to-back session with Standards in Silhouette in 1959, a time when Kenton and his band were playing over 200 dates a year, carrying the torch for big band jazz when anyone else with common sense had given up. But Kenton was never one to bend to the winds of fashion, and he would keep performing, shepherding more generations of young players, providing an outlet for his favorite arrangers and composers, for almost 20 years more before cancer forced him to make a final rest stop.

Warren Kime and his Brass Impact, "Istanbul," Brass Impact: Goin' Someplace!

There's nothing quite like the impact of Warren Kime's Brass Impact. Kime, usually a fairly mellow mainstream jazz fluegelhorn player from Chicago, launches into the stratosphere with an innovative arrangement by Jack Andrews that layers a trio of female vocalists led by Kime's wife Donna on top of a high-register brass line to punctuate each stanza. There are influences of "now sounds," Command's standard stereo showcase approach, and, perhaps, Esquivel, but to me, this is a step forward from all of these. There were three Brass Impact albums, and they've been out of print for about 30 years now. Thanks, MCA! As the great William Steinberg said of them, "Gangsters!"

Billy Vaughn, "Twilight Time," Sail Along Silv'ry Moon

Billy Vaughn, who was something of an omniverous recording machine for Dot Records for almost 30 years straight, covers the greatest song to come out of the Three Suns. Vaughn tended to stick to a safe formula with his arrangements, but even the dullest interpreter couldn't avoid coming up with something good now and again in the course of a few thousand recordings. Courage to those with the persistence to dig through the haystack in search of such golden needles.

Gerald Fried, "Saddle Swing," Shotgun Slade

Here we have proof that the imperative to produce that drives the mass entertainment industry has the indirect benefit of allowing genuine oddities to slip out once in a while. In this case, the success in the late 50s of television crime shows featuring jazz scores combined with the then-popularity of Westerns (by the way, how many decades has it been since we had a real Western series?) to give the producers of "Shotgun Slade" the conviction that what this oater needed to succeed was a jazz score. At least it seemed a good idea at the time. The series and the album both laid eggs, but at least we can enjoy this artifact. (Actually, jazzy western music wasn't a completely original idea: see the Listener's Guide page on Jazz Western albums for further evidence.

Buddy Morrow, "Sea Hunt Theme," Impact

From the first of two albums of television themes arranged by Ray Martin in his prime and played by Buddy Morrow and an excellent crew of studio players. Fans of Bill Murray-era "Satruday Night Live" will remember that "Submarino Investigador" starred the late and lo mas macho Lloyd Bridges. Salud, muchacho!

Mel Henke, "All That Meat," La Dolce Henke

Warner Brothers revived their record company in the early 1960s, and in its early years produced some of the best-loved of all Space Age Pop albums. Like this gem, a mix of streamlined jazzy arrangements by Mel Henke and playfully suggestive voice-overs that's way too sophisticated to have been intended for anyone but the producer and his circle of intimates. As Stan Cornyn has described it in his memoir, Exploding, the truth was that the Warner execs were completely clueless about what the public wanted and really did tend to release things they wanted to listen to. Their cluelessness is our good fortune.

Ken Griffin, "Ain't She Sweet," On the Happy Side

I'm afraid I abuse the late Mr. Griffin. Although he was hugely successful in the 1950s, easily taking home a paycheck with a zero or two more than any of his peers, he appears to have been the only pop music organist to lack entirely any sense of humor whatsoever. His playing is impeccable, but it's a little like listening to Sgt. Joe Friday at the console.

George Cates, "Beyond the Reef," Polynesian Percussion

Cates was the musical director of "The Lawrence Welk Show" throughout its long run, although there are those who would argue that's a contradiction in terms. In reality, Welk created a world-class musical machine: the only problem was that he used it to produce Velveeta. In all aspects but taste it resembled music, and you didn't have to refrigerate it. Here Cates shows that though he took home a paycheck from conservative Orange County, he could be just as hip and creative as his fellow arrangers across town in the socially, politically, and musically more liberal Hollywood.

Mundell Lowe and his All-Stars, "Theme from 'Tightrope'," Themes from "Mr. Lucky," "The Untouchables" and Other TV Action Jazz

Every single player on this album has a spot in the Jazz Hall of Fame now. Mundell Lowe, Jimmy Cleveland, Donald Byrd, Eddie Costa, Ed Shaughnessy. We must admit that while this album features great jazz players that doesn't mean it's great jazz. But these guys could play scales and still be worth listening to, and here you get them playing vintage Mancini , Riddle , and Rugolo . Nowadays that would rate a cover story in Downbeat.

I'm not sure who first called Thompson the American Esquivel, but the analogy is apt. This music is inventive, playful, sexy, and effervescent. Even your stereo will enjoy passing these sound waves through its circuits and wires. Unlike Senor Esquivel, however, Bob Thompson has yet to see his revival. Just for Kicks and all his other albums are out of print. So the next time you see someone about to pay for a Kenny G CD, grab the cash from his hand, put it in an envelope, and mail it off to Bob Thompson (see Bob's website for contact details). After all, it would be tough to say who was committing the greater crime.

This album is like a Buster Keaton movie or one of Matisse's cut-out paper pieces from his "Jazz" period: it's just so perfectly unique and marvelous it makes you giddy. With normal orchestration, this would be pleasant but unexceptional continental Space Age Pop music. But Popp and his colleague Pierre Fantosme orchestrated with tape clips instead of instruments. And not just any clips. They did things like recording a singer, playing the recording backwards, transcribing the resulting music and sounds, and then recording the singer again singing the reversed music and its nonsense syllables. And they didn't stop there. You have no idea how much work went into this track. It would cost a label a freakin' fortune to do this today, even with computers.

A veteran big band musician, Conniff had by the early 1950s found himself like many of his peers--married with kids and a mortgage and not much prospect of doing anything better than scraping by with studio work. So he studied current hits with the goal of figuring out how to make one himself. What he came up with was simple: use a standard big band orchestration, but with women's voices in place of the reeds and men's in place of the brass. This track is from his first experiment. It wasn't a huge hit--it was something better: a steady seller. People liked the formula, and they kept buying it and radio and Muzak kept playing it into the early 1970s. By the time he died in 2002, Conniff had cut over 100 albums and sold tens of millions of copies worldwide. I think it's fair to say he accomplished what he set out to do.

You'd need a map to sort out the authentic from the imitation on this track. Shindo, a Nisei, works a variety of Japanese instruments in with an otherwise standard big band orchestration in this arrangement of a Victor Young Arabesque melody from a Hollywood Biblical epic. But what would be the point? Young had a gift for writing beautiful melodies and Shindo was a talented and classically-trained musician who always delivered more than what the contract called for. It's a terrific piece of music.

Probably Britain's best Space Age Pop musician, Martin's forte was arranging, and he usually approached the task with humor and brio. In fact, any of his arrangements for RCA's Tijuana-be band, the Living Brass, put Herb Alpert and the real thing to shame. Here Martin writes his own material, coming up with a fun little Latin number as lively as anything Esquivel ever penned.

Breuer's career spanned the technologies, media, and eras of Space Age Pop. Starting out in vaudeville, radio, and 78s with the Cliquot Club Eskimos in the 1920s and ending up with Moog synthesizers, television, and LPs in the 1970s. In between, he was one of the best and busiest percussionists in New York, specializing on vibes and xylophone, and earning one of the first spots in the Percussion Society of America's Hall of Fame.

Fred Lowery was, like, the Art Tatum of whistling. His technique was so incredibly advanced and sophisticated that all other whistlers simply held him in awe. And, like Tatum's playing, it's almost too amazing and beautiful to take in at once, so it benefits from being featured in a compilation like this show.

Al Viola titled one of his albums Mellow as a Cello, and the phrase captures the subtlety and grace that's become his trademark through over 50 years of work. Don't let the softness fool you, though. He's also reputed to be the best comp-er since Freddie Green worked with Count Basie, and it's no small praise to note that Viola, along with pianist Bill Miller and drummer Irv Cottler, formed Sinatra's favorite rhythm section through over 30 years of touring.

Something of a connoisseur's choice in soundtracks. The film is largely forgotten, but Duning's score is hip, fun, and inventive--enough so that several Japanese bands have even covered cuts from it in the last few years. We've yet to see the soundtrack itself reissued, though.

See Sonny Lester's bio for the background on this album and its ilk. Just moments before the Sexual Revolution became the concern of youngsters, it broke out among American adults. Books like Helen Gurley Brown's Sex and the Single Girl, films like "Man's Favorite Sport," and albums like this one allowed American adults to admit that there was more to sex than reproduction and damnation. I still say one in a thousand women who bought this album ever actually used it. All the hoopla obscures one thing, though: that this record is full of excellent faux Middle Eastern music.

One of the earliest and best albums from London's Phase Four, a stereo showcase label that equalled Enoch Light's Command Records in its rate of production. Like much of the material on Command, this track takes advantage of channel separation and dynamic range to load up the arrangement with effects designed to show off the capabilities (or limitations) of your stereo system.

An excellent illustration of the patented Mantovani formula (which was, in many ways, more properly that of his lead arranger, Ronald Binge). Overlays of cascading strings, dozens of them, not only carry the melody, but march off with it to sunset. And, since this is Mantovani, it is, of course, essentially sax-free, which is almost heretical when it comes to this tune.

Baxter scored several of his biggest hits with covers of popular French tunes. Here Pourcel, one of the most successful French instrumental arrangers of the period, returns the compliment with an album of Baxter originals, all celebrating some aspect of the feminine physique--in this case, the hips. It's easy to detect the influence of the French Impressionists (Debussy, Ravel, Satie) on Baxter's own compositions.

A popular approach to creating a Space Age Pop hi-fi or stereo showcase album was to spotlight one particular instrument. Hence such works as Trombones Unlimited or Saxaphobia or Tutti's Trumpets. This cut comes from, to my knowledge, the only album to feature the bell (or rather, the bell family). Bass avoids the potential for monotony by pulling in every distant relative of the bell family, including such second-cousins-once-removed as the gong and the xylophone (well, it has a bell-like sound, sort of).

Jack Marshall's one of my favorite Space Age Pop arrangers. A fine jazz guitarist in his own right, his approach is light, swinging, funny, and sexy. Unfortunately, he had so many other talents he rarely had the chance to record on his own. A busy producer for Capitol Records, he also scored for the movies and TV, wrote comedy skits with Jack Sheldon (another hip polymath: jazz cat, comic, actor, studio musician), and worked actively to boost music education in the L.A. area.

Playing "Flight of the Bumble Bee" on the accordion is a quite a feat--physically as well as musically. No wonder that, when maestro Lawrence Welk switched Castle from accordion to honky-tonk piano for his television show, one reviewer remarked, "Jo Ann Castle doesn't tickle the Ivories, she hammers them—as if she is building the piano instead of playing it."

Another sample from RCA's Stereo Action series. Here, Textor, a veteran jingle writer and choral arranger, gives the chorus top billing on a cover of Maurice Chevalier's 1930s hit. And demonstrates that Esquivel wasn't the only guy capable of zinging the zu-zu-zus from left to right and back.

In rock, the Surfmen would be called a super group. In Space Age Pop, they're just great session musicians doing another set of sides. The greats in this case are some of the best: Jack "Mr. Bongo" Constanzo on bongos, Alvino Rey on console guitar, Irv Cottler on drums, Emil Richards on vibes, the late great Jimmy Rowles on piano, and Paul Horn on sax. And they dish up a tasty set of classic exotica worthy of a spot on the shelf next to Martin Denny and Arthur Lyman.

In real life, the Three Suns were brothers Al and Morty Nevins and cousin Artie Dunn, whose unusual guitar-accordion-organ instrumentation made for perfect pervayers of light music in cocktail lounges and intimate clubs. On vinyl, they were more elaborate ensembles, masterminded by Al Nevins and arranged by the superb Charles Albertine. In this case, Alfredo Mendez plays the Wurlitzer pipe organ, replacing Dunn's usual Hammond electric, but manages somehow to keep things light even with his behemoth instrument dominating the orchestration.

Considering that Mad magazine hired him when they decided to put together their own album of irreverent rock and pop songs in the late 1950s, it's not surprising that Bernie Green takes a tongue-in-cheek approach to arranging. On this track, Green plays around with his own theme for "Mr. Peepers," a mid-50s comedy starring Wally Cox playing a prototypical geeky dweeb decades before the terms "geek" and "dweeb" had been invented.

Here's an excellent illustration that easy listening doesn't always mean cheesy listening. While Rey's outer-spacey sound effects were one of the signatures of Esquivel's arrangements, on this album he demonstrates his mastery of the console steel guitar in a set of tender and melancholy mood pieces.

Ahbez was an ur-hippie, a sandal-wearing, tree-hugging, vegetarian cosmic cat about twenty years ahead of his time. After riding through the 1950s on the royalties from his song, "Nature Boy," a huge hit for Nat King Cole, he came back into the studio to record this album, which is sort of a fusion of Kahlil Gibran, Martin Denny, and Rod McKuen, released on Del-Fi, Richie Valens' label. Ahbez's songs and poems describe a island paradise where all men are united in love and peace. Lucky for him he was killed by a car long before John Ashcroft became Attorney General.

One of the seminal figures in West Coast jazz, Rogers' specialty was tightly-written arrangements, usually for small ensembles, like the one heard here. This cool and cerebral (well, maybe not in THIS particular case) music took plenty of bruises from those who favored the wilder, freer approach of bebop. It's only been in the last twenty years or so that people have managed to set their attitudes and enjoy it simply as good music.

This pair of brothers parlayed one hit instrumental, "Sleep Walk," into a career spanning decades and several break-ups and reunions. Truthfully, they weren't any great shakes as players, and one suspects these are really session players standing in for them.

Prado, a Cuban who was probably the biggest Latin music star of the 1950s, scores a big hit with American audiences by covering a jingle first written to advertise pineapple beer in South Africa. Which goes to show that crossover world music wasn't invented by the folks at Putamayo. In fact, there was more foreign music in the American pop mainstream in the stereotypically conventional and dull 1950s than there is even today.

Another of RCA's stable of arrangers, Leo Addeo contributed two albums to the Stereo Action series. His approach was to focus on one distinctive (and in some cases, unusual) instrument and build the arrangement around it. Which may be why he was later tapped to do the arrangements for the Living Marimbas, RCA's generic equivalent of the Baja Marimba Band.

Lightning-fingered Mure manages to substitute a plethora of guitar tricks for the usual battery of exotic percussion. It might have been more truthful to title this album Around the World in Multi-tracking Techniques, but like other labels, Strand Records preferred to be more dissembling in the fact that they were targeting hi-fi geeks.

Aldrich built a whole career around the bright idea that multi-track recording allowed him to recreate Ferrante and Teicher's twin piano sound without having to split his royalty payments. And unlike Messieurs F&T, he figured this out without that unprofitable detour into tinkering around with the guts of his pianos.

Almost a decade after his slippery sax sound launched his bright but brief career as a big band leader, Billy May updated it on this classic now sounds album. Always known as a bit of a wild man, May had his tongue firmly in cheek as he adapted this Tony Hatch tune, clearly not entirely sincerely the spirit of his commiseration.

A track from an excellent, if lesser-known, crime jazz album. This was one of less than a dozen gatefold albums that Kapp Records released in an attempt to compete with prestige audio labels like Enoch Light's Command. Credited to fictious Paul Phillips, this was very much the work of Joe Harnell, who had the unfortunate inconvenience of being on contract with Epic Records at the time. He cut that tie soon after, though, and gave Kapp two of its biggest-selling albums with his two "Bossa Nova Pops" releases.

Here we have a sample of some genuine fake crime jazz. Genuine because it had the right orchestration and style to qualify as crime jazz. Fake because it wasn't music from a television series or movie but an imitation of such. The story would have ended there, but a couple of years later, Time Records dusted off the master pressing and burned another run, only this time packaged as a surf music record, puportedly by that well-known surf band, the Tides. Had time not gone under around 1966, I wouldn't have put it past label chief Bobby Shad to release it for a third time as a psychedelic rock album.

One of a dozen or more albums whose titles Dee-pended on some play on Dee's name, Dee-Licious! features Dee's nimble but not ostentatious keyboard work. Dee prefers to play with a tune the way a cat plays with a dying mouse--not bludgeoning it with sheer virtuosity but toying with it, sustaining it until he's ready to swat it under the couch somewhere around the 2.5 minute-mark.

The liner notes of this albums claims that Gugliemi and his wife, Dena, were favorites of First Lady Mamie Eisenhower. Even if they were, I doubt Mamie would have given this platter a spin on the ol' White House Victrola. A hodge-podge of tape effects, wordless vocals, and ethereal arrangements, this album appealed most to a limited political audience, a coalition of hi-fi geeks and easy listening fans who wandered dangerously off-course.

I tend to overuse the riff about there being no such thing as authenticity, but I'll acknowledge that if there was such a thing, Guy Warren would be the leading contender in the world of exotica. While Chaino and his ilk hailed from places like Chicago and created fake African music, Warren hailed from Ghana and attempted, within the understandable limitations of mainstream pop label stereotypes, to faithfully record African folk tunes. But then he also recorded things like this. An authentic tune originating with the Strauss tribe from Vienna. Shall I hit that riff again?

Ah. An adaptation of a Middle Eastern tune, done Tijuana Brass style, by a group of Hollywood session musicians led by a Brazilian guitarist. Sold to Mr. Olson of Sioux Falls, who bought it at Benkelman's Furniture Store. Who listened to it as he sat in his Barcalounger in his living room tastefully done all in avocado by his wife, Dotty.

Written by Sid Ramin for a Pepsi Cola ad, "Music to Watch Girls By" is the great anthem of mainstream 60's culture. There is no Vietnam, no riots or protests or social disruption evident here. Just boys watching girls while the girls watch the boys who watch the girls go by. Safe, sane, utterly conventional, but at the bottom, a classic pop tune. Which is why everyone under the sun, including Cugie, covered it.

Rhino Records included a cut from this album on their famous Golden Throats compilation, intended to provoked smug, derisive laughter from all of us urban sophisticates. But the laugh is ultimately on us, for anyone with a whit of sense about them came around within a few years to understanding that Mel Torme epitomised cool while Blood, Sweat and Tears just epitomised old, tired, and lame.

How can you deny that easy listening had a profound impact on popular music when here you have Chess Records--the coolest R&B label on the planet, putting out its own fictious string group to compete with the Living Strings, the Hollyridge Strings, the 101 Strings, etc.? Fortunately, they picked the coolest arranger, Richard Evans, which is why these albums now go for small fortunes and are routinely looted for choice breakbeats and other sound samples.

This album was a real anomaly for Baxter. He didn't write a note of music for the session. Instead, he went into the studio armed with a few ideas, a healthy supply of percussion instruments courtesy of Milt Holland, and a small combo of jazz-savvy studio musicians like Plas Johnson. Baxter suggested a rhythm pattern or a slight melody line to the musicians and they took it from there.

There have been tons of Mancini tribute albums recorded over the years, but this remains one of the best. Cano, on piano, fronts a small combo with Latin percussion and rhythm section, and plays a set taken largely from Mancini's scores to "Peter Gunn" and "Mister Lucky." To me, it's a perfect example of good lounge music: it's well-played, certainly well-composed, relaxed, and unobtrusive, something I'd play while serving martinis to friends, if I actually drank martinis and had any friends.

Bent Fabric probably would have remained a celebrity only in Denmark had he not had the luck to pen a simple and addictive little piano melody that became a global hit. It's one of those tunes that succeeds so pervasively that most people can recognize it and still have no idea what it is or wrote played it. Which is why Bent Fabric remained a celebrity only in Denmark, his enormous royalty checks notwithstanding.

If you don't agree this is the best single crime jazz album every made, I'm gonna send Mickey Spillane over to punch your lights out. The funny thing, though, is that the guys who wrote the best crime jazz music were all so ... well, nice and normal. Stevens, Kenyon Hopkins, Benny Carter, Henry Mancini--by all accounts, these were quiet, self-effacing, polite, and enormously well-liked guys. Who just happened to write choice music for stories about muggings, beatings, rapes, robberies, and brutal murders. "Mr. Stevens, I just loved that piece you wrote for the scene where the psychotic kidnapper threatens to slice up his beautiful victim's face with a knife." "Gee, thanks. Hope you enjoy my use of countermelody in the assault scene in next week's episode."

When the title tune from Bernstein's score for "The Magnificent Seven" came out, it did well enough, but when it was picked up as the musical signature for a classic ad campaign for Marlboro cigarettes, it shot into the stratsophere. Who cared that these were ads for death sticks? They looked cool--hell, gay men all over the world wanted to look like those cowboys--and they sounded even better. Listen to the score of any American western made in the late Sixties, and you can hear them straining to sound-like-but-not-plagiarize this tune. This whole albums is a blast, as Bernstein interprets the melody in a bunch of different styles, including my favorite, the bossa nova version.

In which Directional Sound, a budget label of dubious repute, deliberately sets out to create shit and does the opposite. They hired various elements of Belgian big band leader Francis Bay's group, recorded them performing various tunes associated with exotica, probably handed them to some anonymous sound engineer for overdubbing of jungle-y sound effects, and sold it as a prestige stereo showcase album.

A big shot of Seventies nostalgia from this one. It's Bell's trademarked "watery guitar" take on a tender song Bacharach wrote to his daughter, but virtually everyone who recognizes it will associate it with ABC television's "Monday [and Tuesday] Night at the Movies," which was the centerpiece of many a dull night in many a dull household.

My #2 pick for best all-time now sounds track, just behind "Nightmare" (above). I've seen conflicting versions of Ogerman's work from this period. A lot of jazz aficionados thought he was a crap-meister, taking decent fellows like Cal Tjader and Wynton Kelly and mucking up their music. Several accounts have him writing scores in a taxi as he hustled back and forth between gigs, overwhelmed with a demand for forgettable arrangements, stashing away his fees for the day when he could write "serious" music. I say they all disregard the fact that this stuff still sounds fresh and fun decades after a lot of "serious" music has dried up and died--and the fact that Ogerman had a genuine knack for arranging and composing it, enough that I am certainly not alone in trying to root out every last pop arrangement he wrote during this period. The stuff is like potato chips. I don't claim it's nutritious food, but how can you not want to grab another handful once the bag's opened?

A choice bit of pop goofiness from Hefti's score to the quintessential jet set movie. Quintessential because its plot revolves around one thing: the introduction of jet airliners (the Boeing 707) in transatlantic air travel. The change killed off the great cruise lines (as a form of transportation, at least) for good, enabled shuttle diplomacy, and led to a whole new concept of the desirable lifestyle: one in which, as the lyrics of Johnny Rivers' "Secret Agent Man" put it, you can be "lying on the Riviera one day, dying in Bombay alley next day." Well, maybe not dying, but still, the idea that you could if you wanted to was as undeniably sexy.

Now that Gershwin is an American cultural icon, this album probably seems sacreligious. But he himself was savvy enough about the facts of life in the musical business that he probably would have offered Ralke some helpful suggestions on how to incorporate boo-bams into the verse.

Lanin's career was built around playing for New York society events, and most of his albums are about as adventuresome and interesting as that statement implies. But this is a fun bit of work, an album entirely comprising melodies associated with popular television and radio ads from the early 1960s. If, like me, you were around and conscious at the time, you'll find this album a big nostalgia rush.

From the last recording Ferrante and Teicher made before they decided to keep their hands out of the inside of their pianos and stick to tiddling the keys on the front. Only much later did fans start to recognize how neat their prepared piano albums were--but fortunately, not too late to inspire the pair to dust off some old notes and tapes, pop the lids of their pianos and fiddle around once again, and record and release the 2001 CD, Denizens of the Deep.

For a guy whose style never really varied over the course of a 40+ year career, Bobby Hackett still managed to maintain a tremendous reputation among both his fans and his peers. The secret was his impeccable and unique style--soft, world-weary, romantic, and gentle. Even playing up-tempo Dixieland, he was smooth and graceful. It's pretty apparent that he had his own demons and regularly did battle with them, but when he put that horn to his lips, what came out sounded as peaceful and centered as a blissful Tibetan monk.

Ah, one of the true classics of Space Age Pop. Used as the theme song for many a television station's late, late show, reminding the viewers that time is ticking on ... but in a light-hearted, charming way. Here we hear it as Anderson meant it to be performed, with the Boston Symphony doing the honors. A tribute to Anderson was a regular part of the Pops season for many years, so the symphony musicians had this number DOWN.

Latin music performed the way it was meant to be. On a banjo. Which goes to show that it's a popular misconception that it's illegal to import banjo into a South American country. It is considered a sign of bad manners, though.

Believe it or not, this is only one of at least four different vocal covers of this lyric-less David Rose instrumental. Well, not exactly lyric-less, but it certainly wasn't Rose's intention to write a song. Nevertheless, someone couldn't resist turning it into one. To see how far the results could diverge from the original conception, look for Sue Raney's version, a slow, melancholy remembrance of lost love. Made from this peppy shopping melody. Strange.

Taken from the musical Pajama Game, "Hernando's Hideaway" lends itself to Schory's heavily-percussed arrangement. The melody is buried deep in the song, and what we remember is are the short two- to four-note progressions that precede it, musically depicting the hesitant approach to this den of iniquity.

In all the many albums Lawrence Welk recorded, there are probably around five tracks worth hearing. You only have to weed through about 780 other dull ones to find them. Let's all thank Basic Hip for doing the dirty work for us.

This tune has always mystified me. "The Flight of the Phoenix" is a movie about an old cargo plane that crashes in the desert with a bunch of outcasts and misfits on board, and about how they manage to save themselves by assembling another plane from its wreckage. There are no women in this film, and no matter how you tilt your head, I don't think you can claim the film-makers meant to imply any homosexual romances, either. So where exactly is the love this theme is supposed to go along with? If it's the love of the men for the plane, I'm going to puke.

The tune that first brought the Tijuana Brass to national attention, "The Lonely Bull" is actually something of an odd man out in their repertoire. It's certainly more serious and dramatic than just about any other tune they cut, and incorporates taped crowd noises, a technique Alpert never used again. I have a special memory of hearing this tune blared out across the early morning calm of the Pacific Ocean off San Diego from a loudspeaker on the USS Halsey (as in Admiral William "Bull" Halsey), a Navy guided missile cruiser, as it pulled away from a refueling. It's a tradition for Navy ships to pick a signature tune for such occasions, and who could ask for a better one?

Al covers a Neal Hefti tune from his score for the film, "Sex and the Single Girl." I love this silly Sixties froogalooging nonsense. Hefti wrote some of the best of it, and Caiola's slight variations on the original only make it even more irresistable.

A cool number from Jones' earliest scores, a black-and-white drama starring Sidney Poitier as a suicide counselor in Seattle. Which is probably not the movie the city's boosters were hoping for as a follow-up to Elvis' "It Happened at the World's Fair." Soundtrack-wise, though, it slays such Elvis packing material as "Take Me to the Fair" and "Cotton Candy Land."

This comes from the first of several albums Conniff did in which he applied his formula to familiar melodies from classical musical. OK, so Ferde Grofe is only quasi classical music, kind of like Leroy Anderson. It's pop music played almost exclusively by symphony orchestras, which earns it an honorary label as classical music. My favorite Conniff classical adaptation is his take on Richard Strauss' "Also Sprach Zarathustra," which revels in the absurdity of its own pompousness and is certainly no worse than Deodato's best-selling synthesized version of the same tune.

Taken from an odd album recorded by Barry just before he began a world-famous film composer with James Bond. It's an album most listeners hate at first, then tolerate, then love. He blends his jazz-rock combo, the John Barry Seven (primarily the essential Vic Flick on guitar) with these really extremely stringy string backings. They're so extreme they usually set one's easy listening alarms to shrieking, but if you can disarm them for a few moments, you'll find there's something almost addictive about this novel sound. It's kind of sad that success came along and prevented Barry from playing around with this marginal concept some more.

This is the Chaino track anyone who's heard Chain remembers. The title pretends this depicts a beautiful maiden being chased by a jungle savage. Yeah, right. The ultra-cool Jack Diamond put it better than I could: "The best sex you never had."
---
S p a c e A g e P o p M u s i c
Home · Listener's Guide · The Songs · Who's Who · Liner Notes · Selected Tracks · What's New · Search
© spaceagepop 2015. All rights reserved.