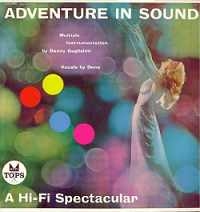 Danny and his wife, singer Dena Gugliemi, will be remembered for one amazing classic of space age pop: Adenture in Sound, a 1956 album that ranks among the most extreme examples of multi-taping mania. simply by recording track after track of sounds onto a single master, Gugliemi achieved the effect of a 40-piece orchestra, with his wife singing vocals on about half the cuts. Most of the instrumental tracks were actually Gugliemi himself playing violin. The numbers are a mix of standards ("I'll Remember April") and Gugliemi originals ("Na-Wa-Da-Ha," "Bullfrog"). Although the album is clearly a demonstration of technical proficiency, the effect at first listen is more subtle--a blend of Dena's whispering, Julie London-like vocals with Danny's jazzy violin (ala Joe Venuti and Stephane Grappelli).
Both Danny and Dena were veterans of big bands, radio, and studio work. After a stint as Rudy Vallee's girl singer, Dena appeared on various national radio series, both uncredited and under the name of "Berna Deane." Settling down with Danny in Hollywood in the late 1940s, Dena dubbed singing parts for less vocally talented actresses in numerous movies.
Danny began playing violin at the age of seven and was working professionally by his late teens. He quickly shifted from performer to arranger, however, and earned a steady-paying gig as lead arranger for Al Goodman's band on the radio series, The Lucky Strike Hit Parade. In Hollywood, he labored in the trenches, composing, conducting, and arranging for acts ranging from Eddie Cantor to Kay Starr and Dinah Shore to Johnny Green and his MGM Studio Orchestra.
When President Eisenhower suffered a heart attack while on vacation in the Rockies in 1955, Gugliemi sent the White House a tape of a sample of his multi-track creations. He was startled, though, to receive a phone call from the President's military aide, and later, a letter from Mamie, expressing Ike's appreciation for the music, which he found "very soothing." Gugliemi passed the story on to the press, but unfortunately, Adventure in Sound nonetheless quickly came and went from the record shelves. No doubt some of the blame lies with the label, Tops, which ranked down with Crown and Premier among the cheesy bargain labels of the time.