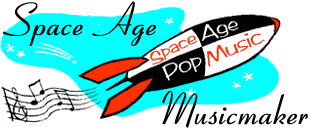 Leo Addeo
---
Born 14 October 1914, New York City, New York
Died May 1979, Long Island, New York
---
Addeo was one of RCA's key house arrangers for most of the 1950s and 1960s. An Italian American from Brooklyn, Addeo's specialty was Hawaiian music. He studied violin as a child, but switched to clarinet and saxophone in his teens when he noticed these instruments were in greater demand for local dance bands. He gradually moved from performing to arranging, working with Gene Krupa, Larry Clinton, and Frankie Carle.
Hugo Winterhalter hired Addeo as an orchestrator and brought him along when he moved to RCA in the early 1950s. Addeo was a steady producer for RCA, backing vocalists such as Vaughan Monroe and Don Cherry, arranging and conducting on numerous credited and uncredited instrumentals, and writing an occasional song. Addeo held down the marimba band corner for RCA's "Living" series, producing a respectable knock-off of Julius Wechter's Baja Marimba Band.
---
Recordings
Hawaii in Stereo, RCA Camden CAS-510
More Hawaii in Hi-Fi, RCA Camden CAS-594
Featuring a great Hawaiian version of "The Third Man Theme"
Great Standards with a Hawaiian Touch, RCA Camden CAS-672
On the Sunny Side of the Street, RCA Camden CAS-758
Songs of Hawaii, RCA Camden CAS-759
Hawaiian Paradise, RCA Camden CAS-853
Far Away Places, RCA Camden CAS-901
Musical Orchids from Hawaii, RCA Camden CAS-977
Hello, Dolly!, RCA Camden CAS-980
Magic of Hawaii, RCA Camden CAS-2211
A Sound Spectacular In Total Dynamics, RCA Camden CAS-2276
Hawaii's Greatest Hits, RCA Camden CAS-2506
Blue Hawaii, RCA Camden CXS 9035
Great Hawaiian Hits, RCA Camden CDS 1102
The Music Goes Round and Round, RCA Stereo Action LSA-2353
Paradise Regained, RCA Stereo Action LSA-2414
Living Marimbas albums
Love is Blue, RCA Camden CAS-2087
Latin Soul, RCA Camden CAS-2105
Mexican Joe And Other Favorites, RCA Camden CAS-2117
"Georgy Girl" and Other Music to Watch Girls By, RCA Camden CAS-2149
Tonight Carmen, RCA Camden CAS-2184
Zorba The Greek And Other Broadway and Motion Picture Favorites, RCA Camden CAS-2308
Spanish Harlem, RCA Camden CAS-2422
---
Search for Records and CDs
New CDs
Used Records and CDs

<! -- here GEMM code starts>

Search GEMM for old recordings by Leo Addeo
---
S p a c e A g e P o p M u s i c
Home · Listener's Guide · The Songs · Who's Who · Liner Notes · Selected Tracks · What's New · Search
© spaceagepop 2015. All rights reserved.