Born 29 June 1908, Cambridge, Massachussetts
Died 18 May 1975, Woodbury, Connecticut
---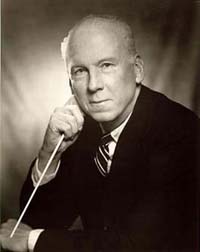 Leroy Anderson came along just in time to provide the perfect music for classical orchestra "pops" concerts. A talented musician, Anderson graduated with honors from Harvard and worked as an organist, bassist, and choirmaster and began arranging for Arthur Fiedler's Boston Pops Orchestra in the mid-1930s. Fiedler encouraged him to write his own pieces for the Pops. Finally, in 1938, Anderson complied, with ``Jazz Pizzicato'' and ``Jazz Legato,'' both immediate audience favorites.
Over the next 25 years he composed some 50 more light classics, which virtually defined the sound of the American pops orchestra. Most of these works are humorous--like the "The Waltzing Cat," which turns schmaltzy string sighs that are standard fare in a Strauss waltz into meows--or show pieces, like "Bugler's Holiday," in which three trumpeters show off (although the parts are actually written to sound more difficult than they actually are--high school orchestras with three good trumpters often play it), or simply light and listenable, like "Blue Tango," his most-covered song. Anderson is best-known for his works incorporating gadgets as solo instruments, such as "Sandpaper Ballet,'' ``The Syncopated Clock,'' and "The Typewriter," which features the sounds of that venerable machine--tapping keys, grinding shifts, tinkling margin bell--although these are probably unfamiliar to today's computerized generation.
Many know his tunes as they were incorporated for TV shows and commercials. "The Syncopated Clock" later became the theme of many a late-late movie show. He recorded a number of collections of his own tunes, and his single of "Blue Tango" was a #1 hit in 1951. His holiday season instrumental number, "Sleigh Ride," has, over the years, become a standard piece for Christmas concerts and has become his most-covered composition. He also wrote a number of serious contemporary compositions, including the Irish Suite, Suite of Carols and the Concerto in C for Piano and Orchestra, and the score of a Broadway musical, "Goldilocks," in 1958, but putting words to music wasn't his forte.
Anderson continued to compose, almost exclusively for the Boston Pops, until his death. His works are still in print and a staple of pops orchestras around the world.
For more information about Anderson, check out http://www.leroy-anderson.com and www.pbs.org/sleighride, from the PBS special on Anderson, "Once Upon a Sleighride."
---
Recordings
Leroy Anderson Conducts, Decca DL-8121
Leroy Anderson Conducts His Music, Decca DL-8954
A Leroy Anderson "Pops" Concert, Decca DL-9749
---
Search for Records and CDs
New CDs
Used Records and CDs

<! -- here GEMM code starts>

Search GEMM for old recordings by Leroy Anderson
---
S p a c e A g e P o p M u s i c
Home · Listener's Guide · The Songs · Who's Who · Liner Notes · Selected Tracks · What's New · Search
© spaceagepop 2015. All rights reserved.