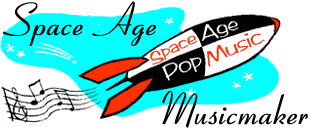 Chuck Sagle
---
Born 1929, Aurora, Illinois
---
Chuck Sagle was just riding the percussion album bandwagon, but he summed up space age pop fans for many jaded listeners with the title of his album, "Ping Pong Percussion." (There's a "Ping Pong Banjos" album Sagle can be blamed for, too.) Sagle studied music at the University of Illinois, then got to put his education to work when he joined the Navy and was put in charge of a fleet band in the south Pacific in World War II. After the war, he moved to Chicago and worked a variety of jobs in the music business until he joined the staff of the early television variety show, "Garroway At Large," arranging for bandleader Skitch Henderson.
He freelanced in New York City in the late 1950s, then moved to Los Angeles, where he became an artist-and-repertoire (A&R) man for Reprise Records. He apparently continued to do some freelancing, because he recorded a number album for Mercury as "Carl Stevens" ("who bears a striking resemblance to ace arranger-conductor Chuck Sagle") and even "Karl von Stevens" (a beer-hall band parody ala Fritz Guckenheimer.
---
Recordings
as Chuck Sagle:

Ping Pong Percussion, CBS/Epic BN 5684
Splendor in the Brass, Reprise R-6047
as Carl Stevens:

Music for Baton Twirlers, Mercury MG-20162
Music from the Big Top, Mercury MG-20212
Skin and Bones, Mercury MG-20365
Muted Memories, Mercury Wing MGW12138
The Circus is in Town, MGW 12170
High Society Twist, Mercury SR 60664
African Sounds, Mercury PPS 6003
as Karl Von Stevens

In The Land of Oom Pah Pah, Mercury MG 20241
---
Search for Records and CDs
New CDs
---
S p a c e A g e P o p M u s i c
Home · Listener's Guide · The Songs · Who's Who · Liner Notes · Selected Tracks · What's New · Search
© spaceagepop 2015. All rights reserved.