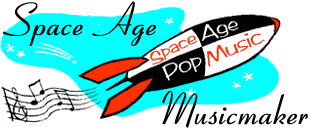 Dick Schory
---
Schory was a classically trained percussionist who moved easily from symphony to experimental music to popular recordings. He served in the percussion section of the Chicago Symphony, worked as educational and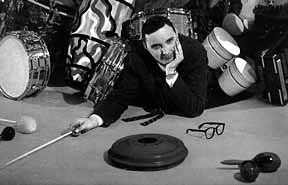 advertising director for the Ludwig Drum Company, formed the New Percussion Ensemble and commissioned contemporary composers to write pieces for it, and wrote and recorded musical backgrounds for radio and television commercials.
Schory was a major influence on both classical and popular percussion music. He moved comfortably from the concert hall to the recording studio, and worked closely with music educators to broaden acceptance and understanding of percussion instruments and compositions. He wrote in 1960,

There are no limits when it comes to instrumentation in the amazing new field of percussion ensembles. Everything from auto brake drums, inverted rice bowls, and even a manifold from a '46 Chevrolet are included with surprisingly good musical results. If it can be struck and can be classified as a percussion instrument, someone, somewhere has scored for it.
Schory's albums for RCA offer choice samples of this music, sometimes simply enhancing standard studio band arrangements with percussion accents, but often rebuilding the whole piece around the percussion ensemble. Critic R. D. Darnell of High Fidelity magazine was one of Schory's strongest supporters, writing of the album, Wild Percussion and Horns A'Plenty,
At first glance, Schory's program conforms more closely to current trends (which he pioneered long before the now-dominant "Persuasive" and "Provocative" [see Enoch Light--ed.] series) but he consistently transcends these in musical taste, verve, unfailing wit, and superb sense of dramatic stereogenics.
While we might now cringe at the thought of anyone practicing "stereogenics" of any kind, dramatic or not, we can certainly recognize Schory's ability to bring the highest level of professionalism in his mastery of percussion to space age pop.
---
Recordings
Re-Percussion, Concert Disc CS 21
Music for bang baaroom & harp, RCA Victor LSP 1866
Music to Break Any Mood, RCA Victor LSP-2125
Wild Percussion and Horns A'Plenty, RCA Victor LSP 2289
Runnin' Wild, RCA Victor Stereo Action LSA 2306
Stereo Action Goes Broadway, RCA Victor Stereo Action LSA 2382
Holiday for Percussion, RCA Victor Stereo Action LSA 2485
Supercussion, RCA Victor LSP-2613
Politely Percussive, RCA Victor LSP-2738
On Tour, RCA Victor LSP-2806
Happy Hits, RCA Victor LSP-2926
Roar of the Greasepaint, RCA Victor LSP-3394
Movin' On, Ovation OV-14-03
Carnegie Hall (live), Ovation OV-14-10-2
Resurrection, 1976
---
Search for Records and CDs
New CDs
Used Records and CDs

<! -- here GEMM code starts>

Search GEMM for old recordings by Dick Schory.
---
S p a c e A g e P o p M u s i c
Home · Listener's Guide · The Songs · Who's Who · Liner Notes · Selected Tracks · What's New · Search
© spaceagepop 2015. All rights reserved.