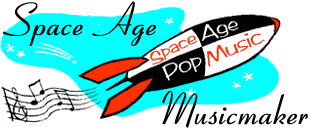 Henri Rene
---
Born 29 December 1906, New York City, New York
Died 25 April 1993, Houston, Texas
---
Rene was born in New York City, but his German mother and French mother soon moved back to Germany, and Rene grew up in Berlin. He received a thorough German education in classical music and studied at the Royal Academy of Music in Berlin. In the mid-1920s, he spent several years in the United States, working with a variety of orchestras, but he returned to work as an arranger for Electrola, an RCA affiliated recording company in Berlin. Several years later, he became Musical Director for Electrola, as well as for the famed German movie studio, UFA.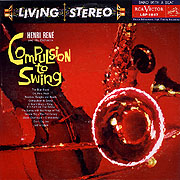 In 1936, he emigrated to the U.S. and became the musical director for the international branch of Victor Records. In 1941, he formed a continental-styled small orchestra, but broke that up when he joined the Army. After the war, he returned to RCA Victor as a musical director. He arranged and conducted a number of light classical singles releases, and backed a variety of singers.
Rene recorded under his own name on occasion. Although his Music for Bachelors is pretty tame stuff, it's a hot collector's item because of its cover, which features Jayne Mansfield posed seductively in a negligee (presumably calling her favorite bachelor to come over check out her hi-fi). Of more listening interest are Compulsion to Swing and Riot in Rhythm, which include Esquivel-ian arrangements and zany combinations of instrumentation. Rene retired from RCA in 1959 and worked as an independent after that. White Heat, on Imperial, rivals Compulsion and Riot, and includes a great version of "Woody Woodpecker." Rene returned to RCA in 1961 to record Dynamic Dimensions for the great Stereo Action series.
---
Recordings
Paris Loves Lovers, Decca DL74269
Passion in Paint, RCA Victor LPM-1022
Music for Bachelors, RCA Victor LPM-1046
Music for the Weaker Sex, RCA Victor LPM-1583
Compulsion to Swing, RCA Victor LPM-1947
Riot in Rhythm, RCA Victor LPM-2002
Listen to Henri Rene, RCA LPM-2076
Dynamic Dimensions, RCA Stereo Action LSA-2396
Portfolio for Easy Listening, RCA Camden CAL-130
In Love Again, RCA Camden CAL-312
Melodic Magic, RCA Camden CAL-353
White Heat, Imperial LP 9074
Swinging 59, Imperial LP 9096
They're Playing Our Song, Decca DL 74574
Music from "Man of La Mancha," Kapp LP
Living Strings, By the Time I Get to Phoenix and Other Country Favorites, RCA Camden CAS-2285
---
Search for Records and CDs
Used Records and CDs


Search GEMM for old recordings by Henri Rene.
---
S p a c e A g e P o p M u s i c
Home · Listener's Guide · The Songs · Who's Who · Liner Notes · Selected Tracks · What's New · Search
© spaceagepop 2015. All rights reserved.