---
Born 20 January 1918, Tampico, Mexico
Died 3 January 2002, Jiutepec, Morelos, Mexico
---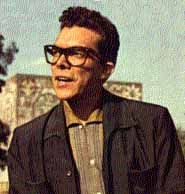 THE king of space-age pop. Esquivel's family moved to Mexico City in 1928, and by the early 1930s, he was appearing on radio station XEW. Self-taught as a player, composer, and arranger, he proved a prodigy, and was soon leading the station orchestra. By 1940, he had formed his own band, with 22 musicians and 5 vocalists. Much like Pedro Camacho, the soap opera writer in Vargas Llosa's "Aunt Julia and the Scripwriter," Esquivel honed his writing and conducting abilities providing the background music for a daily radio show starring the comedian Panseco. "He'd ask things like 'Can you play something that sounds like a Russian guy walking through China?' and somehow, I would do it," Esquivel later recalled.
RCA contracted with Esquivel in late 1957, first releasing one of his Mexican albums in the U.S. as "To Love Again." The label brought Esquivel to record in Hollywood in early 1958. He was given five hours of studio time to record the album ("Other Worlds, Other Sounds"), but he finished the job with 90 minutes to spare and cut a second album, "Four Corners of the World," with a small combo. Esquivel was never happy with "Four Corners" and later said, "I wouldn't do it again if I had the chance."
Most of Esquivel's recordings start with much the same big band with vocal chorus foundation as Ray Conniff and others, but his arrangements take every element to its limit. On "Latin-esque," he went to the extreme of channel separation by placing two orchestras in studios a block apart and mixing the result live in the booth. If Roger Williams uses a four octave run in his version of "Autumn Leaves," Esquivel would use six and split them among six different instruments, starting on the right channel and moving over to the left in the process. It's fitting that Esquivel's name was usually printed with an exclamation point: his trademark is the musical exclamation point, whether it's a "Pow!" sung by the chorus or a "zing" from a harpsichord.
Not all hi-fi buffs appreciated Esquivel's innovative writing for stereo. A critic in Audio magazine in 1962 described it as "mayhem in Latin tempos." In reviewing the reel-to-reel tape release of "Infinity in Sound, Vol. 2," High Fidelity magazine reviewer R.D. Darrell vented his spleen:
Odd-sound fancier that I am, I have to draw the line somewhere, and for me, Esquivel oversteps it in his complete disregard for musical taste and tonal attractiveness. There is plenty of sonic sensationalism here, both in the frantically fancy arrangements and the spectacularly stereoistic recording, but almost without exception the crude effects cancel each other out. The sounds emanating from an electronic organ and a zu-zu-ing chorus, the nauseous glissandos on various instruments, and the squalling brasses are, for the most part, intolerable. There is at least some gusto in La Bamba, but for the rest, I'll take honest rock 'n' roll any day!
How times have changes. Now listeners are abandoning dishonest rock 'n' roll in favor of Esquivel's "zu-zu-ing chorus" and "nauseous glissandos"--while many of Mr. Darrell's beloved reel-to-reels lie rotting in attics and garages.

The pinnacle of Esquivel's extravagant approach to stereo can be heard on "Latin-esque," his entry in RCA's great Stereo Action series. For this album, he went to the extreme of placing his musicians in two separate studios, coordinating over an closed circuit with Stanley Wilson, who conducted the second group.

In 1963, Esquivel switched from studio work to live performance, creating a stage show featuring four svelte female singers, flashing lights, and choreographed routines and playing the Vegas-Tahoe circuit. His show was a favorite among Vegas insiders, and celebrities like Frank Sinatra regularly dropped in to listen. He liked to party in the fast lane, too. "I have had many loves in my life: music, cars, women and the piano, not necessarily in that order," he once told an interviewer.

He recorded his last U.S. release in 1967 and his last RCA album was released only in Latin American markets in 1968. By then, Vegas had become the focus of his activities.

Esquivel also wrote for TV during and after his studio period. He composed theme songs and soundtracks for several TV series, including "The Bob Cummings Show," but his greatest legacy has been a huge library of incidental music written mostly for Universal Studios (under Stanley Wilson's leadership) that's been sampled on over 100 different series, from "McHale's Navy" to "Kojak." Generations of television viewers have heard Esquivel's most enduring piece of library music--the three-second bombastic fanfare that accompanies the Universal Studios emblem at the end of its productions.

He led the live band for 12 years, but by the end, his audience had begun to dwindle, and his indulgence in drink and drugs led to the end of his contract. His belongings, including many of his compositions, were hauled off when he fell in arrears on his rent. In 1979, he returned to Mexio and composed for a children's series called "Burbujas." An album of songs and instrumentals from the series sold more than a million copies.

Beginning with his interview in Incredibly Strange Music, Vol. 1 in 1993, Esquivel enjoyed a tremendous revival in the last decade of his life. Indeed, it could be argued that he was more famous after he was "rediscovered" than when he was at the height of his creativity. Several CD compilations from his RCA material were released, followed by the reissue of most of his RCA albums on now out-of-print BarNone label CDs. Then in 1996, tracks from one side of an RCA Christmas LP (the other side coming from Ray Martin) were packaged, along with Esquivel's spoken intro and farewell and new recordings of his arrangements by Combustible Edison on Merry Xmas from a Space Age Bachelor Pad.

He was interviewed for numerous radio shows and periodicals, including Cool and Strange Music. In early 1998, Variety reported that actor John Leguizamo was to begin work on a biopic of Esquivel's life, and several of his pieces were used in such films as "The Big Lebowski," "Four Rooms," and "Beavis and Butt-Head Do America." Perhaps the culminating event of the Esquivel revival was the 1999 release of a set of unreleased "Stereo Action" style tracks that RCA refused to issue back in 1963: See It in Sound!. Just months before his death, NPR featured the Kronos Quartet practicing for a new recording of his tune, "Mini Skirt," on a special segment of Performance Today.

Confined to a wheelchair in the last years of his life and weakened by heavy hardcore partying during his time in Hollywood, Esquivel was still strong enough to marry what he claimed was his sixth wife in May, 2001. He died from the effects of a stroke on 3 January 2002. It's fitting that he lived to see the new century in, since his music was often well ahead of its time:
Perhaps the fact is that my music was too much for the time. The audience wasn't ready for that type of music. Now they are used to the sounds and the technology. I'm glad the young artists are trying to follow my style of writing. I love that.
---
Las tandas de Esquivel, RCA Victor (Mexico)MKL 2001
Actual!, RCA Victor (Mexico)MKL-1710
To Love Again, RCA Victor LPM-1345
Other Worlds, Other Sounds, RCA Victor LSP-1753
Four Corners of the World, RCA VictorLSP-1749
Exploring New Sounds in Hi-Fi, RCA Victor LPM-1978 ("In Stereo" on LSP-1978)
Strings Aflame, RCA Victor LSP-1988
(with the Ames Brothers) Hello Amigos, RCA Victor LSP-2100
Infinity in Sound, RCA Victor LSP-2225
Infinity in Sound, Vol. 2, RCA Victor LSP-2296
Latin-esque, RCA Victor LSA-2418
as Living Strings, In A Mellow Mood, RCA Camden CAL/CAS-709
More of Other Worlds and Other Sounds, Reprise RS-6046
The Best of Esquivel, RCA Victor LSP-3502
The Genius of Esquivel, RCA Victor LSP-3697
Space Age Bachelor Pad Music, Bar/None CD
Cabaret Manana, RCA/BMG CD
Music from a Sparkling Planet, Bar/None CD
Exploring New Sounds in Stereo/Strings Aflame, Bar/None CD
Other Worlds, Other Sounds/Four Corners of the World, Bar/None CD
Infinity in Sound, Vols. 1 & 2, Bar/None CD
Merry Xmas From The Space-Age Bachelor Pad
See It in Sound!, BMG/Buddah CD
---
Search for Records and CDs
New CDs
Used Records and CDs


Search GEMM for old recordings by Esquivel.
---
S p a c e A g e P o p M u s i c
Home · Listener's Guide · The Songs · Who's Who · Liner Notes · Selected Tracks · What's New · Search
© spaceagepop 2015. All rights reserved.