---
Born Anita Jean Grilli, 31 October 1927, Memphis, Tennessee
---
Anita Kerr is easily the most remarkable and accomplished female musician of the Space Age Pop era, yet she barely rates a mention in most pop music reference books. When she does, it's usually so the writer can make a wisecrack about her 1965 Grammy Award.
See, in 1965, her quartet's album, We Dig Mancini!, beat out the Beatles' Help! for the award for "Best Vocal Group Performance," a fact that's used to damn the record industry for its ignorance and perfidy. While the Beatles, the Rolling Stones, the Temptations, the Beach Boys, and others were at the top of the pop charts, the Grammy electorate preferred to recognize a group of thirty year-olds with mortgages.
Now, in hindsight, it wasn't a completely inexcusable choice. Help!, after all, by the admission of Dave Dexter, Jr., the Capitol Records exec responsible for it, wasn't even intended to be an album, and Dexter and George Martin had to dig up a few incidental instrumental tracks from the movie just to pad out the vocal numbers. And the offerings from the other competitors--We Five, Herman's Hermits, and the Statler Brothers--have certainly not aged as well as We Dig Mancini!, which many Space Age Pop fans with plenty of listening time under their belts rate as one of their all-time favorites.
At a time when most women in music were still considered "girl singers," Anita Kerr was routinely pulling off triple plays: not just performing, but producing and arranging her records as well. And she did it more and more, expanding her scope beyond her own groups to others, including several purely fictious ensembles, as well, even as she moved from one major label to another.
It's true that she played a significant role in the development of the "countrypolitan" style, which has taken its share of critical hits since the 1960s. But at the same time, she cooked up some of the tastiest and most imaginative treats to be found in 60s mainstream pop. Scattered through her albums you find such gems as the loopy vocal version of "The Pink Panther Theme" on We Dig Mancini or Larry Clinton's "Satan Takes a Holiday" on The Further Adventures of the Mexicali Singers, or the stunningly beautiful "Windows of the World" on The Anita Kerr Singer Reflect on the Hits of Burt Bacharach and Hal David.
There is also the matter of her San Sebastian Strings albums --The Earth, The Sea, The Sky, and their successors. Working with Rod McKuen, perhaps the most commercially successful poet on the 20th century, she composed subtle orchestral settings to accompany soothing baritone recitations of McKuen's sometimes-serious, sometimes-silly, sometimes-self-mocking poetry. These records are as sincere and fanciful as the dippiest trips of the hippie era, yet they were marketed straight at the Silent Majority mainstream and proved to be one of the best-selling series of albums of the 1960s.
After successes in Nashville and Hollywood, she moved to Switzerland and began over a decade of work that alternated between pop albums for the European market and devotional albums for Word, the U.S.'s largest Christian label. Clearly, this is a woman whose capacity for making and carrying through with her own professional and creative choices deserves considerably more recognition than she's received.
Born to Italian immigrant parents, Kerr got a head start in show business from her mother, an accomplished contralto, who had a weekly 15-minute radio show in Memphis. She began taking piano lessons by the age of 4 and was soon appearing on her mother's show. By her mid-teens, she was, in effect, the station's musical director.
She moved to Nashville 1949 and formed a five-person vocal group. Although it was purely for pleasure, the group and Kerr soon attracted the attention of some of the biggest names in country music. They recorded their first session behind Red Foley, and went on to record with Eddy Arnold, Ernest Tubb, and others. Jim Reeves, just coming to stardom, hired them for his weekly show on radio station WSM, and in 1956, the group appeared and won on "Arthur Godfrey's Talent Scouts" television show.
Godfrey liked their sound so much, he brought the group up to appear on his own show on a regular basis. For several years, they commuted between Nashville and New York City every few weeks. By the end of the decade, the Singers vied with the Jordanaires to provide backing vocals on something like one out of every three recordings to come out of the town's studios. Indeed, along with Chet Atkins, producer Owen Bradley, and ace session players like Floyd Cramer, Bob Moore, and Hargus "Pig" Robbins, Kerr can take credit for crafting the blend of sophisticated productions and arrangements and down-hown material that became known as the "countrypolitan sound." She and Atkins lived across the street from each other and became life-long friends.
While the approach may have diluted the raw authenticity of its hillbilly roots, the sales and airplay records show that the "countrypolitan sound" helped country music cross over and become part of mainstream American musical culture. And it transformed Nashville into a major center of the American musical industry, so that by the mid-1960s, not RCA and other labels were steering some of their chart-topping pop acts--including Al Hirt, for whom Kerr arranged several successful albums--their way.
By then, Kerr's quartet had come to consist of herself as soprano, Dottie Dillard (alto), Louis Nunley (baritone), and Gil Wright (tenor). Although the Quartet recorded on its own as well as as back-up, they also cut a number of tracks under other names. As Anita & th'So-And-Sos, they had a minor hit with "Joey Baby." Kerr also worked for RCA's budget label, Camden, and its lead executive, Ethel Gabriel, on a series of Living Voices albums, arranging and producing her quartet, with four additional voices, on a choral follow-up to Camden's break-through Living Strings albums.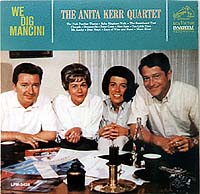 As the Nashville Sound took off, the Quartet began to record more steadily on its own. They switched labels from Decca to RCA and expanded their material from country to current pop fare like "The Girl from Ipanema." and their album of Mancini's tunes. Soon after the Mancini album, though, she disbanded the Quartet, quit RCA, and headed for Hollywood and new musical territory.
Switching labels again, to Warner Brothers this time, she assembled a new group, the Anita Kerr Singers, with ace session singers Jackie Ward or B.J. Baker (Ray Conniff regulars) singing alto, Gene Merlino tenor, and Bob Tebow bass. She abandoned country entirely to plunge headlong into hardcore pop. Her first Warner Brothers album wasn't even a vocal LP: And Now ... the Anita Kerr Orchestra, a mellow collection of current hits. She paid tribute to another of the 1960's most successful songwriters with Bert Kaempfert Turns Us On, which showed Anita on the cover in a prematurely grey boufant, contemplating her arrangement of "Swinging Safari."
Her Warner Brothers records show her at her most experimental. Slightly Baroque blends Ward Swingle's phenomenally successful Swingle Singers interpretations of the works of Bach, Mozart, and other classical composers and the cool bossa nova vocals of Astrud Gilberto. Even though she'd left RCA as a lead performer, she continued to work for them on the Living Voices series, producing five more while in Hollywood. The last and best of these, Positively Fourth Street, is worth looking for. It features several of her most distinctive numbers, including a laid-back, hip version of "John Brown's Body."
While with Warner Brothers, she jumped on Herb Alpert's Tijuana Brass bandwagon, inventing a fictitious group, the Mexicali Singers. Unlike most of the Tijuana-bes, though, the Mexicali Singers took almost nothing from the TJB but their "Amer-xican" trappings. Instead, the three Mexicali Singers albums include some of her boldest ventures into vocal jazz arrangements.
Impressed with her talents, Warner Brothers approached her with a project working with Rod McKuen, whose poetry collections were selling nearly as well as Jacqueline Susanne steamers and Arthur Hailey soap operas. They combined McKuen's initimable blend of sentiment and self-deprecation--enhanced by Kerr's light orchestral settings for a studio group dubbed the San Sebastian Strings--and hipster detachment, with a narrator entoning McKuen's poetry over an instrumental background. Kerr and McKuen took a common theme--The Sea--and through the sequencing and selection of lyrics and music worked out to create the sense of a complete story.
Warner viewed the album as an gamble, but their timing turned out to be perfect. The Sea was one of the best-selling albums of the year (which is one reason you can find it in almost every thrift store now) and Kerr and McKuen were given carte blanche for the rest of the series.
Kerr's last pop switch came in 1969, when she moved to Dot, a label dominated by Lawrence Welk and Billy Vaughn. She embraced the soft sophistication exemplified by the work of Burt Bacharach--whose songs were featured on her third songwriter tribute album. These albums move back into safer territory, but not so far as to become audio tranquilizers, and a few cuts rank as the definitive interpretations, in my opinion--"Are You There with Another Girl," for example. The group won an Edison Award (the European equivalent to the Grammy) in 1970 for their acapella rendition of "A House is Not a Home" from the Bacharach album.
Dot also gave Kerr room to venture out as a producer. She released several albums featuring instrumental groups--Yestergroovin', Anita Kerr Presents Teresa and Closing the Gap by the Mystic Monks, a collection of mellow pop classical. There is good reason to suspect she also pulled another pseudonymous trick and recorded a second collection of Bacharach tunes, this time done very much in the mode of the Swingle Singers: Bacharach Baroque on Ranwood. And, although Kerr didn't perform on Bacharach's soundtrack to "Butch Cassidy and the Sundance Kid", the vocal arrangement on "South American Getaway" is clearly a fond imitation of her sound.
As if her recording work didn't keep her busy enough, she found time to work as the choral director for the first season of "The Smothers Brothers Comedy Hour." She also made a lone foray into film work, scoring and conducting the orchestra for "Limbo," a 1972 anti-war film from Universal, an early scripting effort by James Bridges and Joan Micklin Silver. Although the film itself was considered forgettable, Kerr's work earned a spot in the record books as the first film for which a woman composed, orchestrated, and conducted the score.
Within a couple of years, though, she must have tired of Hollywood and a steady diet of pop. She moved to Switzerland, from which she ventured to record several albums for the Dutch Philips label and record a number of specials for Dutch television. Beginning in the mid-1970s, she returned to Nashville on a regular basis, performing and producing a number of Christian albums for Word. In 1978, she reunited with Atkins for one last RCA country album.
In some ways, her last recordings demonstrate the greatest span of her talents. Among them you can find gospel and countrypolitan (I Sang with Jim Reeves), straight-forward vocal jazz ('Round Midnight) and two more songwriter tributes (Stevie Wonder and Simon and Garfunkel). Her last album, another instrumental setting of poety, this time by Walt Whitman (In the Soul) was wholly her own: she composed the music, orchestrated and performed it on the synthesizer, and recorded it in her home studio.
So we end up with the question: What to make of Anita Kerr? There can be no denying there are critics who wish she'd laid out on a few sessions and allowed the real, unpolished music to be heard. On the other hand, her string of successes in a variety of styles is no accident: this is one of the most talented and professionally accomplished women in the history of popular music. She is respected and admired by the toughest (and perhaps, most reliable) critics of all--her fellow performers. "I'd cross the desert to record with her again," Rod McKuen has written, and the Manhattan Transfer has mentioned her in the same breath as Ella Fitzgerald as one of their key influences.
What to make of Anita Kerr? I say the only proper thing to do is celebrate this remarkable musician: We Dig Anita Kerr!
You can find out more about Anita Kerr and hear her own reminiscences about her career at her website: www.anitakerr.com.
---
Recordings
---
Search for Records and CDs
New CDs
Used Records and CDs


Search www.gemm.com for old recordings by Anita Kerr.
---
S p a c e A g e P o p M u s i c
Home · Listener's Guide · The Songs · Who's Who · Liner Notes · Selected Tracks · What's New · Search
© spaceagepop 2015. All rights reserved.