Born Leon Johnson, 1927, Philadelphia, Pennsylvania
Died 8 July 1999, Chicago, Illinois
---
Chaino is one of the elusive figures of space age pop. After growing up in Chicago, Leon Johnson left home and lived a fairly wild life, eventually taking up the bongos and making a name for himself as "Chaino" (taken perhaps from the great Cuban conga player, Chano Pozo?) on the "chitlins" circuit of black nightclubs. In the late 1950s, he went to Hollywood and met producer Kirby Allan, who had recently been inspired by African tribal music during a trip to Kenya. Allan and Johnson went into the famed Gold Star studio in early 1958 to try to create an American-ized version. They eventually succeeded in getting jazz impresario Norman Granz to release some of these cuts on the luridly-titled, Jungle Mating Rhythms. At the same time, they were able to sell tracks to three different small West Coast jazz labels, Score, Tampa, and Omega, and all four albums were released virtually simultaneously. A few months later, Allan signed with the Silent Majority label, Dot (home to Lawrence Welk, for a fifth album, Africana. A sixth album, Temptation, was recorded for Omega but was barely out the door before the label went bankrupt.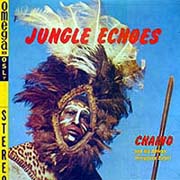 These albums features Chaino playing bongos, congas, steel drums, and other percussion instruments, adding primal grunts, howls, growls, and cries, with almost no other back-up. One typical cut, "Jungle Chase," has Chaino's incessant drumming, accompanied by the moans and groans of a man and a woman--supposedly souding like a couple being chased by a wild animal, but better described, in Jack Diamond's words, as "the best sex you never had." Allan abetted Chaino in creating his character, claiming in liner notes that Chaino was an orphan from a lost tribe in Africa who was taken in by missionaries and brought to the U.S.
Chaino worked occasionally as a session musician and even appeared in two movies, "Nighttide" and "The Devil's Hand." He had a chance at getting wider recognition through an appearance with Miriam Makeba at the Hollywood Bowl to coincide with the release of his Dot album, but when the opportunity knocked, Chaino was sitting in jail and Allan was unable to get him released. "He was a troubled artist, but it was what made him a great artist. He vented all his hang-ups and sexual frustrations busting out on those drums," Allan has said. Eventually, Allan gave up promoting Chaino and lost contact with him.
In 1997, Chaino's brother George tracked him down and brought him back to Chicago for a reunion. Not long after, George cared for him after he was beaten up in a South Central Los Angeles bar. "The next thing I know, he said, 'I'm going downtown,' and a month later he popped up in Louisiana." In 1998, Allan worked with the label Bacchus Archive on a compilation of Chaino's work, titled Chaino, Africana and Beyond, but Chaino was diagnosed with a brain tumor and never enjoyed the rewards of this renewed interest in his work.