Born Joseph Hittelman 2 August 1924, Bronx, New York
Died 14 July 2005, Sherman Oaks, California
---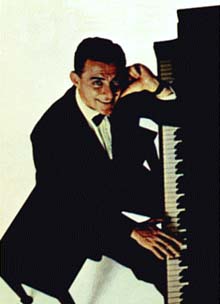 Joe Harnell made his mark both as a featured performer and a behind-the-scenes contributor. While the high point of his Space Age Pop career was his smash 1963 bossa nova arrangement of "Fly Me to the Moon," that work was just one result of a career of over fifty years in music.
Harnell's father was a former vaudeville performer turned baker, a hard-drinking man who introduced him to music at an early age. At age six, he started studying the piano, and by his early teens, he was playing on a professional basis--first with a klezmer band his father led, then with small bands playing at resorts in the Catskill Mountains outside New York City.
His time on the matzoh circuit introduced him to a number of musicians he would later run into in Hollywood: Shorty Rogers (then Milton Rajofsky), Hugo Montenegro, and Henry Jerome. He came out of high school with scholarship offers from both Juilliard and the University of Miami, choosing Miami because his parents had moved there.
He didn't get to experience much of university life, however, because he was drafted in 1943 and entered the Army Air Force. The great band leader Glenn Miller had offered to give Harnell a job with his Army Air Force band, slated for assignment to England, but Miller's band shipped out before he finished basic training and Harnell was assigned instead to a related unit.
As an Air Force bandsmen, Harnell performed in England, France, and Germany. While still in service, he had the chance to study composition with Nadia Boulanger in Paris and attended the Sorbonne briefly. After his discharge, he studied briefly with William Walton in England before deciding to return to the U.S., where he enrolled at Boston University's Tanglewood Institute. At Tanglewood, he studied with Aaron Copland and Leonard Bernstein, and roomed with Lukas Foss.
Despite such sterling classical credentials, Harnell found that jazz and popular music had a stronger pull, and after four years, he headed back to New York City and began freelancing as a pianist with a variety of bands, including Lester Lanin's. With his classical training, Harnell had the significant advantage of being able to arrange and compose, and he started getting jobs as accompanist and musical director for singers busy touring the then-hot nightclub circuit.
Over the next few years, he worked with such singers as Julius LaRosa, Marlene Dietrich (taking over from Burt Bacharach), Maurice Chevalier, Robert Goulet, Pearl Bailey, Judy Garland, and Lena Horne. From 1958 to 1961, he worked with Peggy Lee, then on the rebound from her divorce from Dave Barbour and coming into her second wave of popularity with the hit, "Fever."
Injured in a serious automobile accident in 1962, Harnell was recuperating in New York City when the bossa nova phenomenon hit the U.S. Kapp Records, looking to capitalize on the new rage, contracted with Harnell to produce an orchestral album applying the sound to a collection of mostly old standards. Aided by Al Caiola, Tony Mottola, and Milt Hinton, Harnell quickly arranged and recorded two sides for the label.
One of the tunes he selected was an old Bart Howard song titled, "In Other Words." Harnell, an amateur pilot, suggested listing the tune by its subtitle, the first words of the lyrics: "Fly Me to the Moon." Not only did his recording reach the Top 10 singles chart, but the album itself stayed in the Top 40 for the better part of the next year.
Harnell followed up with a second bossa nova album, but without quite the same success. The tune was something of a one-shot and Kapp let him go after three more albums, but Harnell continued to record, racking up another 11 albums while bouncing among such labels as Epic, Columbia, Jubilee, and Motown. Harnell's albums all feature his piano work--a mix of classical and popular stylings along the lines of Roger Williams and Liberace--and lush orchestral backgrounds. His "Bossa Now" album on Columbia, though, is worth checking out for Vinnie Bell's handiwork on a variety of electric string instruments, including his own invention, the bellzukie.
Harnell stayed in New York through 1971, landing a day job as musical director for Grey Advertising after working for the firm on several very successful ad campaigns.
Then, in 1971, singer Mike Douglas hired Harnell to work as the musical director for his new daytime talk/variety show. Harnell moved to Philadelphia, where the show was televised. Having lived and worked with heavy drinkers from childhood, Harnell had by that time become, by his own admission, an alcoholic. Fortunately, a fellow musician convinced him to attend an Alcoholics Anonymous meeting and became his sponsor. Harnell later credited his sponsor, known only as "Eddie" in Harnell's memoir, Counterpoint, and his fourth wife, Alice, for helping him turn his life around.
Having met quite a number of people in the movie business through The Mike Douglas Show, Harnell decided in 1973 to move to Los Angeles and begin working in film and television scoring. Although initially dismissed by a few contacts as a performer rather than a composer, Harnell landed a job writing for The Bionic Woman through its producer, Ken Johnson. Johnson an Harnell went on to work on a number of series, and Harnell became musical director for these shows--among them, The Incredible Hulk, Santa Barbara, V, and Alien Nation. He won an Emmy for best score in 1986 for his work on V.
By the late 1980s, Harnell began to shift his energies to charitable and educational activities. He joined the faculty of the USC Thornton School of Music, and organized a number of fund-raising concerts. He also traveled to judge at musical competitions and served as musical director for the Ella Fitzgerald Music Festival in Newport, Rhode Island.
He died of heart failure.
You can find out more about Joe Harnell and purchase a copy of his memoir, Counterpoint, at www.joeharnell.com.