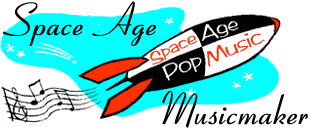 Charles Albertine
---
Born 1929, Passaic, New Jersey
Died 18 May 1986, Los Angeles, California
---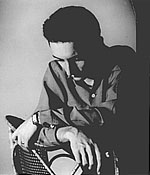 Charles Albertine is one of the unsung heroes of space age pop. A quick before-and-after-Albertine comparison of the Three Suns, Les and Larry Elgart, or Sammy Kaye provides a dramatic contrast--almost a reinvention of each group--and offers an excellent illustration of the critical role of the arranger in creating this terrific music.
Albertine began playing piano at age 5 and was earning money giving lessons on the clarinet by the age of 9. He eventually mastered most of the major woodwind instruments, and was accepted into Juilliard after high school. He decided he didn't belong in a formal educational setting, that he would be "tuned out musically," and opted instead to get a job playing oboe in the pit band at Radio City Music Hall. He then switched to tenor sax and worked with a variety of dance bands, including Sammy Kaye's, in the late 1940s. He then spent a year in the pit band of a Broadway show, Top Banana before approaching Les Elgart to arrange for Elgart's newly-formed band in 1952. Although entirely self-taught, Albertine quickly became the lead arranger and a prime factor in the success of the Elgart sound, which kept one foot in traditional sweet swing and another in the more minor-keyed jazz of late bebop. Elgart and his brother and occasional partner, Larry, enthusiastically embraced Albertine's contributions. Larry recorded an entire album of his original compositions, Music for a Barefoot Ballerina. Another Albertine original for Elgart, "Bandstand Boogie" was adopted by Dick Clark as the theme song for his long-running series, "American Bandstand."
Albertine remained a freelancer throughout his career, and while working with the Elgarts, he began taking jobs from Al Nevins, guitarist in The Three Suns and by that time, a busy independent producer. He arranged most of The Three Suns' later albums during the RCA "Living Stereo" era, including the classic Movin' and Groovin,' Fever and Smoke, Warm and Tender, and On a Magic Carpet. These albums contain some of the boldest, most jarring use of stereo separation and contrasting instrumentation to be heard in supposedly safe, mainstream pop music. Most of these albums also featured one or two originals penned by Albertine. Through Nevins, who was developing the Japanese market for RCA, he was commissioned to write an original wedding dance, which he titled, "The Happy Prince Waltz," for the wedding of Crown Prince Akihito. Trumpeter and band leader Harry James also hired Albertine, to write a "Blues Ballet" that James recorded on his album, The Spectacular Sounds of Harry James.
He worked with the Elgarts again in the early 1960s, arranging some of their best "discotheque"-style dance albums.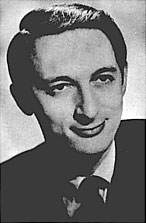 Around the same time, Albertine also began a collaboration with Sammy Kaye that lasted through the mid-1960s. Kaye, whose "Swing and Sway" band was typical of the milder side of swing, benefited enormously from Albertine's arrangements. Indeed, few listeners would recognize the tame Kaye band of the 40s and 50s in the pumped-up, rocking discotheque sounds on Kaye's Decca albums with Albertine. Featuring a strong electric bass line, sizzling Hammond organ solos, and catchy frug/twist/swim/hully-gully rhythms, Albertine's arrangements--even of such old saws as "Willow Weep for Me"--represent some of the best "jet set pop" recordings. Don't let the covers fool you: Shall We Dance?, for example, shows a bad painting of what looks like a banquet for bankers--yet pop the record on and you get, among other highlights, a "Night Train"-powered cover of Neal Hefti's theme for "Batman." He also contributed occasional arrangements to Lawrence Welk's 1960s albums, but search for them on your own time.
Albertine moved to Hollywood in 1964, where he worked on a few film scores, including the Viking epic, "The Long Ships," but mostly arranged and conducted incidental music for television series like "Hazel," "Gidget," "Grindl," and "Days of Our Lives." In the late 1960s, however, he underwent what he referred to as a "seven-year lull," during which he had serious doubts about his musical abilities and even took career aptitude tests at UCLA to see if he should change professions.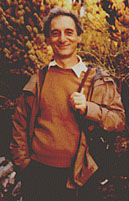 He eventually recovered and found a renewed enthusiasm for his music: "All music comes from a Higher Power and it is all good," he commented in one interview. He picked up a steady stream of television commissions, composing for episodes of"The Incredible Hulk," "The Bionic Woman," and "Fantasy Island," as well as for specials like "Five-Finger Discount" and "Portrait of Grandpa Doc." He also wrote classical pieces as well, including a symphony and concert settings of poems by Edna St. Vincent Millay and Nietzsche. He was fascinated by musical technology and enjoyed playing Bach and Mozart on a synthesizer he kept in his home studio.
His very last works, in fact, were heavily influenced by early new age musicians such as Andreas Wollenweider. The only album released under his name (apparently a marketing tie-in) was packaged to look like something from Windham Hills and featured ethereal, meditative pieces performed by Albertine on synthesizer and piano.
---
Recordings
The Long Ships (soundtrack), Columbia CP 726
Connoisseur Concerts Presents Three Composers, Palm Records
In Concert, McDonnell Douglas Physician Systems 4
As an arranger
Les Elgart

Sophisticated Swing, Columbia CL-536
Band of the Year, Columbia CL-619
The Dancing Sound, Columbia CL-684
The Elgart Touch, Columbia CL-875
The Most Happy Fella, Columbia CL-904
For Dancers Only, Columbia CL-1008

Larry Elgart

Until the Real Thing Comes Along, Decca DL 5526
Impressions of Outer Space, Brunswick BL58054
Music for Barefoot Ballerinas and Others, Decca DL 8034 (all compositions by Albertine)

Les and Larry Elgart

Command Performance, Columbia CS-9021
Les & Larry Elgart & Their Orchestra, Columbia CS-9052
The New Elgart Touch, Columbia CS-9101
Elgart au Go-Go, Columbia CS-9155

The Three Suns

Love in the Afternoon, RCA Victor LPM-1669
Twilight Memories, RCA Victor LSP-2120
Movin' and Groovin', RCA Victor LSA-2532
On a Magic Carpet, RCA Victor LSP-2235
Fever and Smoke, RCA Victor LSP-2310
Fun in the Sun, RCA Victor LSP-2437
Warm and Tender, RCA Victor LSP-2617

Al Nevins

Dancing with the Blues, RCA Victor LPM-1654

Sammy Kaye

New Twists on Old Favorites, Decca DL-4247
Come Dance with Me, Decca DL-4357
Come Dance with Me, Vol.2, Decca DL-4590
Dancetime, Decca DL 4655
Come Dance to the Hits, Decca DL-74502
Shall We Dance?, Decca DL-74754
Let's Face the Music and Dance, Decca DL-74823
Swing and Sway in Hawaii, Decca DL-74862
Dance and Be Happy!, Decca DL 74924
The Glory of Love, Decca DL-74970
Music from "Sweet Charity," Decca DL-75074

Harry James

The Spectacular Sounds of Harry James, MGM E-3897

Burl Ives

Burl's Broadway, Decca DL 74876

Jane Morgan

The Victors, Colpix SCP 460

Big Sam Marowitz and His Alto Sax

Sounds in the Night, Roulette R 25099
---
Search for Records and CDs
New CDs
Used Records and CDs

<! -- here GEMM code starts>

Search GEMM for old recordings by Charles Albertine
---
S p a c e A g e P o p M u s i c
Home · Listener's Guide · The Songs · Who's Who · Liner Notes · Selected Tracks · What's New · Search
© spaceagepop 2015. All rights reserved.