---
Born 4 April 1922, New York City
Died 18 August 2004, Ojai, California
---
One of the top TV and film composers, Bernstein was the first to introduce jazz themes and instrumentation, influencing Henry Mancini, Johnny Mandel, and others. Bernstein studied at Julliard and performed as a concert pianist before being drafted in 1943. His Army service was as an arranger for Glenn Miller's Army Air Force Band and Armed Forces Radio. He cranked out over 80 radio scores in under two years and returned to civilian life eager to continue this work. At first, he went back to the piano, but in 1949, United Nations Radio asked him to score a radio documentary. The producer, Norman Corwin, hired him for his commercial radio dramas, and he followed a string of referrals to Hollywood and the movie studios.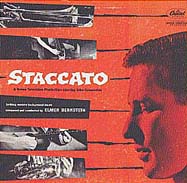 His first major score was for the great Joan Crawford thriller, "Sudden Fear," in 1952. His use of jazz in "The Man with the Golden Arm," fit perfectly with the film's subject of a heroin-addicted musician, and the theme became a top 20 hit. He explicitly used jazz in "The Sweet Smell of Success," including live performances by the Chico Hamilton Trio. When NBC attempted to clone "Peter Gunn" in the series "Staccato," with John Cassavetes as a jazz-pianist/private eye, Bernstein was hired to provide a Mancini-like jazz score.
Bernstein himself, however, never considered that he wrote jazz scores--mainly because most film music has to be too carefully worked out to allow the full freedom of jazz improvisions. His themes to "The Man with the Golden Arm," "The Magnificent Seven," and "Walk on the Wild Side" became hits in their own right and were covered many times. The former became indelibly associated in the minds of most 1960s TV viewers as the theme song for Marlboro cigarettes.
Ironically, though Bernstein scored dozens of Oscar-winning films, including "To Kill a Mockingbird," "True Grit," "The Age of Innocence," "The Grifters," "My Left Foot," and "Far From Heaven," and was nominated fourteen times, he only won once, in 1969, for "Thoroughly Modern Millie."
He worked right up to the time of his death. His last composition, "Fanfare for the Hollywood Bowl," was commissioned by the Hollywood Bowl Orchestra as its inaugural piece for the opening of its 2004 season.
---
Recordings
Staccato, Capitol T1287
Paris Swings, Capitol ST 1288
Movie and TV Themes Composed and Conducted by Elmer Bernstein, Choreo AS-11
The Man with the Golden Arm, Decca DL 78257
The Silencers, United Artists UAS 5127
Sweet Smell of Success, Columbia CL-1278
Baby, the Rain Must Fall, Columbia CL-6420
Kings Go Forth, Decca DL 8610
Backgrounds for Brando, Dot DLP 3107
Walk on the Wide Side, Choreo AS-4
... and many more ...
---
Search for Records and CDs
New CDs
Used Records and CDs


Search GEMM for old recordings by Elmer Bernstein.
---
S p a c e A g e P o p M u s i c
Home · Listener's Guide · The Songs · Who's Who · Liner Notes · Selected Tracks · What's New · Search
© spaceagepop 2015. All rights reserved.