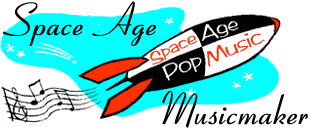 Skip Martin
---
Born Lloyd Martin, 14 May 1916, Robinson, Illinois
Died February 1976, Hollywood, California
---
Raised in Indianapolis, Skip Martin studied clarinet and played with local orchestras through high school and while attending Indiana University. After graduation, he took a job at radio station WLW in Cincinnati. Around 1936, he began playing alto and baritone sax for a series of big bands, including Charlie Barnett, Jan Savitt, Glenn Miller, and Benny Goodman. He also wrote an occasional arrangements. Count Basie recorded a number of Martin's compositions in the 1940s, including a minor hit, "Tuesday at Ten." After a stint with NBC and CBS radio in New York, Martin was enlisted in the Army Air Corps and trained as a pilot.
He settled in Los Angeles and went into studio work. He worked mainly as a fill-in, contributing individual arrangements, such as Les Brown's hit, "I've Got My Love to Keep Me Warm," but rarely handled a whole album. He assisted Leo Arnaud on the score for the Red Skelton movie, "Excuse My Dust," and conducted the orchestra on the soundtrack for Fred Astaire's movie, "Royal Wedding." He also worked with the Pied Pipers and Tony Martin in the early 1950s. After a short spell as a staff arranger for NBC television, he moved back to Hollywood and went freelance. In the late 1950s, he produced several albums for Somerset that rank among the best of the "percussion" craze. The list of players includes some of the best West coast jazz players of the time: Jimmy Rowles, Pete Candoli, Frank Rosolino, Larry Bunker, Irv Cottler, and Don Fagerquist. Martin also arranged a selection of composer Dave Kuhn's theme and incidental music for the 1958-59 TV series, "Mickey Spillane's Mike Hammer," that RCA released to ride on the coattails of the success of Henry Mancini's "Peter Gunn" LPs.
---
Recordings
8 Brass-5 Sax-4 Rhythm, MGM E3743
Perspectives in Percussion, Somerset RS 806 SD
Perspectives in Percussion Vol 2., Somerset RS 810 SD
TV Jazz Themes, Somerset P-8800 (also on Valiant V-4937)
Scheherajazz, Somerset P-9700
Swingin' with Prince Igor and Tannhauser, Somerset LP
Swingin' Things from Cole Porter's "Can-Can," Somerset P-12400
Sounds and Songs from the Era of the Untouchables, Somerset P-12900
Music from Mickey Spillane's "Mike Hammer," RCA Victor LPM-2140
---
Search for Records and CDs
New CDs
Used Records and CDs


Search GEMM for old recordings by Skip Martin.
---
S p a c e A g e P o p M u s i c
Home · Listener's Guide · The Songs · Who's Who · Liner Notes · Selected Tracks · What's New · Search
© spaceagepop 2015. All rights reserved.