---
Born 29 June 1915, New York City, New York
Died 15 September 1966, Los Angeles, California
---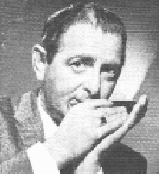 If Ferrante and Teicher's experiments can be referred to as "prepared piano," then Leo Diamond was the master of "prepared harmonica." After leaving Borrah Minnevitch's Harmonica Rascals, he formed his own harmonica trio, The Solidaires. The group appeared in a number of mid-40s musicals, including "Girl Crazy" and "Sweet Rosie O'Grady."
In the mid-1950s, Diamond started performing as a solo artist, primarily on record. He produced a number of recordings on which he played all parts on a variety of harmonicas, most of his own design. He also mixed in sound effects such as jet noise and bird calls, and experimented with tape mixing methods to produce recordings that rank among the most innovative in exotica.
His best work along these lines can be found on his two ABC-Paramount albums, Subliminal Sounds and Exciting Sounds from Romantic Places. These are chock-full of tape experiments and every kind of harmonica under the sun. Like Ferrante and Teicher's early work, this is music that is anything but easy listening.
Diamond also wrote a number of songs, including "The Girls of Brazil," "Off Shore," and "Skin Diver's Suite." His recording of "Off Shore" reached the Top 20 in late 1953, and his cover of "Melody of Love" was a minor hit in 1955.
When Sinatra founded his Reprise record label, Diamond was one of a number of acts he championed. Though the popular audience had lost what little interest it had in harmonica music, Reprise issued no less than four albums by Diamond in the span of less than three years. The label gave him a healthy PR boost, too. A half-page ad next to the Hot 100 chart in a Billboard magazine issue from 1962 proclaimed of "Miramar," a 45 RPM release of a Diamond original, "19 Key DJs have proclaimed it another 'Calcutta.'"
Although his choice of instrument will always condemn Diamond to the musical margins, his best recordings rate up with Esquivel's in his willingness to introduce startling combinations of sounds and take instruments to their logical limits.
---
Recordings
Skin Diver Suite, RCA Victor LPM-1165
The Harmonica Magic of Leo Diamond, RCA Victor LPM-1042
Snuggled On Your Shoulder, RCA Victor LPM-1442
Ebb Tide, Harmony HS 11328
Hi-Fi Harmonica, Roulette R25019
Exciting Sounds from Romantic Places, ABC-Paramount ABCS-268
Subliminal Sounds, ABC-Paramount ABCS-303
Exciting Sounds of the South Seas, Reprise R9-6002
Themes from the Great Foreign Films, Reprise R9-6009
Off Shore, Reprise R9-6024
Harmonica Sounds in Country and Western Music, Reprise R9-6059
---
Search for Records and CDs
New CDs
Used Records and CDs


Search GEMM for old recordings by Leo Diamond.
---
S p a c e A g e P o p M u s i c
Home · Listener's Guide · The Songs · Who's Who · Liner Notes · Selected Tracks · What's New · Search
© spaceagepop 2015. All rights reserved.