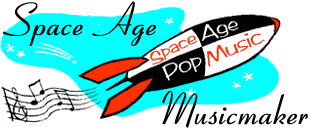 Quincy Jones
---
Born March 14, 1933, Chicago, Illinois
---
Like Herb Alpert, Quincy Jones left the simple world of arranging, composing, and performing behind and now steers a great multimedia ship of state. I won't attempt to discuss his entire career, since only a few years and works are of interest to readers of these pages.
Jones grew up in Seattle, Washington, where he crossed paths with the very young Ray Charles, who became a close friend and occasional collaborator over the next fifty years. He picked up the trumpet in junior high school, and by the time he graduated from high school, he was working regularly as a professional with local groups. He joined Lionel Hampton's band in 1951, and quickly began testing his talents as an arranger and composer as well. Buy the mid-1950s, he was starting to become known more as the latter than as a player, working as a freelancer for a variety of acts, including Ray Anthony. He met Dizzy Gillespie and joined Dizzy as musical director of his world tour in 1956. After the tour folded, Jones decided to return to Paris, where he spent the next three years, working for Barclay Records, touring with a musical, and leading his own band.
After returning to the U.S. in late 1960, Jones was hired by Irving Green, the president of Mercury Records, first as an A&ampR man, then as a vice president, involved in all aspects of Mercury's operations. Jones abandoned playing the trumpet entirely during this time, and eventually delegated most arranging duties to colleagues like Billy Byers and Ernie Wilkins, limiting his involvement in his own albums of instrumentals to selection of tunes and conducting. Despite this, these Mercury albums are probably of most interest to exotica fans--many cuts are choice slices of early soul-jazz and bossa nova. He was in great demand by singers, and worked with Dinah Washington until her tragic death in 1963, Ella Fitzgerald, Sarah Vaughan, Peggy Lee, and even WASP pop star Leslie Gore.
His most famous collaboration during this period was with Frank Sinatra and Count Basie for the album, "It Might As Well Be Swing," which included one of Sinatra's all-time classic numbers, "Fly Me to the Moon."
In 1965, he moved to Los Angeles and broke into film scoring--one of the first blacks other than Benny Carter to do so. Henry Mancini recalled that the producers of The Pawnbroker, Jones' first major scoring job, called him and asked, "We know he's gifted. But he's also black. So will he be reliable?" Neither The Pawnbroker nor Jones' next score for Mirage gained much notice, but his major break came with the Sidney Poitier drama, The Slender Thread. After that, Jones quickly became one of the hottest talents in Hollywood, scoring a stream of films and television shows through the early 1970s. His best-known works from this period were his scores for In Cold Blood and In the Heat of the Night and his theme for the Raymond Burr TV cop show, "Ironside."
Jones eventually grew disenchanted with film work. Creed Taylor enticed him back into recording, and his first three albums for Herb Alpert's A&ampM label were nominated for or won Grammy Awards. His greatest popular success came in the 1980s, though, as the arranger and producer of Michael Jackson's multi-platinum entertainment business milestone, "Thriller," as the composer of the television mini-series, "Roots," and as the producer for the Oscar-winning movie, The Color Purple.
For an extended interview with Jones about his life and work, see the Academy of Achievement website.
---
Recordings
This is How I Feel About Jazz, ABC-Paramount ABC149 (1958)
The Birth of a Band, Mercury MG20444 (1959)
The Great Wide World of Quincy Jones, Mercury MG20561 (1959)
I Dig Dancers, Mercury MG20612 (1960)
Around the World, Mercury PPS2014 (1961)
At the Newport Jazz Festival, Mercury MG20653 (1961)
The Quintessence, Impulse A11 (1961)
Big Band Bossa Nova, Mercury MG20751 (1962)
Quincy Jones Explores the World of Henry Mancini, Mercury MG20863 (1964)
Golden Boy, Mercury MG20938 (1964)
Plays for Pussycats, Mercury MG21050 (1965)
Got a Brand New Bag, Mercury MG21063 (1965)
Walking in Space, A&M SP3023 (1969)
Gula Matari, A&M SP3030 (1970)
Smackwater Jack, A&M SP3037 (1971)
You've Got It Bad, Girl, A&ampM SP3041 (1973)
Body Heat, A&M SP3617 (1974)
Mellow Madness, A&M SP4526 (1975)
Sounds . . . and Stuff Like That!, A&M SP4685 (1978)
The Dude, A&M EC7054 (1982)

Soundtracks
In Cold Blood, Colgems COS-107
Enter Laughing, Liberty LOS-17004
Walk Don't Run, Mainstream MDCD-605
Mirage, Mercury SR-61025
The Slender Thread, Mercury SR-61070
The Pawnbroker, Verve 31233-2
The Deadly Affair, Verve 31233-2
In the Heat of the Night, United Artists UAS-5160
They Call Me Mister Tibbs, United Artists UAS-5214
The Lost Man, United Artists 73060
John and Mary, A&M SP-3040
Roots, A&M SP-4626
For the Love of Ivy, ABC ABCS-OC-7
Bob & Carol & Ted & Alice, Bell 1200
The Cactus Flower, Bell 1201
The Italian Job, Paramount PAS-5007
Dollars, Reprise MS-2051
The Color Purple, Qwest 25389-2
The Hot Rock, Prophesy SD-6055
MacKenna's Gold, RCA Victor LSP-4096
---
Search for Records and CDs
New CDs
Used Records and CDs


Search GEMM for old recordings by Quincy Jones.
---
S p a c e A g e P o p M u s i c
Home · Listener's Guide · The Songs · Who's Who · Liner Notes · Selected Tracks · What's New · Search
© spaceagepop 2015. All rights reserved.