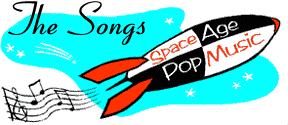 The Brazilian Number
---
"Tico Tico" 1944
Music by Zequinha Abreu
Portugese words by Aloysio Oliviera ("Tico Tico No Fuba")
English words by Ervin Drake
"Baia" 1944
Music and Portugese words by Ary Barroso
English words by Ray Gilbert
"Brazil" 1939 ("Aquarela do Brasil")
Music and Portugese words by Ary Barroso
English words by Bob Russell
All three songs were Brazilian hits imported to the U.S. by Hollywood in the 1940s. "Brazil" became a mainstay in Carmen Miranda's repertoire. Miranda had moved from Brazil to the U.S. in the late 1930s and her colorful routines quickly won her steady employment in movies and on radio. During World War II, maintaining the neutrality of Latin America was a serious concern for President Franklin Roosevelt, and he encouraged Hollywood to foster goodwill by giving prominent attention to Latin American themes, culture, and settings. Orson Welles made an abortive attempt to film "It's All True" in Brazil as part of this "Good Neighbor" policy. Walt Disney produced two movies that are shameless but entertaining pieces of "Good Neighbor" propaganda: "Saludos, Amigos" in 1943 and "The Three Caballeros" in 1944. Both interspersed live action with animation and included both Hollywood studio scenes and location footage from Brazil, Mexico, Argentina, and other countries. Disney hired Ary Barroso, then a popular Brazilian singer, to assist with the scores of the two films, and offered to put him on contract afterwards, but Barroso preferred to return to Brazil.
Xavier Cugat and Carmen Miranda profited most from the popularity of Latin music in the U.S., but it established an acceptance on which both the mambo and cha-cha crazes and more serious artists like Machito and Tito Puente built upon. Miranda's version of "Brazil" was revived in the opening sequence of Terry Gilliam's 1985 film of the same name.
---
S p a c e A g e P o p M u s i c
Home · Listener's Guide · The Songs · Who's Who · Liner Notes · Selected Tracks · What's New · Search
© spaceagepop 2015. All rights reserved.