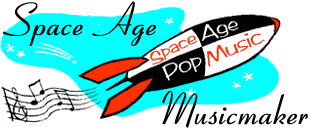 Martin Denny
---
Born 10 April 1911, New York City, New York
Died 2 March 2005, Hawaii Kai, Hawaii
---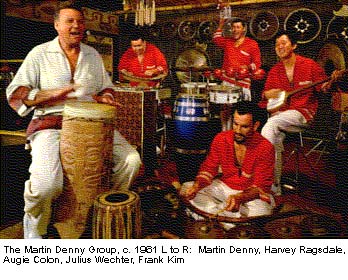 The man who brought the name "exotica" to this genre. The King of the Tiki Hut. Denny not only brought exotica its biggest hit of all time with his #2 single of Les Baxter's "Quiet Village,", he gave two other key figures in exotica--Arthur Lyman and Julius Wechter--their starts, and influenced several generations of lounge performers.

Denny studied classical piano as a child in New York City. He began working professionally at a young age and spent four years touring South America with the Don Dean Orchestra before serving in the Air Force in World War II. Afterward, he attended at the Los Angeles Conservatory and studied composition with Wesley La Violette, who influenced many West Coast jazz composers and arrangers. He continued to work in clubs with small combos when he was hired to play at Don the Beachcomber's, the most popular club in Honolulu, in January 1954. Soon, he was hired by steel and shipping magnate Henry J. Kaiser to play in the Shell Bar, the night club of his new resort on Oahu, the Hawaiian Village.

At first, Denny was heavily influenced by the piano/vibes combo sound of George Shearing, particularly Shearing's highly successful MGM album, You're Hearing George Shearing. Other than the Waikiki setting, there wasn't much exotic about it. But bandmate Augie Colon introduced him to Les Baxter's landmark album, Ritual of the Savage, and Denny adapted several numbers--most famously, "Quiet Village." Over the course of his career, Denny would record over two dozen Baxter tunes.

Denny came across the trademark of his recordings--animal noises in the background--quite by accident while performing at the Shell Bar. As Denny related with an interview in Re/Search magazine's Incredibly Strange Music,
The Hawaiian Village was a beautiful open-air tropical setting. There was a pond with some very large bullfrogs right next to the bandstand. One night we were playing a certain song and I could hear the frogs going [deep voice] "Rivet! Rivet! Rivet!" When we stopped playing, the frogs stopped croaking. I thought, "Hmm--is that a coincidence?" So a little while later I said, "Let's repeat that tune," and sure enough the frogs started croaking again. And as a gag, some of the guys started spontaneously doing these bird calls. Afterwards we all had a good laugh: Hey, that was fun!" But the following day one of the guests came up and said, "Mr. Denny, you know that song you did with the birds and the frogs? Can you do that again?" I said, "What are you talking about?" -- then it dawned on me he'd thought that was part of the arrangement.
Denny broke with Kaiser in 1956 over a contractual dispute, and toured the West Coast before taking extended bookings with the Sands and Flamingo Hotels in Las Vegas. He also won a recording contract with Liberty Records, then just starting out in Los Angeles. Denny recorded a set of his Shell Bar favorites, including "Quiet Village," in mono for Liberty, but the album--"Exotica"--had little success.
As attention in the rest of the U.S. began to turn to Hawaii as it neared its induction as the 50th state in 1959, Liberty brought Denny back into the studio to re-record "Exotica" in stereo. This time, the record found a receptive audience and became a huge favorite among "sophisticated" listeners. "Quiet Village" was released as a single and reached #4 on the Billboard Top 40 pop chart.
Not everyone appreciated Denny's approach, though. R.D. Darrell, a reviewer for Hi Fi magazine groused about Denny's album, "Quiet Village,"
Denny's little ensemble ... has been so successful with a whole series of exotic pops divertissements that mine must be a crabbed minority opinion of his particular blend of cocktail-hour sentimentality with a liberal spiking of pseudojungle sound effects. But except for the leader's own vivacious originals, "Firecracker" and "Sake Rock," the present examples strike me as merely innocuously dull or ridiculously fancy, despite the bright purity with which every jingle-jangle and bird-of-paradise yawp has been recorded. (August, 1959 issue)
Time magazine also noted the noisy nature of Denny's records, commenting that Augie Colon could "caterwaul like a turkey buzzard., croak like a frog, or shriek like a cheetah." But it also observed that, "Blended with Buddhist bells, Burmese cymbals and the West Indian guiro, these noises so far this year have helped sell 60,000 Denny albums, all labeled like bargain-counter perfumes —Exotica, Hypnotique, Afro-Desia."

Soon after the first release of "Exotica," Kaiser hired Denny's vibes player, Arthur Lyman, to take over his old gig at the Shell Bar. After Denny's single of "Quiet Village" started its climb up the Top 40 charts, Lyman was hired by another fledling LA label, Hi Fi Records, and began recording his own string of albums, all heavily influenced by Denny's sound. Denny replaced Lyman with percussionist Julius Wechter, who stayed with him until 1964, when he quit to form the Baja Marimba Band for Herb Alpert's new label, A&M.

Although Denny only placed a few singles in the pop charts as he rode the wave of popularity of the exotica sound and interest in the new state of Hawaii, he continued to record for Liberty until 1969. He moved back to Oahu but toured in the States and appeared on a number of network television variety shows throughout the 1960s.

Most of Denny's recordings feature his trademark animal sounds and exotic percussion instruments, but a number of his mid-1960s albums featured what Liberty termed his "honey" sound. These are standard easy-listening fare and are likely to disappoint those seeking that special Tiki Hut sound.

Although Denny often used authentic musical instruments of indigenous people in his recordings, he was never too concerned about the authenticity of his material or interpretation. As he told one interviewer, "My music has always been like fiction, no authenticity; I didn't want to make African music--I only wanted to suggest how African music might sound."

Denny continued to perform for decades after the initial exotica fad passed. He announced his retirement in 1985 but then reunited with Lyman, Colon, and Chang for a short club tour. In 1990, he toured Japan and recorded a live CD, Exotica 90, and soon after, he was recognized by the Hawaiian Association of Music's Hoku Award for lifetime achievement. Indeed, he survived long enough to see a revival in the mid-1990s that brought an extensive CD reissue of his original albums by Scamp Records.

He continued to perform on occasion and was a tremendous supporter of the younger generation of musicians inspired by his music. Kit Ebersbach and Lloyd Kandell created Don Tiki, one of the better lounge music groups in his honor, and Denny played on several tracks of their 1997 CD, The Forbidden Sounds of Don Tiki. He appeared at Arthur Lyman's memorial service. When Jimmy Buffett stopped in Honolulu on his 2004 tour, he asked to meet Denny, remarking, "His music captured the magic of adventure and escapades. My own dreams used that music as a backdrop." Denny's final public performance, for a tsunami fundraiser at the Hawaii School for Girls, came less than three weeks before his death.

So mix yourself a Mai Tai, drop a little umbrella into your glass, kick off your shoes, and put a Martin Denny album on the turntable. Take a trip to the Hawaii of your mind. Aloha!

A selection of Denny's performances on his early hits are available in transcriptions for piano: The Exotic Sounds of Martin Denny
Martin Denny: Piano Solos from his Liberty Recordings
Publisher: Criterion Music Corporation
6124 Selma Ave.
Hollywood, CA 90028

For more information, check out www.martindenny.com and The Temple of Martin Denny.
---
Recordings
Exotica, Liberty LRP-3034
Exotica--II, Liberty LRP-3077
Forbidden Island, Libery LST-7001
Primitiva, Liberty LST-7023
Hypnotique, Liberty LST-7102
Afro-Desia, Liberty LST-7111
Exotica--III, Liberty LST-7116
Quiet Village, Liberty LST-7122
The Enchanted Sea, Liberty LST-7141
Exotic Sounds from the Silver Screen, Liberty LST-7158
Exotic Sounds Visit Broadway, Liberty LST-7163
Exotic Percussion, Liberty LST-7168
Romantica, Liberty LST-7207
Martin Denny in Person, Liberty LST-7224
A Taste of Honey, Liberty LST-7237
Another Taste of Honey, Liberty LST-7277
The Versatile Martin Denny, Liberty LST-7307
A Taste of Hits, Liberty LST-7328
Latin Village, Liberty LST-7378
Hawaii Tatoo, Liberty LST-7394
Spanish Village!, Liberty LST-7409
20 Golden Hawaiian Hits, Liberty LST-7415
Martin Denny!, Liberty LST-7438
Hawaii Goes A-Go-Go!, Liberty LST-7445
Golden Greats, Liberty LST-7467/LRP-3467
Exotica Classica, Liberty LST-7513
A Taste of India, Liberty LST-7550
Exotic Love, Liberty LST-7585
Exotic Moog, Liberty LST-7621
Paradise Moods, Sunset SUS-5102
From Maui With Love, First American FA-7743
Exotica 90, TOCP 6061
---
Search for Records and CDs
New CDs
Used Records and CDs

<! -- here GEMM code starts>

Search GEMM for old recordings by Martin Denny.
---
S p a c e A g e P o p M u s i c
Home · Listener's Guide · The Songs · Who's Who · Liner Notes · Selected Tracks · What's New · Search
© spaceagepop 2015. All rights reserved.