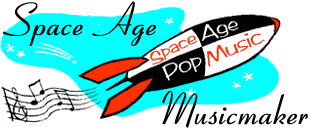 Benny Carter
---
Born Bennett Carter, 8 August 1907, New York City
---
Benny Carter is much, much more than an arranger--he's a giant in the history of jazz and I can't do justice to his accomplishments in this short write-up. But during his incredible career--which began in the late 1920s and continues to this day (he was still performing at the age of 90!)--he spent much of the 1950s and 1960s as an arranger and sideman in the Hollywood studio system. During this time, he arranged and conducted behind such vocalists as Abbey Lincoln, and arranged several instrumental albums of his own. In 1958, musical director Stanley Wilson hired Carter to write much of the incidental music for the TV series, "M Squad."
---
Recordings
Selections on "M Squad" Soundtrack, RCA Victor LSP-2062
All of Me, RCA Bluebird CD 3000-2-RB
Autumn Leaves, Movietone 72020
Jazz Giant, Contemporary S7555
Jazz Calendar, United Artists UAS 5080
Further Definitions, MCS Impulse MCA 5651
---
Search for Records and CDs
New CDs
Used Records and CDs


Search GEMM for old recordings by Benny Carter.
---
S p a c e A g e P o p M u s i c
Home · Listener's Guide · The Songs · Who's Who · Liner Notes · Selected Tracks · What's New · Search
© spaceagepop 2015. All rights reserved.