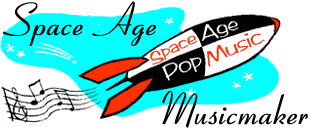 Eddie Cano
---
Born 6 June 1927, Los Angeles, California
---
A popular and lively lounge piano combo leader in Hollywood in the 1960s. Born and raised in L.A., Cano came from a family of professional musicians--his grandfather had played with the Mexico City Symphony Orchestra. He studied music at L.A. City College and the L.A. Conservatory before joining the Army in 1945. After the war, he toured as a pianist with mambo king Miguelito Valdez for about a year, then led his own combo briefly before joining Bobby Ramos' band. He remained with Ramos for nearly four years.
Returning to L.A., he worked with a variety of groups, including Jack Costanzo's combo, Manny Lopez's band, and Cal Tjader. In 1960, he was hired as the house group for the Hollywood nightclub P.J.'s, a favored Rat Pack hang-out. Cano was popular with the movie crowd, and even appeared in several films, including Elvis' Fun in Acapulco, Jerry Lewis' classic The Nutty Professor, and Sinatra's Love on the Rocks. He also played for Sinatra's 1970 Hollywood Bowl performances. Later, Cano helped create a series of bi-lingual educational records titled, A Taste for Education.
---
Recordings
Cole Porter and Me, RCA Victor LPM-1340
Deep in a Drum, RCA Victor LSP-1645
Time for Cha Cha Cha, RCA Victor LSP-1672
Duke and Me, RCA Victor LP
The Best of Eddie Cano, RCA Victor LPM-2636
Eddie Cano at P.J.'s, Reprise RS-6030
Here is the Fabulous Eddie Cano!, Reprise RS-6088
Danke Schoen, Reprise RS-6105
Broadway Right Now, Reprise R-6124
The Sound of Music, the Sound of Cano, Reprise RS-6145
---
Search for Records and CDs
New CDs
Used Records and CDs


Search GEMM for old recordings by Eddie Cano.
---
S p a c e A g e P o p M u s i c
Home · Listener's Guide · The Songs · Who's Who · Liner Notes · Selected Tracks · What's New · Search
© spaceagepop 2015. All rights reserved.