Born Robert Marshall Rosengarden, 23 April 1924, Elgin, Illinois
Died 27 February 2007, Sarasota, Florida
---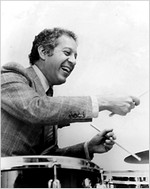 Along with Phil Kraus, Bobby Rosengarden formed the core of the percussion section in the New York City studio system of the late 1950s and 1960s. An early prodigy on drums, Rosengarden won a scholarship to study music at the University of Michigan. Drafted in World War Two, Rosengarden played in an Army Air Corps band. While with this band, he was noticed by sweet band leader Henry Busse and given a job in Busse's band after separation.
After a year or so on the road with Busse, however, Rosengarden dedicated to settle in New York City, where he quickly became one of the popular session men in the studio system. He also won a slot in the NBC Orchestra, which ensured a flow of work to supplement the studio gigs. He remained with the orchestra until the late 1960s, when he switched to ABC in order to appear on-screen as the studio ensemble leader on ABC's "The Dick Cavett Show." Rosengarden occasionally did some touring work, mostly short dates with groups like Benny Goodman's late 1950s incarnation of his combo.
Rosengarden and Kraus recorded several albums as a duo, for RCA Victor and, later, Command. Rosengarden also performed as part of the Walter Wanderley Trio when the Brazilian organist's "Summer Samba (So Nice)" became a big instrumental hit in the 1960s. He also recorded as one of the combo backing bossa nova vocalist Astrud Gilberto on her album, A Certain Smile. Rosengarden led the on-stage orchestra for Jerry Lewis' Muscular Dystrophy telethon from over a decade, into the early 1990s.
Rosengarden was once asked how he was able to play with such a wide variety of artists and in so many different styles. "I just stayed out of the way, baby," he answered. "Stayed out of the way."
---
Recordings
Just ... Bongos, Time S/2000
Hollywood Sound Stage, Decca DLP 4184
Percussion ... Playful and Pretty, RCA Victor CSP-113
Hot Line for Sound, Project 3 PR 5002 SD
---
Search for Records and CDs
New CDs
Used Records and CDs


Search GEMM for old recordings by Bobby Rosengarden.
---
S p a c e A g e P o p M u s i c
Home · Listener's Guide · The Songs · Who's Who · Liner Notes · Selected Tracks · What's New · Search
© spaceagepop 2015. All rights reserved.