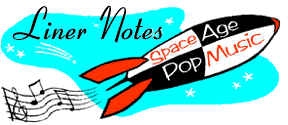 What IS Space Age Pop?
Attempting to Define an In-Between Genre
---
This music might be characterized most easily by what it isn't. It's rarely simple enough in structure and instrumentation to be called rock (and certainly retains enough of a sense of humor to be disqualified as art rock). It's not serious or straightforward enough to be called jazz. It's often too esoteric or extreme to be called pop. It's in some middle ground between all of these, which means it's populated with the outcasts from other well-established genres. As a result, Space Age Pop is full of brilliant, bizarre, and exciting sounds, which are particularly striking to ears accustomed to the stereotypes that populate the more familiar genres.
Among these outcasts, though, there are some common features that a simple categorization can help identify. The following list offers some labels for these categories and matches some names against each. I should state up front, though, that my definition of "Space Age Pop" can be summed up as: all of this and more.
The strictest definition limits exotica to the imitations of Polynesian, Afro-Caribbean, and Hawaiian music that were produced by Les Baxter and others from the mid-1950s to the very early 1960s. This music blended the elements of Afro-Cuban rhythms, unusual instrumentations, environmental sounds, and lush romantic themes from Hollywood movies, topped off with evocative titles like "Jaguar God," into a cultural hybrid native to no place outside the San Fernando Valley.

There were two primary strains of this kind of exotica: Jungle and Tiki. Jungle was definitely a Hollywood creation, with its roots in Tarzan movies (and further back, to W.H. Hudson's novel, Green Mansions. Les Baxter was the king of jungle exotica, and spawned a host of imitators while opening the doors for a few more genuine articles such as Chaino, Thurston Knudson, and Guy Warren. Tiki was introduced with Martin Denny's Waikiki nightclub combo cum jungle noises cover of Baxter's "Quiet Village," although Denny's vibe player, Arthur Lyman, soon became the style's most representative artist. Tiki rode a wave of popularity in the late 1950s and early 1960s marked by the entrance of Hawaii as the 50th state in 1959 and the introduction of Tiki hut cocktail bars and restaurants around the continental United States. Tiki exotica is now enjoying a resurgence in popularity, and Tiki mugs and torches that once collected dust in thrift stores are now hot items.
A phrase coined by Byron Werner to describe the music of Esquivel and others that reveled in dramatic contrasts of dynamics, instrumentation and vocal effects, and wild movements of sound from left channel to right and back again and seemed aimed squarely for the generation of white American males that came of age with Playboy magazine and high fidelity stereo equipment. "Imagine George Jetson as a bachelor: 'Hubba-Hubba!'"

Space Age Bachelor Pad Music, also called Space Age Pop or shortened to SABPM in this acronym-friendly age, actually spans pre-stereo "high fidelity" recordings introduced in the mid-1950s to the brief and unsuccessful attempt to push quadrophonic recordings in the early 1970s. It encompasses a huge range of music, but is best characterized by the recordings from a few particularly outstanding series:

RCA's Stereo Action
Command's Persuasive/Provocative Percussion albums
London's early Phase 4 albums
Mercury's Perfect Presence Sound albums

To this list could be added many more imitations: the Medallion series from Kapp; Directional Sound, which repackaged and altered recordings by Francis Bay and members of his band; Liberty's Premier series; and United Artist's Wall-to-Wall stereo albums, to name a few. These albums also featured distinctive packaging--gatefolds with bold abstract designs or glossy photos or, in the case of RCA's Stereo Action series, sturdy cardboard outer sleeves with die-cut openings revealing rainbow-colored abstract photo images on the inner sleeve. The visual and audio presentations were both intended to set these recordings apart from everything else on the market, and the liner notes went on at eye-glazing length about how the bass saxophone motif would stress your sub-woofers or how the passage where the melody is played by tuned bongos might cause the needles on inferior stereos to skip. Very little space if any was devoted to the quality of the musical interpretation--as the British comic duo Flanders and Swann put it in their song, "The High Fidelity," "But I don't really care for music much--it's the high fidelity!"

That quip does the genre injustice, though. The studio musicians playing on many of these recordings were awesomely proficient, the arrangers innovative and irreverent, and the results can still astonish nearly 40 years later.
My name for the (mostly instrumental) music that followed the decline in Space-Age bachelor pad music in the early 1960s. Jet Set Pop enjoyed vastly greater popularity that its predecessor, epitomized by the many Top 40 hits by Herb Alpert and the Tijuana Brass that implanted themselves into the genetic memory of anyone who drew breath back then. Its rise was marked by the introduction of Brazilian bossa nova music in 1962, which added numerous songs that quickly became new exotica standards: "The Girl from Ipanema"; "Summer Samba (So Nice)"; "Desifinado"; and Sergio Mendes' "Mais Que Nada." Herb Alpert added the Tijuana Brass sound in 1963, and Tony Hatch, Petula Clark, Tom Jones, and John Barry's James Bond scores provided British alternatives to the Beatles. Claude Lelouch's film A Man and a Woman provided plenty of grist for the cover mill in Francis Lai's title song, as did Maurice Jarre's "Lara's Theme" from Doctor Zhivago. Even Germany enjoyed one of its few moments of success on the pop scene with Bert Kaempfert's many hits, including his theme to the the film A Man Could Get Killed, a number one hit for Frank Sinatra when done as "Strangers in the Night," and Horst Jankowski's equally successful "A Walk in the Black Forest." In the U.S., Burt Bacharach and Dionne Warwick quickly crossed over from soul to pop pulled in some of the decade's biggest hits. And perhaps the biggest hit--certainly the most covered--was "More" from Riz Ortolani's score for the bizarre documentary, Mondo Cane.
There's a thin (and perhaps pointless) line between Jet Set Pop and the Now Sound. The two styles share many common characteristics in material, often covering the same tunes. Where they differ is in their intended audiences: it's clear, for example, that Kai Winding was not aiming at the Mom and Pop market with his album More, also released under the title, Soul Surfin'. Jet Set Pop was heavily influenced by--and in someways an adaptation of--bossa nova, while the Now Sound embraced the instrumentation, rhythm, and, it hoped, the audience of rock and roll. The Now Sound was the sound of the discotheque, the Whiskey a-Go-Go, the "In" crowd. The basic rhythm section is pure rock--electric bass and pounding drums. But the electric guitar is not deeded exclusive rights to the lead. Instead, with groups like Phil Bodner's The Brass Ring, the T-Bones, and Trombones Unlimited, big band sax and brass sections doggedly stake out their territory. Claus Ogerman's arrangements for Winding, Cal Tjader, Wes Montgomery, and others epitomize the Now Sound--an irresistable blend of Hammond organ, big band brass and reeds, funky bass line, and here and there a bit of Ondioline tossed in. It's a real tossed salad of influences--bossa nova, Latin soul and bugalu, big band, R 'n' B, instrumental rock, and Motown's rhythm section. But it works.
Yes, you can listen to any kind of music you like while you're drinking a cocktail, but this refers to the string of recordings made in the mid-1950s that intended to make a direct tie between their musical contents and the enticing act of sipping Martinis in a stylish bar while some gorgeous woman in a knock-out dress gazed at you with lust and awe. These often were by piano trios, playing light classics and sanitized jazz and featuring titles like, "Cocktail Time" and "Cocktails, Anyone?" Irving Fields was probably the king of cocktail music.
Introduced explicitly as the title of two 1993 volumes by Re/Search, an avant-garde publication based in San Francisco. As covered in these books, this label includes everything from Exotica as described above to sound effects, serious and comic and unintentionally comic spoken word, and stag party records, to Moog synthesizers, to outrageous foreign covers of U.S. pop hits. The two ISM volumes helped spark current interest in exotica, though, with interviews that brought the names of Martin Denny, Korla Pandit, and Yma Sumac to a new generation, and led to release of two CD compilations of music mentioned in the book.
Championed by Irwin Chusid in his excellent book, Songs in the Key of Z, Outsider music includes anything that might be considered to fall outside the mainstream of popular musical. And here the mainstream applies on a global scale, so what's termed "World Music" doesn't pass the test in most cases because it's usually just mainstream pop music from somewhere else on the planet. Although the Outsider Music Mailing List page claims that lounge/exotica music does not qualify, I would beg to differ. Certainly many of the fans of one enjoy and collect the other. But more importantly, there is the fact that so much of the music and musicians covered on this site have been overlooked by the two primary indicators of historical memory: reference books and reissued recordings. Yes, there was a time when Ray Conniff was just a turn of the radio dial away, but now his music is relegated to die-hard fans and those who roam the beaches on which the detritus of the music marketplace washes up. Somewhere My Love is just as much a cast-off or exile from the mainstream as something by Shooby Taylor. No one can ever expect to collect all the music that has been carried away on the tides of the marketplace, but the act of remembering the forgotten is a fundamental refusal to surrender the future to entropy.
---
S p a c e A g e P o p M u s i c
Home · Listener's Guide · The Songs · Who's Who · Liner Notes · Selected Tracks · What's New · Search
© spaceagepop 2015. All rights reserved.