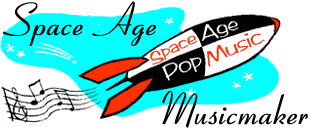 Ken Griffin
---
Born 28 December 1909, Columbia, Missouri
Died 11 March 1956, Chicago, Illinois
---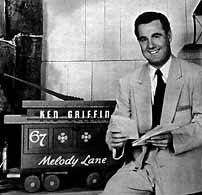 The most successful, yet stylistically the least interesting organist of the 1950s. Griffin recorded a slew of albums, mostly for Columbia, and had Top 40 pop hits with his covers of "The Anniversary Song" and "You Can't Be True, Dear." The latter reportedly sold something like 3.5 million copies, but the funny thing is that the hit version was actual a dub of vocals by singer Jerry Wayne over a copy of the tune recorded by Griffin as an instrumental number for skating rinks.
For a more reverent tribute, check out the Ken Griffin Memorial Page
---
Anniversary Songs, Columbia CL 586
Skating Time, Columbia CL 610
Lost In A Cloud, Columbia CL 662
The Organ Plays At Christmas, Columbia CL 692
67 Melody Lane, Columbia CL 724
Crusing Down The River, Columbia CL 761
You Can't Be True, Dear, Columbia CL 907
Love Letters In The Sand, Columbia CL 1039
Ken Griffin's Latin Americana, Columbia CL 1042
Hawaiian Magic, Columbia, CL 1062
Lets Have A Party (And Everybody Sing), Columbia CL 1127
Moonlight And Roses, Columbia CL 1207
Remembering, Columbia CL 1289
Ken Griffin Plays Romantic Waltzes For
Listening-Dancing-Skating,ColumbiaCL1365
Sweet And Lively, Columbia CL 1411
On The Happy Side, Columbia CL 1518
To Each His Own, Columbia CL 1599
The Enduring Hymns (with Kirby Griffin), Columbia CL 1645
The Sparkling Touch, Columbia CL 1709
Sugar 'N' Spice, Columbia CL 1811
Ken Griffin's Greatest Hits, Columbia CL 2717
The Best Of Ken Griffin, Columbia G 30552 (Two Record Set)
Sentimental Journey, Harmony HS 11329
Great Organ Favorites, Harmony H 31028
You Can't Be True Dear, Rondo-Lette A-1
Sentimental Me, Rondo-Lette A-17
Ken Griffin AT The Great Organ, Rondo-Lette A-30
Christmas Organ And Chimes, Rondo-Lette A-40
---
Search for Records and CDs
New CDs
Used Records and CDs


Search GEMM for old recordings by Ken Griffin.
---
S p a c e A g e P o p M u s i c
Home · Listener's Guide · The Songs · Who's Who · Liner Notes · Selected Tracks · What's New · Search
© spaceagepop 2015. All rights reserved.