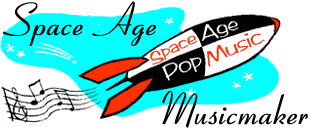 Warren Barker
---
Born 16 April 1923, Oakland, California
Died 3 August 2006, Greenville, South Carolina
---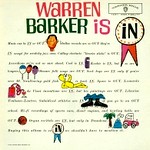 Best known for his jazzy score and best-selling soundtrack album from the television series, "77 Sunset Strip", Barker played piano and trumpet in school and then attended UCLA, where he studied under the composer Mario Castelnuovo-Tedesco. After serving in the Army Air Corps, where he played in a band, he returned to Los Angeles and began a long association with radio, television, and movie studios. He worked as staff director for Warner Borthers Record for nearly a dozen years, leaving in 1960 to focus on television work.
His TV credits include musical direction for the TV series "Hawaiian Eye" and orchestrations for such Nick-at-Night classics as "Bewtiched," "Daktari," "That Girl," and "The Flying Nun"--including that little xylophone thing that plays whenever Samantha (Elizabeth Montgomery) wiggles her nose to cast a spell. He imprinted a bit of 1970s cultural history into a generation's genetic code with his theme for the "Donny and Marie Osmond Show," "A Little Bit Country, A Little Bit Rock-n-Roll." Barker also wrote the scores for the films Strange Lovers and The Zebra in the Kitchen. He retired from the studio scene in the early 1980s and devoted his time thereafter to writing and conducting original compositions for concert bands and wind ensembles.
BONUS!
Are you "In" or "Out"?

Take this simple quiz from Warren Barker is In!

Do you like kazoos?

The only excuse for listening to a kazoo is an unquenchable enthusiasm for old Bob Burns records, which seem to be coming IN.

Do you listen to cool sounds?

You're IN if you do, and that's all there is to it. Except that we'd like to add that Barker's as cool as they come.

Do you watch OUT movies on television?

This presents a problem. If it's a film like "King Kong" or "Shipmates Forever," you're IN. If it's a good Western, you're OUT.

Do you like music you can smooch to?

Smooching is IN. Passion is OUT.

Do you prefer trumpets muted?

If so, you're IN. If you like them muted with torn felt hats, you're a leader.

Do you make a habit of coffee houses?

They're IN only if you never drink coffee there.

Do you swing without vines?

If so, you're IN. The only vines it's permissable to swing with is Elsworth.

Do you dig Ira Ironstrings flambe?

You're way IN. Ironstrings is very IN, but combined with flames, he's the end. "The end," by the way, is OUT unless we say it.

Do you read Moby Dick Saturday nights?

This makes you OUT. You must be re-reading Moby Dick to be IN.

And NOT from the same album:

Can you remember the words to "A Little Bit Country, A Little Bit Rock-n-Roll"?

We have found you OUT. Now we will have to turn you IN.
---
Recordings
The King and I, Warner Brothers WB 1205
Tommy Morgan, Tropicale (Arrangements and Conducting), Warner Brothers WB 1214
Waltzing Down Broadway, Warner Brothers WB 1218
77 Sunset Strip (soundtrack), Warner Brothers WBS 1289
William Holden Presents Far Away Places, Warner Brothers WBS 1308
Warren Barker Is In, Warner Brothers WBS 1331
Hawaiian Eye (soundtrack), Warner Brothers WBS 1355
The Music of Desire, Warner Brothers WBS 1364
---
Search for Records and CDs
New CDs
Used Records and CDs


Search GEMM for old recordings by Warren Barker.
---
S p a c e A g e P o p M u s i c
Home · Listener's Guide · The Songs · Who's Who · Liner Notes · Selected Tracks · What's New · Search
© spaceagepop 2015. All rights reserved.