---
Born July 13, 1920, Battle Creek, Michigan
Died 26 January 2000, Santa Rosa, California
---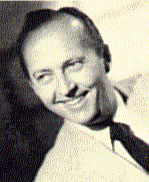 Don Ralke was a prolific arranger, composer, and producer, working for over 25 years in the Hollywood studio system in films, television, and pop recordings.
Ralke received his Bachelors and Masters degrees in music at the University of Southern California, graduating with honors. He also studied with famed composer and Hollywood emigre, Arnold Schonberg.
Early in his career, he briefly got stuck--probably unintentionally--in a bongos niche. He collaborated with versatile flute and reed man Buddy Collette on Jazz Heat, Bongo Beat, a sizzling slice of hepcat jazz, one of the rare genuinely original albums on Crown Records. Then Warner Brothers hired him for Gershwin with Bongos and The Sensuous and the Savage, one of the best jungle exotica albums around. The liner notes for Gershwin with Bongos captures the bongo fanatic at fever pitch:
He lifts his double-barrelled percussion piece at the drop of a vamp. His eyes moisten at the mention of a party, any kind of party. He spends long hours improvising paradiddles. A study in determination, he takes his craft seriously, flexes his fingers in off moments, oils his heads till they glimmer, and forsakes all others to spend evenings stretching his bongo skins to the ripping point....
... then launches into "An American in Paris."

Ralke was once described by Stan Ross, founder of the famed Gold Star recording studio, as "the most well-known unknown in the business." He worked with Warren Barker on the music for "77 Sunset Strip" and did the heavy musical lifting when Edd "Kookie" Byrnes, one of the show's stars, became a teen idol and recorded his one hit, "Kookie, Lend Me Your Comb." He performed similar duties for "Hawaiian Eye" star Connie Stevens recorded "16 Reasons." Working with "golden throats"--the term given to celebrities who attempt--with markedly lack of success--to be singers became something of a specialty for Ralke. Or rather, Ralke deserves credit for convincing such non-singers as William Shatner and Lorne Greene to play it safe and stick to narration over a musical background. As for his work on Beach Boy dad Murry Wilson's "The Many Moods of Murray Wilson"--well, having bios like this mention it forty years later is probably punishment enough.

He worked on hundreds of pop recordings, including Jewel Akens' "The Birds and the Bees" and five other gold records, and formed his own production company in the late 1960s. He collaborated with sound engineer Brad Miller on the hugely successful strings-with-environmental sounds creation, the Mystic Moods Orchestra. Ralke handled most of the arranging chores and contributed numerous original compositions for the first dozen releases by the "group."

In the 1970s, he returned to television, working for producer Garry Marshall on the series "Happy Days" and its spin-off, "Laverne and Shirley."
---
Recordings
Very Truly Yours, Crown Records CLP 5018
Bongo Madness, Crown CLP 5019
Bourbon Street Beat, Warner Brothers WBS-1321
But You've Never Heard Gershwin with Bongos, Warner Brothers WBS-1360
The Savage and the Sensuous Bongos, Warner Brothers WBS-1398
(arranger/producer on) The Transformed Man, Decca DLP-75043
(arranger/producer on) Ringo, Lorne Greene
C'mon Let's Live a Little (soundtrack), Liberty LST-7430
---
Search for Records and CDs
New CDs
Used Records and CDs


Search GEMM for old recordings by Don Ralke.
---
S p a c e A g e P o p M u s i c
Home · Listener's Guide · The Songs · Who's Who · Liner Notes · Selected Tracks · What's New · Search
© spaceagepop 2015. All rights reserved.