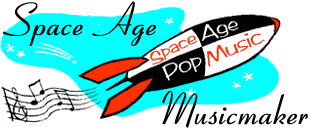 Walter Wanderley
---
Born 12 May 1932, Recife, Brazil
Died 4 September 1986, San Francisco, California
---
The most successful instrumentalist of the bossa nova movement, Wanderley had a huge Top 40 pop hit with "Summer Samba," from his Verve album, Rain Forest. Although he had hits in Brazil from the early 60s on, Wanderley (pronounced "Von-der-LAY") was at the tail end of the bossa nova wave for U.S. audiences. World Pacific and Capitol licensed his Brazilian recordings for U.S. release, but it wasn't until he moved to the U.S. and Creed Taylor signed him to Verve that he broke through to American listeners.
Taylor packaged "Summer Samba" as a single and it reached #26 in the Billboard pop charts in September 1966. Never one to miss a commercial opportunity, Taylor hustled Wanderley back into the studio and cranked out two albums--Batucada and A Certain Smile--in the space of a week. In all, Wanderley recorded six albums for Verve in under two years.
Wanderley switched labels with Taylor and recorded another two albums. Like Sergio Mendes, he eventually emigrated to San Francisco and adapted to the changing musical times, experimenting with fusion beginning in the early 1970s.
Ten years after his death from cancer, Wanderley was rediscovered by a new generation of lounge fans, and many of his recordings have since been reissued on CD. Although he could lay back and lounge with the best of them, his best work is more upbeat, infused with a distinctive staccato stuttering style of playing that gave bossa nova a second wind just as it was about to die of boredom in the mid-1960s.
---
Recordings
Walter Wanderley's Brazilian Organ, Capitol T 1856
Samba So!, World Pacific WPS 21856
Quarteto Bossamba, World Pacific WPS 21866
Brazilian Blend, Philips PHS 600-227
Organ-ized, Philips PHS 600-233
Rain Forest, Verve V6-8658
(with Astrud Gilberto), A Certain Smile, A Certain Saddness, Verve V6-8673
Cheganca, Verve V6-8676
Batucada, Verve V6-8706
Kee-Ka-Roo, Verve V6-8739
Popcorn (with Luiz Henrique), Verve V6-8734
From Rio with Love, Tower ST 5047
Murmurio, Tower ST 5058
When It Was Done, CTI/A&MSP-3018
Moondreams, CTI/A&M SP-3022
The Return of the Original, Canyon 7711
Brazil's Greatest Hits, Crescendo GNP S-2137
Perpetual Motion Love, GNP Crescendo GNP S-2142
---
Search for Records and CDs
New CDs
Used Records and CDs


Search GEMM for old recordings by Walter Wanderley.
---
S p a c e A g e P o p M u s i c
Home · Listener's Guide · The Songs · Who's Who · Liner Notes · Selected Tracks · What's New · Search
© spaceagepop 2015. All rights reserved.