Born Frans Bayetz, Rijkevorsel, Belgium, 1914
Died 25 April 2005, Bonheiden, Belgium
---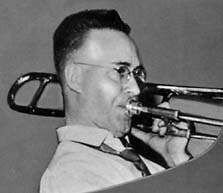 Leader of some of the wildest big band ensembles of the space age pop era, Francis Bay started honing his chops at the young age of seven, playing clarinet with local orchestras in his area. By fourteen, he was already writing his own compositions and soon after, began a lifetime captivation with jazz. He won first prize for clarinet performance at the Conservatoire of Malines (Mechelen) in 1930, and later added saxophone and trombone to his repertoire. In the late 1930s, he played with several of the more successful European swing bands, including Paul Godwin's and Boyd Bachman's. He continued to work professionally during World War Two, mostly with Belgian and Dutch dance bands.
In the late 1940s, he helped form an influential European big band, the Skymasters. He also arranged and composed music for Dutch and German films and played with groups throughout northern Europe. Finally, in 1954, he formed his own big band, the group with which he came to greatest fame. Within its first year of existence, the band won the Golden Gondola award at the International Music Fair in Venice. Two years later, in 1956, Bay was selected to be director for popular music at Vlaams Radio-Televisie (the official Flemish radio and television network in Belgium).
Although Bay's band was quite popular on radio in Europe, it was the lucky coincidence of the 1958 World's Fair being held in Brussels that brought him to the attention of American audiences.
Bay's band shared the World's Fair stage with numerous major American jazz and pop stars, including Benny Goodman, and Omega, a small American jazz label, licensed a slew of Bay's Belgian recordings for release in the U.S. Unlike many European bands, which offered loving but pale imitations of American bands, Bay's not only produced flawless duplicates of hits by Basie, Glenn Miller, Tommy Dorsey, and others, but staked out their own territory as well. On his Latin-flavored recordings, Bay sounds like he could go head-to-head with Perez Prado in a battle of bands.
In addition to his many Omega albums, Bay also provided the material for a number of albums released on Directional Sound. Credited to "John Evans"--the Americanized name of his piano player, Jean Evans--or "Don Catelli"--these are certainly the best of an attractive and well-produced (if shoddily annotated) series of glossy gatefolds clearly targeted at the same market as Enoch Light's Command albums.
As American listeners' interest in jazz in general and European jazz in particular waned in early 1960s, Bay's albums vanished from the U.S. racks. His work in Belgium continued, however. He composed, arranged, and conducted music for dozens of shows on VRT, including everything from game shows to Belgium's annual competition for its entrant to the Eurovision Song Contest. When he retired in 1979, however, he cut off all ties with the network, refusing to return in the late 1990s for VRT's 50th anniversary celebrations.
---
Recordings
Latin American Dances, Philips ACR 11254 (10" LP)
Salute to Tommy Dorsey, Omega OSL-16
Flag Wavers by the Bay Big Band, Omega OSL-17
Salute to Glenn Miller, Omega OSL-18
The Bay Big Band Swings the Forties, Omega OSL-19
The Big Bay Band's Latin Beat (also released as The Brussels Worlds Fair Salutes The Perez Prado Orchestra), Omega OSL-20
Swing Low, Great Clarinet, Omega OSL-21
Swingin' Sweet Trumpet, Omega OSL-22
Salute to Duke Ellington, Omega OSL-24
Sentimental Swingers, Omega OSL-25
Swingin' High, Omega OSL-26
Big Sounds, Omega OSL-27
Latin Heat (also released as Hot Cha Cha Cha), Omega OSL-44
Shaw 'Nuff, Omega OSL-46
Swingin' Night People, Omega OSL-50
Francis Bay Swings the Cha Cha Cha Beat, Epic LN 3595
Viva, Epic LN 3637
Who's Afraid of the Big Band Beat?, Epic LN 3695
Pseudonymous albums on Directional Sound:
As John Evans

Latin Brass, Directional Sound DS 5001
Percussive Sound of the Big Band, Directional Sound DS 5003
Exotic Percussion and Brilliant Brass, Directional Sound DS 5006

As Don Catelli

Passionate Percussion, Directional Sound DS 5009
Potent Percussion, Directional Sound DS 5010
---
Search for Records and CDs
New CDs
Used Records and CDs


Search GEMM for old recordings by Francis Bay.
---