---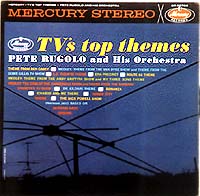 TV provided the inspiration and occupation for many of the musicians and music featured on this site. Here are some of the shows to which arrangers, composers, and performers in these pages contributed.
"Danger"
Live suspense anthology series. Score by Tony Mottola, later collected on what's believed to be the first soundtrack album from a TV series.
"Hawaiian Eye"
Robert Conrad and Anthony Eisley played two partners in Honolulu detective agency, tooling around the islands fighting crime. Connie Stevens was Cricket, the singer at the Hawaiian Village Hotel bar which the guys dropped in at at least once a show. If you looked closely, you could occasionally see Martin Denny playing in the background. Theme by Joseph Mullendore.
"Hawaii Five-O"
Sept 1968-April 1980 (CBS)
"Book 'em, Dano!" Longest-running crime series on TV. Jack Lord starred as Steve McGarrett, head of an elite state law enforcement office. James MacArthur starred as "Dano" Williams, his right-hand man. Straight-jawed men with shellacked hair fought the forces of evil around the islands. Mahalo. Theme by Mort Stevens.
"The Lawrence Welk Show"
July 1955-Sept 1971 (ABC)
1971-1982 (Syndicated)
Longest-running music show on TV. And wasn't it wunnerful. Lawrence led the band as the buble machine pumped away, and those beloved stars of the Welk family--Norma Zimmer singing songs of faith, Joe Feeney doing the Irish numbers, Myron Floren on accordion with the weekly polkas, Guy and Ralna, and that nice young man, Bobby Burgess. Life stopped at my grandmother's house once a week while she watched this show. To me, "The Lawrence Welk Show" was life the way Nixon would have wanted it.
"M Squad"
Sept 1957-Sept 1960 (NBC)
Tough police drama set in Chicago. "M Squad" was a group of homicide detectives led by tight-jawed Lee Marvin. Stanley Wilson was the musical director, but Count Basie contributed a new theme for the show's second season, and Benny Carter wrote much of the incidental music for the show.
"Mr. Broadway"
Craig Stevens comes back, this time as New York PR man/crime-fighter. Music by Dave Brubeck.
"Naked City"
New York City cop show, based on the 1948 film. Title taken from the book of photos by Weegee, photographer of NYC's afterhours life in the 1940s. "There are 8 million stories in the naked city; this has been one of them." John McIntire starred for the first season, but his character was killed off and a new star, James Franciscus, replaced him as a younger lead and played the remainder of the years. Theme by Billy May
"Peter Gunn"
Sept 1958-Sept 1960 (NBC)
Oct 1960-Sept 1961 (ABC)
Half-hour crime show starring Craig Stevens as Peter Gunn, private eye and lounge lizard. Lola Albright played Edie, Gunn's love interest and the singer at Mother's, the nightclub where Gunn hung out. Henry Mancini's theme and jazz score are better remembered than the show itself.
"Richard Diamond"
July 1957-Sept 1959 (CBS)
Oct 1959-Sept 1960 (NBC)
Originally a radio series with Dick Powell, the show revived the character with David Janssen as the lead. First episodes were based in New York; in 1959, the scene moved to Los Angeles. Diamond tooled around LA while getting his taskings from Sam (Mary Tyler Moore), his secretary, via the then-novelty of a car phone. Produced by Powell's Four Star, with theme and score by Pete Rugolo.
"Route 66"
Hour-long adventures series about Tod Stiles (Martin Milner) and Buzz Murdock (George Maharis, later Glenn Corbett), two cool guys tooling around the country in a 1960 Corvette. Like "Run for Your Life" and "The Fugitive," but without the sustaining motivation. Nelson Riddle wrote the theme, which became a hit single.
"Run for Your Life"
Sept 1965-Sept 1968 (NBC)
Hour series starring Ben Gazzara as a lawyer given no more than two--wait, make that three--years to live, who decides to spend that time tooling around the country helping people in trouble.
"Sam Benedict"
Sept 1962-Sept 1963 (NBC)
Hour show starring Edmond O'Brien as Sam Benedict, crime-fighting San Francisco attorney. Theme by Nelson Riddle
"Staccato"
Sept 1959-Mar 1960 (NBC)
Mar 1960-Sep 1960 (ABC)
Half-hour crime show starring John Cassavetes as Johnny Staccato, New York jazz pianist turned private eye. Centered around a nightclub, the show was something of a blend of "Peter Gunn" and "Mr. Lucky" and was panned as an imitation of both. Score by Elmer Bernstein.
"The Third Man"
Syndicated series, 1959-1960
Michael Rennie starred as Harry Lime, somehow revived after being killed at the end of the original film, and now an international man of action.
"Thriller"
An anthology crime story series hosted by Boris Karloff, an imitation of "The Alfred Hitchcock Show." Score by Pete Rugolo.
"The Untouchables"
Hour-long crime show, based on the real-life exploits of Treasury agent Eliot Ness (Robert Stack). Theme by Nelson Riddle.
---
S p a c e A g e P o p M u s i c
Home · Listener's Guide · The Songs · Who's Who · Liner Notes · Selected Tracks · What's New · Search
© spaceagepop 2015. All rights reserved.