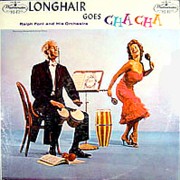 The temptation to muck with great classical music seems to have been a common vice among space age pop musicians. These men listened to the immortal strains of Bach and Mozart and, unlike most everyone else, heard something ... missing. Something that only they could add. Like a rock backbeat. Or lots and lots of percussion, the stranger the better.
To cover their tracks, they pitched their experiments as attempts to popularize, to evangelize, to bring the supposedly inaccessible down to Joe Sixpack's level so he might catch the classical bug and become a regular down at the Philharmonic. The real motivation was probably just that eternal desparate search for new material, and these albums certainly aren't the first time that the theory that when something gets old enough, it qualifies as new once again was put into practice.
Ray Conniff recorded several albums of classical tunes adapted to his trademark choral sound, beginning in 1957 with Concert in Rhythm (Columbia). He also threw in a classical piece such as "Dance of the Hours" and "Liebestraum" from time to time, usually turning it into well-crafted but uninteresting elevator music, but occasionally producing something fun and very much tongue-in-cheek, like his twist on "Also Sprach Zarathustra."
Verve Records ressurected swing era drummer Gene Krupa to pound along to the melodies of Bizet and others on Classic Percussion (Verve), and Hal Mooney brought in a crack group of West Coast session men to create Ballet with a Beat (Mercury), which features credibly swinging versions of "Coppelia," "Sabre Dance," and other famous ballet melodies. Les Brown had one of his first big hits in the 1940s with an adaptation of "Farandole" from L'Arlésienne on "Bizet Has His Day," and he revived this tune and 11 others on The Explosive Les Brown (Columbia," which includes an updated take on "Song of India" titled, "Bossa India," that's a respectable slice of bossa nova.
Ralph Font, who took advantage of the cha cha craze to cross over from Latin music into society band leader Lester Lanin's territory, applied that trusty formula to a selection of well-known classical melodies on Longhair Goes Cha Cha, an album whose cover is far more distinctive than the music within.
Perhaps the strangest of all such creations was Stan Kenton's Kenton/Wagner (Capitol), in which Kenton adapted "Die Walkyrie" and other Teutonic barnburners to his mid-1960s orchestra featuring four mellophoniums and two tons of miscellaneous brass. This is probably what people have in mind when they accuse Kenton on being unable to swing. Pee Wee Hunt's Classics Go South (Capitol) is an experiment nearly as unsuccessful as Kenton's Wagner, only this time the lab crew were attempting to synthesize classics and Dixieland.
Ward Swingle struck a gold mine in the early 1960s when he assembled the Swingle Singers out of the ashes of the Double Six of Paris and began recording vocal jazz ensemble interpretations of baroque and pre-romantic classical music on Going for Baroque (Philips) and many others. Love them or hate them, you have to admit that the Swingle Singers were, on a slightly smaller scale, as influential and successful a sound as Herb Alpert's Tijuana Brass. There were days when you just couldn't get away from their music or an imitation of it on radio, Muzak, and television commercials.
Somerset Records impresario D. L. Miller combined the 101 Strings with a rock-and-roll rhythm section on Backbeat Symphony. David Rose had essentially the same idea for his Concert with a Beat for MGM Records. Cy Coleman, composer of "Playboy's Theme" for Hugh Hefner's short-lived late night variety show, gave it his own shot on The Ages of Rock: Cy Coleman Plays the Classic Beat (Verve), which featured Coleman on piano and harpischord in front of a whomping string section.
Argentinian Waldo de los Rios built an entire career around popping-up the classics, working his way through a series of labels beginning in the late 1950s and continuing into the 1980s, providing his own personal touch to Bach, Beethoven, Chopin, Verdi, and other composers who thought their work was done when they'd finished writing it.
Laurindo Almeida recorded a number of albums of classical guitar pieces, but on his Classical Current (Warner Brothers), he succumbed to temptation and took a "now sound" approach to classically-based standards such as "Baubles, Bangles, and Beads." Toward the end of his career, Les Baxter repeated the experiment, only this time using a Moog synthesizer, on the misleadingly titled Moog Rock (GNP Crescendo).
As might be expected, after twenty-plus albums, the Ventures ended up turning to the classics for material. Their early 1970s album, Joy offers a pleasant variety of classical melodies, ranging from Beethoven's "Sonata in C" to a variation on the Jupiter symphony titled "Mozart's Forty."
And Marty Gold and the usual cast of "Living Jazz" player led by Phil Bodner had the guts (or gall, depending on your perspective) to set a selection of classical melodies to a bossa nova beat on Classic Bossa Nova.
---
S p a c e A g e P o p M u s i c
Home · Listener's Guide · The Songs · Who's Who · Liner Notes · Selected Tracks · What's New · Search
© spaceagepop 2015. All rights reserved.