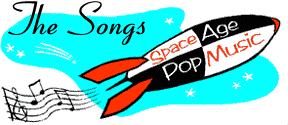 Classical Kitsch
---
"Baubles, Bangles, and Beads" 1954
Based on the Scherzo from Alesandr Borodin's String Quartet No. 2 in D Major
English words and setting by George Chet Forrest and Robert Wright
"Stranger in Paradise" 1953
Based on a theme from the "Polovetsian Dances" from Borodin's opera, Prince Igor
English words and setting by George Chet Forrest and Robert Wright
Both of these songs come from "Kismet," the 1953 musical concocted by Forrest and Wright from a mixture of the Arabian Nights, Persian poetry, "The Rubiyat of Omar Khayyam," and Borodin's opera "Prince Igor." "Stranger in Paradise" was one of the big hits of 1953-4, spending 6 weeks in the #1 spot on "Your Hit Parade." Tony Bennett, the Four Aces, and Caterina Valente all recorded successful cover singles of it. While "Stranger in Paradise" was a bigger hit at the time of its release, "B, B & B" has had more staying power, particularly among jazz players, for its short phrases are well-suited for bop arrangements and improvisation. "Kismet" won the Tony award as best musical of 1953 and a movie version starring Ann Blythe and Howard Keel was released the same year.
"Full Moon and Empty Arms" 1946
Based on a melody from the third movement of Rachmaninoff's Piano Concerto No. 2 in C Minor
Words and setting by Buddy Kaye and Ted Mossman
David Lean's great tear-jerker, "Brief Encounter," firmly implanted this histrionic melody on the popular imagination. Buddy Kaye was so proud of his adaptation that he included it on his business cards. Virtually all interpretations I've heard wring it for every drop of bathos it's worth, so Erroll Garner's sly, swinging version on "The Most Happy Piano" stands in such stark contrast it's guaranteed to produce a chuckle. Garner knew just how full of hokum this tune is.
"In the Hall of the Mountain King"
Music by Edvard Grieg from his "Peer Gynt Suite"
This piece seems to have inspired the widest range of interpretations. Machito recorded it as "In the Hall of the Mambo King" in 1949. Hugo Montenegro played it with a wild mix of shrieking trumpets and driving percussion on his "Bongos and Brass" album for Time. As "Danny's Inferno," The Three Suns made it a showcase piece on their Stereo Action LP, "Movin' and Groovin'." And it gave Sounds, Incorporated, a mid-1960s British instrumental group, their biggest hit.
"Sabre Dance" 1948
Based on passage in the third suite of Aram Khachaturian's ballet, "Gayaneh" (or "Gayne")

If you're more familiar with Raymond Scott than modern classical music, it may be a surprise that this piece, which has backed countless comic chase scenes, comes from a ballet written by a Armenian in the depths of the Stalinist era in the Soviet Union. It sounds more appropriate to a Bruno Bozzetto cartoon of Fiat drivers chasing each other around the streets of Rome.
---
S p a c e A g e P o p M u s i c
Home · Listener's Guide · The Songs · Who's Who · Liner Notes · Selected Tracks · What's New · Search
© spaceagepop 2015. All rights reserved.