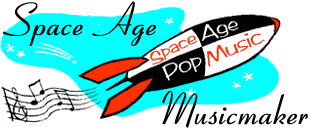 Randy Van Horne
---
Born Harry Randell Vanhorne, Jr., 10 February 1924, El Paso, Texas
Died 26 September 2007, Woodland Hills, California
---
Among the busiest vocal group contractors of the space age pop era, Randy Van Horne's singers can be heard on countless recordings and thousands of television and radio commercials, jingles, and station identification spots, but most memorably, on Hoyt Curtin's theme to "The Flintstones." More serious space age pop fans know him for providing Esquivel with his trademark "Zu-zu-zus" (often heard alongside Alvino Rey's moonshot-sized "Boing!"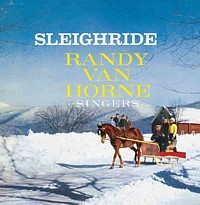 After serving in World War Two, Van Horne studied music at the Peabody Conservatory of Music in Baltimore and then Texas Western University. He moved to Los Angeles in 1949 and took a variety of studio music jobs before forming a vocal group, the Encores, which toured with Billy May's band--and experience that ended up driving both May and Van Horne right back to the studio system. Four members of the Encores went on to form the Hi-Los.
By the mid-1950s, Van Horne had assembled a regular ensemble from among the session vocalists he worked with, and this group was signed to RCA Victor (and later, MGM) as the Randy Van Horne Singers. The group included perhaps the most famous session singer of all (if that's not a contradiction in terms), Marni Nixon, as well as Thurl Ravenscroft (the voice of Tony the Tiger), B.J. Baker, and Bob Zwern.
Esquivel was only one of dozens of arrangers to use Van Horne's singers. They sang the jazzy vocals on Bob Thompson great RCA albums, did their best to imitate African chants on Martin Denny's Afrodesia album, and recorded other cartoon show themes such as "The Jetsons" and "The Huckleberry Hound Show." That's them telling us we'll have a "Yabba-dabba-doo time" on "The Flintstones" theme. They also worked with ad men like Hugh Heller, and Van Horne kept his own composition skills in tune by writing jingles himself. On rare occasions, the group appeared live, usually a part of variety revues in Los Angeles and Las Vegas.
Of their own recordings, the best are their two albums for RCA. While hardly as experimental as any of Esquivel's, they have a light, easy swinging style and feature the kind of air-tight ensemble work you'd expect from some of the best session singers in the business. Their later albums are pretty tame, though. It's telling that R.D. Darrell of High Fidelity magazine praised one of their albums for its "absence of any vocal gimmicks."
Van Horne and his regular singers eventually went their separate ways in the early 1970s. Nixon gradually became known as the voice behind Audrey Hepburn in "Breakfast at Tiffany's," among other ghosting jobs, and became a concert performer in her own right. Others moved on to work with Ray Conniff and Percy Faith.
Van Horne focused on composition, and wrote a number of pieces that have been performed by southern California orchestras and choirs, including a symphonic suite entitled, "The Running of the Bulls." An active member of the Musicians Union local in Hollywood, he fought to improve residual payments for session performers.
He and his first wife, Tanya, had one son, Mark. They later divorced, and he went on to marry and divorce three more times.
Van Horne never really retired. Up to his last few months, he led the Alumni Association, a big band that performed regularly around the Los Angeles area. He arranged, composed, and conducted for the ensemble, which included both veteran studio musicians and young jazz players. He even reassembled his old group of singers for an occasional appearance at charity functions and retirement homes. A man of enormous vitality, well-respected and remembered by the many professionals he worked with.
---
Recordings
Swingin' Singin', RCA Victor LPM 1321
The Clef Dwellers, RCA Victor LPM 1751
Sing a Song of Goodman, MGM E 2730
Sleighride, Everest 5112
The March of the Regiment, Everest 19399
Moments to Remember, Sunset SUM-1151/SUS-5151
---
Search for Records and CDs
New CDs from Amazon.com

Used Records and CDs from GEMM.com


Search GEMM for old recordings by Randy Van Horne.
---
S p a c e A g e P o p M u s i c
Home · Listener's Guide · The Songs · Who's Who · Liner Notes · Selected Tracks · What's New · Search
© spaceagepop 2015. All rights reserved.