Born Jose Melis Guiu 27 February 1920, Havana, Cuba
Died 7 April 2005, Sun City, Arizona
---
Despite his striking resemblance to Esquivel, Jose Melis is more like Skitch Henderson--a pleasant pianist and an average arranger who gained more than his share of fame by leading the band on one of Jack Paar's "Tonight! Show" He began as a classical pianist, studying at the Havana Conservatory and under a Cuban government scholarship in Paris. At the age of 16, he moved to the U.S., first attending the Cambridge School of Music and then the Juilliard School of Music in New York. While at Juilliard, Melis learned to switch hats and perform as a lounge pianist and pop accompanist to pay the rent.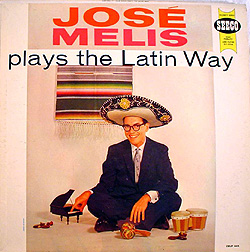 Drafted in 1943, he served as the musical director of the USO in New York City, playing at what was, in effect, one of the hottest clubs in the city. His Army duty threw him in with a wide variety of talents, including a young comic named Jack Paar.
Melis became a naturalized U.S. citizen in 1944 and remained in New York after the war. After a few years of working in nightclubs and on radio, Paar looked him up again and asked Melis to work as musical director for a show he was producing and starring in. Although the radio series was short-lived, Paar and Melis stayed in touch, and they collaborated on several other quickly-forgotten shows for CBS Television.
Finally, Paar lucked out with a late-night talk and variety show called the "Tonight! Show." The "Tonight! Show" became a hit. Paar put Melis' orchestra on the stage, rather than in the pit, and from the beginning, he included Melis in the on-camera patter that became one of the trademarks of the show. Melis' lively personality was popular with the show's audience, and became something of a star in own right, earning increasing airtime for his blend of pop and classical music (ala Liberace). Melis' "I-M-4-U" was used as the show's original theme song.
His "Tonight! Show" fame was translated into record contracts, first with the Latin-oriented Seeco label and later with Mercury. He left the show to concentrate on his own act, but although he toured with Mel Torme and even accompanied Frank Sinatra on several occasions, his star eventually faded in the early 1960s. He suffered a serious vision loss in the mid-1970s and lost his hearing in the 1980s. In 2003, he moved from the Bronxville, New York house he'd lived in since the "Tonight! Show" days to Sun City, where his son, Michael, looked after him until his death from a respiratory infection.
---
Recordings
Jose Melis and the Metropolitan Strings, Diplomat 2260
Tonight--Jose Melis, Seeco CELP 411
Jose Melis at Midnight, Seeco CELP 414
The Many Moods of Jose Melis, Seeco CELP 436
The Jack Paar Show and Other Television Themes, Seeco CELP 462
Tonight, It's Music, Mercury MG 20275
On Broadway, Mercury MG 20610
Plays His TV Favorites, Mercury MG 20683
Dance Party with Jose Melis, Palace P-84
---
Search for Records and CDs
New CDs
Used Records and CDs

<! -- here GEMM code starts>

Search GEMM for old recordings by Jose Melis.
---
S p a c e A g e P o p M u s i c
Home · Listener's Guide · The Songs · Who's Who · Liner Notes · Selected Tracks · What's New · Search
© spaceagepop 2015. All rights reserved.