---
Born 16 May 1919, West Allis, Wisconsin
Died 4 February 1987, Palm Springs, California
---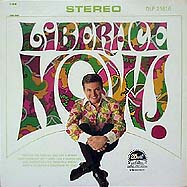 Born Wladsziu Valentino Liberace, Liberace was more show-biz phenomenon than musician. A classical child prodigy, he gained real attention when he started to throw in pop novelties like "Three Little Fishes." Never one to put taste before popularity, by the early 1950s, Liberace was a highly successful performer on stage, radio, and TV. While he did not initially adopt the flamboyant, glittering dress and pageant that later became his trademark, his musical style stayed pretty much the same throughout his career: mostly pop music played with classical flourishes with an occasional popular classic (like "Moonight Sonata") thrown in. Although he had a string of successful albums on Columbia in the early 1950s, he became primarily a performer after appearing as the lead in the film "Sincerely Yours" in 1955.
Watching a kinescope of Liberace performing on television in the 1950s, you realize how jaded audiences have become forty years later. Resplendent in white tie and tails, with a beautiful head of wavy hair (the kind the Chordettes asked "Mr. Sandman" to bring their dream guy with) and brilliant white teeth, Liberace simply played and beamed. Once in a while he'd sing, once in a while he'd bring on his brother, George, to play along on violin. But that's all that went on, and people loved it. Down Beat magazine offered this left-handed compliment in 1955: "Let's get one thing straight! Liberace is a skilled artist. But his art is comedy, not music."
Ironically, as Liberace's television career faded, he became more and more flamboyant, on and off stage. The black grand piano became a white grand piano and, eventually, a glittering glass-tiled piano. The white tie and tails mutated into white tuxes and then full-length white mink capes, and Liberace went from walking onstage to being driven on in a chauffeured white Bentley. As early as 1961, Time Magazine was noting Liberace's lavish redecoration of his Hollywood mansion, changing, in his words, "early Gloria Swanson" into "Sunset Strip Versailles."
By the 1970s, he was a staple of the Las Vegas circuit; his museum there, filled with his ornately decorated pianos, cars, and clothes, a top tourist attraction. Although he always denied them vigorously, rumors about his homosexuality dogged Liberace throughout his career and after his death.
---
Recordings
Liberace by Candlelight, Columbia
Concertos for You, Columbia
An Evening with Liberace, Columbia
Mr. Showmanship!, Dot DLP 3547
New Sounds, Dot DLP 3755
Songs My Mother Taught Me, Hamilton SHLP 12155
... and many more ...
---
Search for Records and CDs
New CDs
Used Records and CDs


Search GEMM for old recordings by Liberace.
---
S p a c e A g e P o p M u s i c
Home · Listener's Guide · The Songs · Who's Who · Liner Notes · Selected Tracks · What's New · Search
© spaceagepop 2015. All rights reserved.