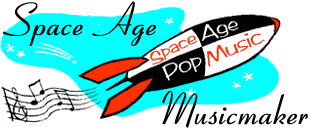 Chet Atkins
---
Born 20 June 1924, Luttrell, Tennessee
Died 30 June 2001, Nashville, Tennessee
---
One of the most proficient guitarists of the stereo era and a major figure in modern country music, Chet Atkins also produced more polite but dull albums--something like over 100 on RCA--than anyone else. Starting as a mainstream country musician, Atkins began working as an A&R man for RCA in the early 1950s, and produced most of RCA's country recordings from the late 1950s through the late 1960s. Along with Floyd Cramer and Owen Bradley, he was one of the creators of what became known as the "Nashville sound," which paired country singers with the same kind of lush string orchestras one could find on Perry Como albums, except for the addition of a tasefully mixed-in steel guitar.
This sophisticated sound helped country break out of its "hillbilly" market and earn spots on pop charts and radio stations. However, along with some great recordings, such as Jim Reeves' "He'll Have to Go," and Don Gibson's "Oh, Lonesome Me," the Atkins/Cramer team also produced countless mediocrities drenched in syrup. Many of Atkins' own recordings are perfect examples of this effect, taking strong original melodies and excellent musicians and blending them together until any noticeable character has been washed away. Only occasionally--as on Progressive Pickin'--does he break out of this mold and allow his considerable jazz-oriented chops come out.
In his defense, it should be said that a significant element in creating the "Nashville sound" was in bringing the same high production standards that characterized mainstream pop music from the studios of New York and Hollywood. Prior to Owen Bradley, most country records were cut quickly, with little rehearsal and even less attention to sound engineering. Prior to Chet Atkins, session musicians capable of performing a piece flawlessly by sight reading ... or even the notion of a professional session musician was unknown in country. Without these technical contributions, country music would still be pop for poor white trash.
In 1968, Atkins became a VP for RCA, and job security apparently helped him start to bring a little more of himself back into his work. Some of his best work--particularly his collaborations with Les Paul ("Chester and Lester") and Merle Travis--date from the mid-70s. A very unassuming and likeable performer in person, and recognized by many other great guitarists as a technical master--but even so, a very bland personality on most of his recordings.
For a more complete view of Chet Atkins' career, check out www.misterguitar.com, his official website.
---
Recordings
The Greatest Guitar!, RCA Camden CAS-753
Chet Atkins and His Guitar, RCA Camden CAL-659
A Session With Chet Atkins, RCA LPM-1090
Hi Fi in Focus, RCA Victor LPM-1577
Chet Atkins in Hollywood, RCA Victor LSP-1993
Hum and Strum Along with Chet Atkins, RCA Victor LSP-2025
Mister Guitar, RCA Victor LSP-2103
Teensville, RCA LSP-2161
The Other Chet Atkins, RCA Victor LSP-2175
Chet Atkins' Guitar Workshop, RCA Victor LSP-2232
The Most Popular Guitar, RCA Victor LSP-2346
Down Home, RCA Victor LSP-2450
Caribbean Guitar, RCA Victor LSP-2549
Our Man in Nashville, RCA Victor LSP-2616
Travelin', RCA Victor LSP-2678
Teen Scene, RCA Victor LSP-2719
Progressive Pickin', RCA Victor LSP-2908
... and many, many, many more
---
Search for Records and CDs
New CDs
Used Records and CDs

<! -- here GEMM code starts>

Search GEMM for old recordings by Chet Atkins
---
S p a c e A g e P o p M u s i c
Home · Listener's Guide · The Songs · Who's Who · Liner Notes · Selected Tracks · What's New · Search
© spaceagepop 2015. All rights reserved.