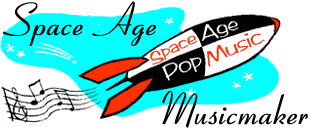 Bob Bain
---
Born 26 January 1924, Chicago, Illinois
---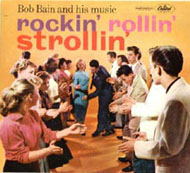 Bob Bain was a mainstay of the Hollywood recording studios through the 50s and 60s, appearing nearly as often on acoustic guitar as Howard Roberts did on electric. Henry Mancini regularly highlighted Bain's work on soundtracks and studio albums. Bain recorded a couple of albums somewhat in the vein of Laurindo Almeida for Capitol in the early 1960s. Latin Love showcases Bain's dubbing abilities, as he plays both parts of a series of guitar duets. He was also one of the leading lights behind Guitars Unlimited, a collaboration with Jack Marshall and Howard Roberts on Capitol. Bain later worked as a producer and arranger, most notorious with that classic smarmy lounge duo, Sandler and Young.
---
Recordings
Guitar on The Ramblers, Tea Dansero, Coral CRL 57253
with Guitars, Inc., Invitation, Warner Brothers WB 1206
Rockin', Rollin', Strollin', Capitol T 965
Guitar d'Amor, Capitol T 1174
Latin Love, Capitol T 1201
---
Search for Records and CDs
New CDs
Used Records and CDs

<! -- here GEMM code starts>

Search GEMM for old recordings by Bob Bain.
---
S p a c e A g e P o p M u s i c
Home · Listener's Guide · The Songs · Who's Who · Liner Notes · Selected Tracks · What's New · Search
© spaceagepop 2015. All rights reserved.