Born 1925, Breslau, Germany (now Wroclaw, Poland)
---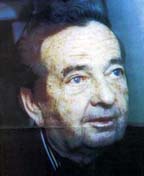 The rediscovery of Peter Thomas is one of the happiest results of the renewed interest in space age pop and exotica. Like Esquivel, Thomas was always known to a few ultra-hip fans, but went unnoticed by labels, listeners, and pop historians, and it's only thanks to the pioneering work of a handful of champions at tiny labels that we can now recognize and celebrate his wonderful music. Along with more than a few artists covered on this site, Thomas suffered from the curse of "in-betweenness":
My whole life I have two chairs. This chair is pop, this chair is serious, and I am always between them. Then to live life, I have to make a bridge between them.
Thomas grew up in Berlin, and was first exposed to music by his grandfather, who led a German army band. He started taking piano when he was five, went on to trumpet and violin, and studied at the Morsches Conservatory. By the time World War Two ended, he was playing professionally. He spent the early postwar years as a cocktail pianist, mostly at clubs run by the various military forces occupying Berlin (in all four sectors), which gave him a crash-course in pop music. He'd listen to current hitson Forces Radio during the day and play them by ear in the clubs at night. He tells a perhaps apochryphal story from this time, in which a drunken Soviet officer held a gun to his head, demanding to hear Chopin's "Minute Waltz" played in exactly one minute.

He kept up a course of classical music study, and in the early 1950s, began working at radio station RIAS. He performed, conducted, and arranged for the station, and got his first exposure as a composer writing spot and incidental music. Like Bob Thompson, who worked a similar job for a San Francisco station, Thomas found the experience of being a musical jack-of-all-trades in the days when music of the music played by a radio station was performed live and usually arranged and composed on site, an unparalleled apprenticeship. He learned about sound engineering, studio techniques, how to work efficiently with an orchestra, and how to write and arrange in a wide variety of styles.

By the late 1950s, Thomas had begun freelancing with the reemergent German film studios. He got his first shot at soundtrack composing with the 1961 Rialto Films movie, "Die Seltsame Grafin", one of a popular series of B-movies based on the mysteries of pulp author Edgar Wallace. Rialto head Horst Wendlandt told him, "Do what you want, as long as it's not expensive." Thomas went on to score over half of the 32 films in the series. Samples from these scores are available on the Scamp compilation, Futuremuzik, as well as on the Prudence CD, Kriminalfilmmusik. He also scored the six films based on the German Westerns written by Karl May (Hitler's favorite author), which featured the Indians, led by Chief Winnetou, as heroes instead of the cowboys.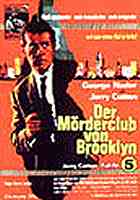 Thomas added a third hero, Jerry Cotton, another pulp fiction creation, to his list with the 1965 film,"Schüsse aus dem Geigenkasten". Thomas' Jerry Cotton scores are not only some of the best spy music around, but the blend of vocalese, lounge piano, go-go rhythms, and guns and sportscar sound effects is to die for--enough to put John Zorn's private-eye music tribute, Spillane to shame. Thomas racked up a total of eight Jerry Cotton scores.
Next, Thomas launched into space with the soundtrack for the seven episodes of the 1967 joint Bavarian/French television series, "Raumpatrouille." Although he occasionally tossed in a vocoder he discovered in the corner of a Siemens factory, Thomas avoided the use of special electronic effects to produce the sensation of space in his music. Instead, he wrote a tightly-harmonized pairing of brass and female voices, a soulful Hammond B-12 organ, and plenty of thumping electric bass and guitar. It was the reissue of the "Raumpatrouille" soundtrack in 1994 that sparked Thomas' rediscovery and left us all wondering how anyone could have overlooked such cool music.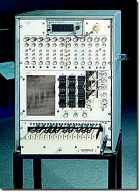 Though Thomas avoided overusing electronic instruments for "Raumpatroille," that shouldn't be taken to mean that he was averse to them. He was constantly experimenting with electric keyboards and circuitry. One of his inventions, the "Thomwiphon," a 12-oscillator synthesizer, is now on display at the Deutsches Museum in Munich.
But it didn't stop there. Go for great bad movies? Thomas composed the score for a 1965 musical version of "Uncle Tom's Cabin," which featured an international cast with such names as Juliette Greco, Earth Kitt, and Herbert Lom. Like the pop-jazz foolery of late 60s soft-porn films like "Sweden: Heaven and Hell" (source for Piero Umiliani's inimitable "Mah-Nah, Mah-Nah")? Well, Thomas did those, too, scoring such exhibits as "Som hon bäddar får han ligga," also known as "Do You Believe in Swedish Sin?," "Eros at the Office," and "Schulmädchen-Report 2." Are you a "now sounds" nut like me? Then you must indulge in Moodflowers and Mini-Skirts, a sampling of tracks from such source material as Thomas' soundtrack for "Happening in White," a ski-bum movie made by Gunter Sachs, millionaire playboy and ex-husband of Brigitte Bardot. Prefer the space-ier side of space age pop? Check out Thomas' soundtrack for the movie version of Erik von Daniken's "Chariots of the Gods" (a choice artifact of 70s pseudo-science), where Thomas mixes electronics and "symphonics" to provide the film with an underlying unity and structure the book lacked.
Not everything he touched turned to musical gems, though. Thomas also paid the rent on occasion with some by-the-books easy listening music, full of strings and piano and flowing sounds and just as dull as most other Mantonvani-esque sonic wallpaper. One such cut, "Melissa," actually hit the German Top 20 pop charts in 1966.
Like many of his counterparts in Hollywood's studio system, Thomas was aided in no small part by a world-class array of session musicians, some of them on their way to greater fame and fortune. Jan Hammer (later of "Miami Vice" fame), Ingfried Hoffmann, and Silvester Levey (who went on to found the disco group, Silver Connection) were among his keyboard aces. Jazz sax player Klaus Doldinger played with Thomas throughout the 60s. Drummer Keith Forsey and session singer Donna Summer, who had her first solo spot singing Thomas' tune, "Black Power," carried their experiences with Thomas forward into disco stardom. At times, he could count on such a level of skill and understanding among his musicians that he could come into a session with not much more that a few ideas sketched out on a beer coaster. Thomas has always been quick to give his musicians credit: "Thomas without good musicians is 50% Thomas."
Toward the end of the 1970s, Thomas began to shift his attention from music to management of a number of recreational properties he had bought, and he now spends most of his time in some of Germany and Switzerland's poshest resorts. He still takes the occasional composing job, recently contributing five tunes to "Perry Rhodan 2000," a tribute to the perennial German SF hero, and writing the score for a musical version of the life of Princess Diana. Thomas is proud of his life-long status as a freelancer: "I am a solo fighter. I am beholden only to my wife!"
---
Recordings
For comprehensive list, go to http://home.t-online.de/home/filmmusik/index6.htm
---
Search for Records and CDs
New CDs
Used Records and CDs


Search GEMM for old recordings by Peter Thomas.
---
S p a c e A g e P o p M u s i c
Home · Listener's Guide · The Songs · Who's Who · Liner Notes · Selected Tracks · What's New · Search
© spaceagepop 2015. All rights reserved.