---
Born 7 December 1910, Port of Spain, Trinidad
---
Edmundo Ros WAS Latin music in the U.K. for most of the post-war period. Ros' parents separated not long after he was born, and he was enrolled into a military school. It was a miserable experience, and he eventually ran off to Venezuela in his late teens. He had the good fortune to have learned enough about playing percussion while in school that he was able to land a job with an orchestra in Caracas.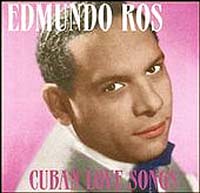 After a decade in Venezuela, Ros decided to ride the wave of popularity surrounding the rhumba and other Latin dances and moved to the U.K. in 1937. Within a few years, he had formed his own band and was playing in London clubs.
As he put it in an interview recently, he would have been "one of hundreds of little small-time band leaders struggling to make a living in and around London at the time" were it not for a lucky bit of negative publicity:
I was named by the aggrieved party in a High Society divorce case brought to the King's Bench. It was one of the great sex scandals of the immediate post war period involving the top echelons of British society, and put my name on the front page of every newspaper in the land. Literally overnight I became a celebrity.
As if to prove the adage that there is no such thing as bad publicity, Ros soon became a favorite of the Queen Mother and her daughters. "I suppose you could say I was the first to teach the then Princess Elizabeth and her sister Princess Margaret how to dance." Ros was soon a regular at the Bagatelle, one of the top clubs in London's West End, and he remained a favorite with Elizabeth, who, as Queen, was known to insist that Ros' band be hired for regal parties around the world.
In 1951, Ros bought the Coconut Grove, another West End club, and reopened it as "Edmundo Ros Dinner and Supper Club." With his royal connections, Ros could insist on being picky about his clientele, and throughout much of the 1950s and 1960s, the club was probably the most exclusive place in England to cut a rug (outside of Buckingham Palace).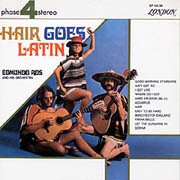 Ros was also a favorite of BBC listeners and viewers, appearing on countless variety shows. He recorded for a number of small labels prior to his breakthrough, but signed a contract with Decca soon after and remained with the label until his retirement.
Most of his recordings are standard Latin dance tunes, but he was more willing to experiment than most society band leaders. His 1949 recording of "Wedding Samba," a Latin-ized version of the Yiddish song, "Der Nayer Sher" sold over 3 million copies and reached #16 on the U.S. charts. Several of his gatefold albums for London Records, the US version of the UK Decca, are prized among Space Age Pop fans. Rhythms of the South and, to a lesser extent, Arriba! are excellent examples of Latinized exotica full of a grab-bag of percussion and brash stereo dynamics. For Now Sound fans, Hair Goes Latin is a must have. And for the truly shameless fans, there are always the occasional Ros vocal numbers, which feature his stunning three-note range: an acquired taste for some, a guaranteed house cleaner for others.
Ros and his second wife retired to Spain in the mid 1970s. In 2000, Queen Elizabth II's New Year's Honours List included Ros' name, and in March 2001, he was awarded the Order of the British Empire.
---
Recordings
Latin American Novelties, Decca LK 4101
Calypsos, Decca LK 4102
Latin Melodies, Decca LK 4104
On Broadway, London PS110
Show Boat/Porgy & Bess, London PS183
Ros at the opera, London LL 3104
Broadway goes Latin, London LL 3277
Rhythms of the South, London LL 1612
Latin carnival, Richmond B 20023
Dance Again, London Phase 4 SP 44015
New Rhythms of The South, London Phase 4 SP 44054
Latin Boss...Senor Ros, London Phase 4 SP 44073
Latin Melodies Old and New, London Phase 4 SP44079
Arriba, London Phase 4 SP 44080
Latin Hits I Missed, London Phase 4 SP 44094
Strings Latino!, London Phase 4 SP 44107
Hair Goes Latin, London Phase 4 SP 44134
Heading South of the Border, London Phase 4 SP 44153
The Latin King, London Phase 4 SP 44189
This is My World, London Phase 4 SP 44189
Caribbean Ros, London Phase 4 SP 44208
Reminisce with Ros, London Phase 4 SP 44222
Sunshine and Ole!, London Phase 4 SP 44229
Give My Regards to Broadway, London Phase 4 SP 44285
Cuban Love Songs, President CD
Doin' the Samba, Dutton CD
Rhythms of the South/New Rhythms of the South, Dutton CD
Good! Good! Good!, Memoir Classics CD
Strings Latino/Latin Hits I Missed, Vocalion CD
That Latin Sound, Pulse CD
Wedding Samba, ASV/Living Voice CD
Cancion Cubana, Musica Latina CD
Mambo Jambo, Naxos CD
---
Search for Records and CDs
New CDs
Used Records and CDs

<! -- here GEMM code starts>

Search GEMM for old recordings by Edmundo Ros.
---
S p a c e A g e P o p M u s i c
Home · Listener's Guide · The Songs · Who's Who · Liner Notes · Selected Tracks · What's New · Search
© spaceagepop 2015. All rights reserved.