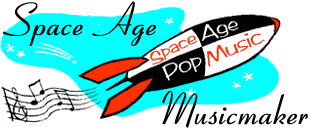 Johnny Keating
---
Born 10 September 1927, Edinburgh, Scotland
---
One of the finest arrangers of space age pop. After studying piano and trombone, he taught himself how to arrange and compose in his teens. He went to work with British big band leader Ted Heath in 1952 as a trombone player, but within two years Heath asked him to become his primary arranger. In the early 1960s, he and songwriter Johnny Worth (writing as "Les Vandyke") masterminded the career of a minor British pop star, Eden Kane. The team wrote and produced a string of British top 10 hits for Kane in 1961-63. Keating then arranged and conducted a series of albums for London's Phase 4 series. Keating tosses a bit of everything into his arrangements--strings, percussion, rock rhythm section, brass, vocal choruses with and without words. Yet his touch is subtle and swinging, understated and never bombastic.
---
Recordings
English Jazz, Bally LP
Swinging Scots, Dot LP 3068
The Bird Has Flown, Warner Brothers WBS 1638
Here's Where It Is, Warner Brothers WBS 1666
Hotel (soundtrack), Warner Brothers WBS 1682
Robbery (soundtrack), London M 76008
Percussive Moods, London Phase 4 SP 44005
Temptation, London Phase 4 SP 44019
Swing Revisited, London Phase 4 SP 44034
The Keating Sound, London Phase 4 SP 44058
Keating Straight Ahead, London Phase 4 SP 44072
Astromusical Odyssey-Sounds Galactic, London Phase 4 SP 44154
Space Experience, EMI EMITWO-393
Space Experience 2, EMI SM11635
John Keating Incorporated, EMI ST-6421
---
Search for Records and CDs
New CDs
Used Records and CDs


Search GEMM for old recordings by Johnny Keating.
---
S p a c e A g e P o p M u s i c
Home · Listener's Guide · The Songs · Who's Who · Liner Notes · Selected Tracks · What's New · Search
© spaceagepop 2015. All rights reserved.