---
Born 25 September 1911, Ashland, Kentucky
Died 11 December 1968, New York City, New York
---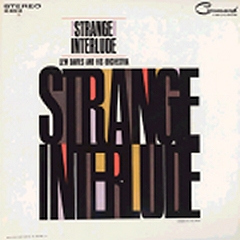 There's almost no trace left of Lew Davies except for his arrangements on the "Persuasive Percussion" series and most of the rest of Command's records. Enoch Light certainly contributed the inspiration and technical genius behind the Command style, but Davies, not Light, receives the arranger credit on the majority of Command's releases.
Davies attended the Cincinnati Conservatory of Music and later studied composition with the noted teacher, Tibor Serly. He began arranging for dance bands in 1928 and worked in radio as well. He was hired by Enoch Light in the late 1950s and soon became Light's primary arranger. Many of the early Command releases include one or two original compositions by Davies, and the label released five albums under his own name. He also snuck in one album for Columbia, but is only credited in passing in the liner notes.
Although he primarily collaborated with Light, Davies did occasional arrangements for Lawrence Welk, Perry Como, and Lena Horne. Davies' arrangements hit a nice balance between showing off stereo effects and creating a genuine musical mood, and are among the more listenable recordings from the stereo showcase period.
---
Recordings
As The Stereo Brass Choir, Stereo Dialogue for Brass, Columbia CS 8290
Strange Interlude, Command RS 829 SD
Two Pianos and Twenty Voices, Command RS 33-813
Delicado, Command RS 846 SD
A Cheerful Earful, Command RS 861 SD
The Kissing Cousins Sing With Lew Davies and His Orchestra, Project 3 PR 5001 SD
---
Search for Records and CDs
New CDs
Used Records and CDs


Search GEMM for old recordings by Lew Davies.
---
S p a c e A g e P o p M u s i c
Home · Listener's Guide · The Songs · Who's Who · Liner Notes · Selected Tracks · What's New · Search
© spaceagepop 2015. All rights reserved.