Born Stephen Valentine Patrick William Allen, 26 December 1921, New York City, New York
Died 30 October 2000, Encino, California
---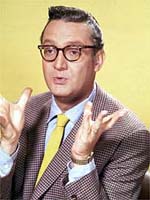 Steve Allen was an entertainment polymath: radio DJ, pianist, television personality, actor, songwriter, producer, director, and pundit. Of all his talents, perhaps productivity was his greatest: the volume in which he could produce songs, albums, and books is impressive, even if the individual results were not. He once bet singer Frankie Laine that he could write 50 songs in one week, and he won it, even going camping out in the window of a Hollywood music store to garner a little publicity to boot.
Allen truly had show business in his blood. His father and mother were a vaudeville team, Billy Allen and Belle Montrose. But at first it didn't look like his future was in entertainment. His father died when he was 18 months old and his mother retired from the stage to raise him at her family home in Chicago. Allen suffered from asthma as a youth, and he switched colleges, from Iowa to Arizona, to deal with it. Asthma also got him out of a short stint in the Army during World War Two.
He returned to Arizona after his discharge and began working as a radio announcer in Phoenix, one of the early members of that 20th century profession, the disc jockey. His snappy radio patter made him a popular host, and he was hired a few years later by Los Angeles radio station KNX. KNX soon gave him a live late night show of his own, and CBS radio picked it up in 1950 as the summer replacement for "Our Miss Brooks." CBS executives liked the audience response, and they brought him back to New York City to host a live television show, "The Steve Allen Show," a short variety segment that ran five nights a week for two seasons.
Allen did even better on television, adapting easily to the medium, and in 1953, NBC lured him away from CBS to usher in what has become a television institution: "Tonight." At first, it was just a local New York show, but it moved to the network in 1954. From the very beginning, the show had much the format it has today: Gene Rayburn served as announcer and the brunt of Allen's often sarcastic jokes, and Skitch Henderson led the studio orchestra, while Allen ad libbed, performed in comic skits, sang and played songs, and hosted variety acts.
Throughout the many incarnations of his talk/variety show, Allen remained a steadfast promoter of rising young talent. Steve Lawrence and Eydie Gorme both got a strong boost from Allen, first as individual acts and then as a couple. Comedians Louis Nye, Don Knotts, and Tom Poston were Allen regulars for years. He showcased jazz performers such as Terry Gibbs, and the Tonight show band would eventually become the refuge of some of New York's best jazz and session musicians--Clark Terry, Doc Severinsen, Urbie Green, among others--and the core of many of Enoch Light's Command ensembles. And although Allen would later become a vocal critic of the decline of cultural standards, he was an early supporter of rock 'n' roll, being one of the first to host Elvis Presley in his "Elvis the Pelvis" phase. Rocker Jerry Lee Lewis even named his son after Allen. And in perhaps his hippest act ever, he collaborated with beat poet and novelist Jack Kerouac on an album of poetry and jazz.
In 1956, Allen began part-timing on "Tonight" to start a prime-time series, "The Steve Allen Show," also on NBC. At the same time, he was hired to appear in the title role in the movie, "The Benny Goodman Story." A less than successful attempt to cash in on the success of "The Glenn Miller Story," it was his last major acting role (until he began donning wigs and robes on his series, "Meeting of Minds").
And, in the midst of all this, he was busily churning out album after album of jazz piano and organ instrumentals for Coral (and later Dot) Records. Usually these were cut in one late-night session after his TV show, often with backing from members of the show band. Given his musical prodigality, his lively sense of humor and the caliber of his back-up, you might think these recordings would be some good stuff. Unfortunately, for the most part the music can be characterized as "polite jazz"--"a predictable collection of well-known tunes performed routinely," as critic Nat Hentoff described one album.
Event the promisingly titled Plays Hi Fi Music for Influential People, which has been reissued on CD, proves to be less than meets the eye. Instead of taking the expected tongue-in-cheek approach, Allen tackles the material head on, with no remarkable style or invention. "According to the liner notes, in part written by Mr. Allen," wrote Hentoff, "it's all very serious business, this being influential, and if you want to be hip, hep, or hopped up, you'd better run right out and get the album."
One of Allen's most impressive statistics is his output as a songwriter: reportedly over 8,500 tunes published by the time of his death, earning him a spot in the Guinness Book of World Records as "the most prolific composer of modern times." His best known tune, "This Could Be the Start of Something Big," was used for years as the jingle for Ocean Spray Cranberry Juice and has become something of a minor jazz standard. He earned a spot on the space age pop standards walk of fame by penning the lyrics to George Duning and Morris Stoloff's theme to the movie, "Picnic.". And one of his instrumental numbers, "Gravy Waltz," earned a Grammy as best jazz performance on 1962.
And...(there are a lot of 'ands' when you discuss Allen's accomplishments) he wrote books. Over 50 of them. Now, not many people can write 50 books and have them come out masterpieces. And Allen's books are of a lot with his albums in many ways--easily produced, easily consumed, easily disposed. Most of them were written by dictating into a small tape recorder he usually carried with them, and carry titles like Steve Allen's Private Joke File, Dumbth : The Lost Art of Thinking, and How to Be Funny . However, he also wrote a series of mysteries featuring himself as the narrator sleuth and. usually, the target of nefarious deeds, including Murder in Hawaii and Wake Up to Murder.
Allen's prime-time show couldn't survive against its competition, "The Ed Sullivan Show," and Allen left network TV in 1958. He moved back to Los Angeles and, beginning in the early 1960s, produced his own talk/variety show, which ran in syndication for over a decade.
In 1976, he and his second wife, actress Jayne Meadows, produced a half-hour show for PBS, "Meeting of Minds." On it, Allen and Meadows and a collection of other actors donned costumes and appeared as historic figures such as Galileo, Socrates, Shakespeare, Emily Dickinson, Cleopatra, and Attila the Hun. Speaking "in character," these figures debated subjects such as human rights, sexual equality, and love. It was certainly one of the most unabashedly intellectual endeavors ever put on television, and it earned a Peabody Award. I can remember watching in back in high school, although it did have something of the flavor of a dramatic re-enactment for an educational filmstrip.
In his later years, Allen wrote a syndicated newspaper column in which he aired his opinions on a variety of cultural and political subjects. He described himself as a "middle-of-the-road radical," and while he was quite conservative on cultural matters (he said that tabloid talk shows had "taken television to the garbage dump"), he was progressive on social issues such as freedom of expression, capital punishment, migrant labor, and control of nuclear power.
He never stopped working and performing. As he battled (successfully) colon cancer in the late 1980s, he called his condition "Critical. I'm critical of the doctors, critical of the nurses, critical of the hospital food ..." He sang and played to a sold out audience at a local California college just one night before he died.
You can find out more about Allen and his career at his own website, www.steveallenonline.com. Farewell, Steverino.
---
Recordings
Piano Tonight, Columbia CL-2554
Allen's All Stars, Terry Gibbs, Captain, Emarcy SR-80004
Swingin' and Dancin', Mercury SR-60053
At the Roundtable, Forum F-9014 (also on Roulette SR-25023)
Music for Tonight, Coral CRL-57004
Tonight at Midnight, Coral CRL-57015
Steve Sings, Coral CRL-57019
Let's Dance, Coral CRL-57028
Allen Plays Allen, Coral CRL-57047
Steve Allen Show, Coral CRL-57070
Romantic Rendezvous, Coral CRL-57138
Venetian Serenade, Coral CRL-57181
Electrified Favorites, Coral CRL-57195
Plays Hi-Fi Music For Influentials, Coral CRL-57218
Monday Nights, Signature S-1021
Some of My Favorites, Hamilton SHLP 12132
Around the World, Dot DLP-3150/25150
(background music on) Jack Kerouac, Poetry for the Beat Generation, Dot DLP-3154
Steve Allen Plays, Dot DLP-3161/25161
Steve Allen and Manny Albam and All That Jazz, Dot DLP-3194/25194
Steve Allen Presents 12 Golden Hits, Dot DLP-3473/25473
Steve Allen Plays Bossa Nova Jazz, Dot DLP-3480/25480
Gravy Waltz and 11 Current Hits, Dot DLP-3515/25515
Steve Allen Plays the Piano Greats, Dot DLP-3519/25519
Steve Allen Sings, Dot DLP-3530/25530
More (Theme from Mondo Cane), Dot DLP-3538/25538
Great Ragtime Hits, Dot DLP-3560/25560
TV Show, Dot DLP-3587/25587
Steve Allen Piano and Orchestra, Dot DLP-3597/25597
I Play for You, Dot DLP-3624/25624
(with Terry Gibbs) Rhythm and Blues, Dot DLP-2683/25683
Cool, Quiet Bossa Nova, Dot DLP-3760/25760
Soulful Brass #3, Flying Dutchman 10133
---
Search for Records and CDs
New CDs
Used Records and CDs

<! -- here GEMM code starts>

Search GEMM for old recordings by Steve Allen
---