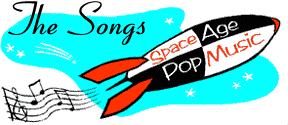 The Sea Song
---
"Ebb Tide" 1953
Words and music by Carl Sigman and Robert Maxwell
"Ebb Tide" is a little like "The Star-Spangled Banner": almost no one does more than the first verse, and if you're not careful to start out low enough (in volume, not scale in the case of "Ebb Tide"), you'll wind up in trouble. The mood of the song is the opposite of ebb tide, when the water is furthest out from the shore. Instead, the music builds and builds until it comes crashing down in a great crescendo at the climax, drenching the listener in a wave of sound. It's impossible to imagine a light, bouncy version of this song: if you can't go all the way to the limits of emotional intensity, take a pass on "Ebb Tide." Fortunately for Maxwell, it came out just when mood music was hitting its stride, and no conscientious "orchestra" could escape doing a cover of it. It also became a popular piece for organists, particularly pipe and theatre organs, since it allows the organist to show off the great dynamic range of an organ, starting at a whisper and rising up to a theatre-shaking thunder at the end. Hard to believe it was written by a harp player.
"Beyond the Sea (La Mer)"
Music and French words by Charles Trenet
"Beyond the Sea" was among the French cross-over hits of the mid-1950s. Charles Trenet was a popular singer-songwriter of post-war France. He wrote romantic ballads such as "La Mer," but he's best remembered for his lightly comic songs such as "Boom" (revived in the 1993 Belgian movie, "Toto Le Hero"), "Hop Hop," and "Children Are Bored on Sundays" (featured in Truffaut's "Small Change"). Barry Levinson included Bobby Darin's imitation Frank Sinatra version of "Beyond the Sea" on the soundtrack of "Diner."
"Red Sails in the Sunset" 1935
"Harbor Lights" 1937
Words by Jimmy Kennedy
Music by Hugh Williams
"Ebb Tide" carried these and other songs with ocean themes on its coat-tails, giving numerous mood and exotica groups the excuse to put out albums with titles like "Songs of the Sea" and "On Waves of Sound." Kennedy and Williams (pen name for Austrian emigree George Grosz) wrote the songs for Rudy Vallee. Vallee's popularity in U.S. had largely waned by then, but he was still a favorite of British audiences. The Platters revived both these tunes to considerable success in the mid-1950s.
---
S p a c e A g e P o p M u s i c
Home · Listener's Guide · The Songs · Who's Who · Liner Notes · Selected Tracks · What's New · Search
© spaceagepop 2015. All rights reserved.