Born 27 January 1916, Boston, Massachussetts
Died 16 October 1977, Hollywood, California
---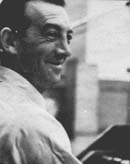 Milt Raskin is best remembered among exotica fans for what he himself may have considered one of his less memorable efforts: Exotic Percussion, also released as Kapu, on the notorious Crown Records. Unlike many of Crown's releases, which packaged public domain performances or uncredited cuts from far-earlier sessions and packaged them to take advantage of whatever musical trend was getting sales at the moment, Exotic Percussion is a suite of Raskin originals, apparently recorded specifically for the release. It shares many of the elements of other classic jungle exotica classics such as Les Baxter's Ritual of the Savage, Robert Drasnin's Voodoo!, or Stanley Wilson's Pagan Love: titles evoking primitive languages and pagan rituals; a mixture of unusual percussion instruments tossed in in imitation of native chants and drum songs; and good old Hollywood film music.
Raskin came up through the big bands, starting with Wingy Manone, then joining Gene Krupa when Krupa left Benny Goodman. In the early 1940s, he worked with Tommy Dorsey, Teddy Powell, and Alvino Rey, and then settled in Los Angeles to be a studio musician.
Like Drasnin, Wilson, and many of their contemporaries, Raskin spent most of his time creating good old Hollywood film music. He began playing piano in MGM studio orchestras. Eventually, he moved to the front of the orchestra, conducting orchestras recording soundtracks and incidental music for Disney and Columbia movies. Heworked as a lyricist on Artistry in Voices and Brass, on which Stan Kenton and Pete Rugolo turned Rugolo's old instrumental hits for Kenton into vocal numbers.
He was a regular among Capitol Records' house arrangers and conductors, and led ensembles backing such singers as Peggy Lee, Nat King Cole, and Vic Damone. He also collaborated (usually without credit) with Bill Russo, Stan Kenton, Billy Strayhorn, Andre Previn, and other jazz and jazz-influenced arrangers, often handling the orchestration (writing the individual parts for the instruments called for by the arranger for each section of melody, harmony, and chorus). He worked on numerous television series, including "Naked City" and "The Fugitive." He did get credited on occasion, as in his arrangements for the soundtracks of "The Agony and the Ecstacy" and "Lawrence of Arabia."