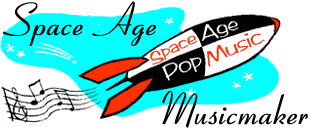 Sandy Nelson
---
Born 1 December 1938, Santa Monica, California
---
Inspired at the age of seven when he saw Gene Krupa perform, Nelson asked for a drum set for his next Christmas present. Unlike most kids who get a drum set, he stuck with it, and by the time he was in high school, he was working as a session man with Gene Vincent, the Teddy Bears, and other early rock acts. In 1959, he cut a single, "Teen Beat," for Original Sound that reached #5 in the U.S. and Britain. Lew Chudd signed him to Imperial Records, and he produced a steady stream of albums as well as another Top 10 hit, "Let There Be Drums" (1961), over the next six years--despite losing his left foot in a car wreck in 1962. A pre-stardom Glen Campbell played guitar on many of Nelson's sessions, as did Carol Kaye, and other ace session players.
Although Imperial over-recorded Nelson, particularly after the label was bought by Liberty Records, and Nelson grew tired of the formula, so of his later albums are the most fun. Boss Beat includes the one go-go version of "The Third Man Theme,", and as with many of the Ventures' recordings of the same period, the original numbers (like "Cheetah Beat") are much better than the cover tunes.
Nelson now runs his own company, Veebltronics, specializing in tracks and MIDI files of Nelson's drumming. He also plays and tours with the James Quill Smith Band and can be contacted through the band's PR contact.
---
Recordings
Teen Beat, Imperial LP-12044
Let There be Drums, Imperial LP-12080
Drums are My Beat!, Imperial LP-12083
He's a Drummer Boy!, Imperial LP-12089
Drummin' Up a Storm, Imperial LP-12189
Golden Hits, Imperial LP-12202
Country Style, Imperial LP-12203
Compelling Percussion, Imperial LP-12204
Teen Age House Party, Imperial LP-12215
The Best of the Beats, Imperial LP-12224
Beat That Drum, Imperial LP-12237
Sandy Nelson Plays, Imperial LP-12249
Be True to Your School, Imperial LP-12258
Live! In Las Vegas, Imperial LP-12272
Teen Beat '65, Imperial LP-12278
Drum Discotheque, Imperial LP-12283
Drums a Go-Go, Imperial LP-12287
Boss Beat, Imperial LP-12298
"In" Beat, Imperial LP-12305
Manhattan Spiritual, Imperial LP-12439
Groovy!, Imperial LP-12451
A Hunk Of Drums, Skyclad Records DRUM 47
King of Drums, 2 CD set
Drummin' Up a Storm, 2 CD set
Let There Be Drums/Drums ARe My Business, Collectable Records CD
Golden Hits/Best of, Collectable Records CD
Country Style/Teen Beat,Collectable Records CD
---
Search for Records and CDs
New CDs
Used Records and CDs


Search GEMM for old recordings by Sandy Nelson.
---
S p a c e A g e P o p M u s i c
Home · Listener's Guide · The Songs · Who's Who · Liner Notes · Selected Tracks · What's New · Search
© spaceagepop 2015. All rights reserved.