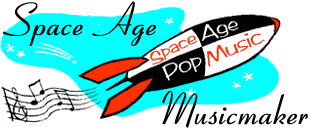 Maury Laws
---
Born Burlington, North Carolina
---
Maury Law's music for the Rankin/Bass "Animagic" stop-motion animation Christmas specials is familiar to a whole generation of TV viewers, but he's best known to Space Age Pop fans for his long-neglected score to the 1967 Rankin/Bass feature, "Mad Monster Party," which was reissued by Percepto Records and Film Score Monthly.
Laws began performing professionally in his teens. He joined a combo lead by sax player Hubie Heatwole that had a weekly spot on WBIG in Greensboro, North Carolina, but the group was just getting some notoriety when Pearl Harbor put things on hold. Laws went into the Army, where he played with his division's band. After the war, he spent several years on the road as a freelancer, both on guitar and vocals, before settling in New York City.
He juggled a hectic schedule of radio shows, recording sessions, and formal study with composition teachers Tibor Serly and Tom Timothy. He began arranging, and worked for a number of singers, included Betty Hutton, as well as for New York theater orchestras. Then, in the late 1940s, singer and bandleader Vaughn Monroe hired Laws and his wife Dee as members of his vocal ensembles, the Moon Men and the Moon Maids.
They stayed with Monroe for about two years, then returned to New York, where Laws resumed work as a freelancer. He started writing for ad agencies, and scored commercials for General Electric, Kodak, Firestone, and others. He continued to do background arrangements for singers, including Brian Hyland on the unforgettable irritant, "Itsy Bitsy Teeny Weeny Yellow Polka Dot Bikini." He also arranged and conducted a number of albums for Bobby Shad's stereo showcase label, Time.
In 1964, he was hired as musical director for the Rankin/Bass, and he wrote and/or arranged the scores for most of the television specials, series, and feature films the studio produced over the next twenty years. The studio's Christmas specials, starting with "Rudolph the Red-Nosed Reindeer," have been regular features of the holiday schedule for decades.
Rankin/Bass tried its hand in the feature film market in 1966 with an anthology of Hans Christian Anderson fairy tales, The Daydreamer, and the film's success led Jules Bass to try the formula a second time with The Wacky World of Mother Goose. With his third feature, Mad Monster Party, however, his luck in movies ran out. A goofy take-off on classic monster movies, it featured the voices of Boris Karloff, Phyllis Diller, and Victor Borge, and musical numbers courtesy of Laws, it evaporated from theaters within a few weeks of its Halloween 1967 debut. It spent the next couple of decades lurking at the margins of local station schedules until interest revived, leading to several showings on the American Movie Channel and release of the feature on DVD and the score on CD. It's no movie or musical masterpiece, but it's certainly a classic work from its time and well worth a view/listen.
After this, Rankin/Bass headed back to the shelter of network television, and worked through a healthy share of the classic children's repertoire: "Frosty the Snowman," "The Wind in the Willows," "Jack Frost," and "Santa Claus." The studio made several more attempts at the feature market, with titles such as The Bushido Blade, The Bermuda Depths, and Marco, all scored by Laws. Laws even got a head start on Howard Shore, scoring two animated versions of two Tolkein books 25 years before Peter Jackson got his hands on Lord of the Rings.
Laws and his second wife, Karen, moved to Wisconsin in the early 1990s, and he continues to write arrangements and original compositions, and has had his work performed by several symphony orchestras around the country. You can find out more by checking out his website at www.maurylaws.com.
---
Recordings
The Tommy Dorsey Story, Manhattan Records MANS1023
The Dorsey Touch, Hollywood Records 136
Songs by George M. Cohan, Hollywood Records 147
Laws for Dancing, Time Records S2040
Percussion on Stage, Time Records S2027
Music from "Do Re Mi," Time Records S2032
Plays Lerner and Loewe, Time Records S2160

Soundtracks

Rudolph the Red-Nosed Reindeer, Decca DL34327 (1965)
The Daydreamer, Columbia Records OSOS2940 (1966)
Cricket on the Hearth, RCA Victor LOC1140 (1967)
Frosty the Snowman, MGM Records (1969)
Santa Claus Is Comin' To Town, MGM Records (1970)
Frosty's Winter Wonderland, Disneyland Records ST1368 (1973)
'Twas The Night Before Christmas, Disneyland Records (1974)
The Hobbit, Disneyland Records ST3819/Vista Records 5007 (1977)
The Return of the King, Disneyland Records ST3822 (1980)
Mad Monster Party, Percepto Records (1967)
---
Search for Records and CDs
New CDs from Amazon.com

Used Records and CDs from GEMM.com


Search GEMM for old recordings by Maury Laws.
---
S p a c e A g e P o p M u s i c
Home · Listener's Guide · The Songs · Who's Who · Liner Notes · Selected Tracks · What's New · Search
© spaceagepop 2015. All rights reserved.