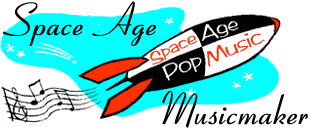 Morty Craft
---
A veteran A&R man who had worked for MGM, Mercury, and ABC-Paramount in the 1940s and 1950s, Morty Craft was hired in 1959 by United Telefilm Records, a Canadian company, to run Warwick, a subsidiary label aimed at grabbing a piece of the new stereo/hi-fi buff market. Having led dance bands and radio orchestras in his early days, Craft pitched in and recorded a good share of the label's output himself. His efforts notwithstanding, Warwick went bankrupt after just three years in business. Leading off with a title like "Memories of Jolie [Al Jolson]" didn't help much. Craft founded a number of other small labels without much more success and appears to have done no other recording under his own name.
---
Recordings
Memories Of Jolie, Warwick W2001
Percussion In Hollywood, Warwick W2022
Percussion In Hollywood, Broadway And Television, Warwick W5000ST
World Of Percussion, Warwick W5002ST
In Percussion, Warwick W5004ST
Jazz in Black Tie, MGM E3699
---
Search for Records and CDs
New CDs
Used Records and CDs


Search GEMM for old recordings by Morty Craft.
---
S p a c e A g e P o p M u s i c
Home · Listener's Guide · The Songs · Who's Who · Liner Notes · Selected Tracks · What's New · Search
© spaceagepop 2015. All rights reserved.