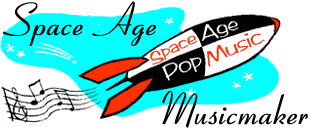 Warren Covington
---
Born 7 August 1921, Philadelphia, Pennsylvania
Died 24 August 1999, New York City, New York
---
Warren Covington stepped into one of the most intimidating pair of shoes in show business when he took over the Tommy Dorsey Orchestra in the late 1950s, following Tommy's death. Although the heyday of the big bands was already passed, Dorsey was widely considered a peerless master of the trombone. To take Dorsey's place in the spotlight for his trademark solos on tunes like "Song of India" and "I'm Getting Sentimental Over You" required no mean set of gutbucket chops.
Covington was certainly a proficient trombone player, but more than that, he was a trombone believer as demonstrated by a small sample of his own compositions: " Trombonitis," "Toy Trombone," "Trombone Boogie," "Sentimental Trombone," and "Tipsy Trombone." Having started out working for Isham Jones and Horace Heidt before World War Two, he held down first chair with Les Brown after serving in the Coast Guard. After a year or so with Brown, he opted for the security of studio work, playing in the staff orchestra of CBS radio and television for nearly ten years, until coaxed back onto the road by Tommy Dorsey.
As it turned out, Covington not only kept the band going, but got one of the very last hits to come out of a swing ensemble with "Tea for Two Cha-Cha" in 1959. With strong support from Decca, the Covington-led band pumped out a healthy batch of albums well into the 1960s. You can see the same kind of schizophrenia that characterized the few surviving big bands during this period, playing the old favorites for the long-time fans while straining to pull in the rock and roll audience with albums like Everybody Twist!.
The handwriting was on the wall, though, and Covington pulled the plug around 1965, heading back to the studios in New York. Over the next ten years, he played on hundreds of albums, everything from soundtracks for The Godfather, Barbarella, and Woody Allen's Everything You Always Wanted to Know About Sex--But Were Afraid to Ask to the Allmann Brothers, Perry Como circa early 70s (talk about mellow overload), and George Benson. Despite his lucrative career as a session man, Covington liked to keep a hand in the performing side of business. He led his own band in New York City clubs in the late 1960s, toured with a late incarnation of the Pied Pipers around 1973, and ran a supper club in Ocean City, Maryland, for the summer crowds, in the late 1970s.
---
Recordings
Shall We Dance?, Decca DLP 8408
Teenage Hop, Decca DLP 8557
Fabulous Arrangements, Decca DLP 8802
Tea for Two Cha Chas, Decca DLP 8842
It Takes Two to Cha Cha, Tango, Etc., Decca DLP 8980
It Takes Two to Fox Trot, Waltz, Etc., Decca DLP 8996
The Tommy Dorsey Orchestra with Warren Covington, Decca DLP 74120
Tricky Trombones, Decca DLP 74130
Latin Si!, Decca DLP 74208
Everybody Twist!, Decca DLP 74271
Dancing Trombones, Decca DLP 74352
Designed for Dancing, Decca DLP 74448
Let's Dance Latin, Decca DLP 74491
Golden Trombone Favorites, Decca DLP 74667
Hits of the 60s, Re-Car Records
---
Search for Records and CDs
New CDs
Used Records and CDs


Search GEMM for old recordings by Warren Covington.
---
S p a c e A g e P o p M u s i c
Home · Listener's Guide · The Songs · Who's Who · Liner Notes · Selected Tracks · What's New · Search
© spaceagepop 2015. All rights reserved.