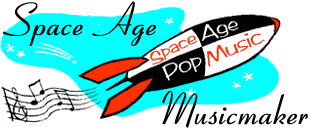 Ray Charles
(as in the Ray Charles Singers)
---
Born Raymond Offenberg 13 September 1918, Chicago, Illinois
---
Ray Charles, leader of the Ray Charles Singers, is perhaps the precise opposite of the more famous R&B genius and American master, Ray Charles. One is blind; the other is sighted. One is black, the other is white. One exudes soul from every pore, the other is the musical embodiment of the most stereotypical Silent Majority normality. One can take a tired old warhorse of a song like "Some Enchanted Evening" and recharge it with electricity and swing; the other made a career of perfecting the right balance of craft and talent to suck the last bit of vitality out of even the liveliest number. One has soaked into our DNA with "What'd I Say" and "Georgia on My Mind"; the other has provided countless TV shows with that essential bit of musical clip art, "Letters, We Get Letters."
THIS Ray Charles mastered his craft in support of that inimitable performer of the Eisenhower 50s, Perry Como. Beginning with Decca in the mid-1950s, Ray Charles took the finely-honed chorus he led behind Como on television through a staggering number of albums. Virtually none is distinguishable from another except by the artwork on the cover, and few are worth plucking from your local thrift store bin.
But luckily for you, I have listened to numerous Ray Charles Singers albums and can identify the few choice cuts worth hunting for:
"Commuter Blues," from Sunrise Serenade

A split chorus and a lilting swing capture the feeling of being stuck in traffic. The males complain about the traffic as they rush to catch their trains in the morning and the females complain about the traffic as they run their errands throughout suburbia. Both sing about their desire to trade places with their partners. An antidote to road rage.

"Let Go," from Mac Arthur Park

An Anglicized version of the bossa nova hit, "Canto do Ossanha," "Let Go" is almost a mini-cantata on the Sexual Revolution. The males sing of how "Society tells you, 'Hold back!'" while the females implore, "Let go!" It's like a Lawrence Welk meets Frankie Goes to Hollywood. Bizarre and fun.

"Music to Watch Girls By," from Something Special

The best--I kid you not--cover of this great swinging sixties standard. Apparently Charles was expecting to have lyrics to work with, but had to record without them. So he takes this melody on a wild ride, starting with a whistling chorus, then segueing into a stripshow bump-and-grind fanfare, complete with wolf calls, then shifting with a great collective "Uggh!" into a Turkish harem scene. Then back to the now sound for the finale. And the album cover is this cool metallic silver. Perfect to accentuate the Space element of your space age bachelor pad. Great stuff.

"The Straight Life," from Slices of Life

Penned by ex-Cricket Sonny Curtis, who a few years later would tell how Mary Tyler Moore "could have the world, girl, with your smile," "The Straight Life" purports to be the account of a 9-to-5 white collar manager who's going to cut loose and "leave the straight life behind." As interpreted by the Ray Charles Singers, it sounds like such a tight definition of "loose" that "leaving the straight life behind" appears to amount to not mowing the lawn until Sunday.
One last shot at Ray's expense before we leave:
First session singer: "I'm doing an album with Ray Charles next week."
Second session singer: "Which one? The one who's blind or the one who's deaf?"

---
Search for Records and CDs
New CDs
Used Records and CDs


Search GEMM for old recordings by Ray Charles Singers.
---
S p a c e A g e P o p M u s i c
Home · Listener's Guide · The Songs · Who's Who · Liner Notes · Selected Tracks · What's New · Search
© spaceagepop 2015. All rights reserved.