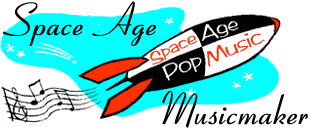 Frank Chacksfield
---
Born 9 May 1914, Battle, Sussex, England
Died 9 June 1995
---
Starting as a piano prodigy, Chacksfield moved to conducting at the age of 22. During World War II, he was assigned to the British Army entertainment unit, and after the war he became a regular performer on BBC.
In 1953, he formed an orchestra he called "The Tunesmiths" and won a contract with Parlophone Records. Within two years, he expanded group from a traditional big band into an orchestra with strings and released a series of "mood music" albums. His sound was much along the lines of Mantovani and Melachrino. His biggest hits, in both the UK and the US, were "Ebb Tide" and "Limelight."
He stuck to material similar to Mantovani's: ballads, waltzes, and movie themes. He continued to record a series of albums featuring the works of single composers such as Cole Porter, George Gershwin, and Irving Berlin. He continued to tour with a band into the 1990s. He once said that, "Orchestra's are more than just a combination of sounds, they are not unlike people. Orchestra's have moods and feelings and above all they can express those feelings. The best orchestras can make you angry and sad and even fall in love."
---
Recordings
Ebb Tide, London LL 1408
Velvet, London LL 1443
Evening in Paris, Decca LK 4081
Evening in Rome, Decca LK 4095
If I Had a Talking Picture of You, Decca LK 4135
Opera's Golden Moments, London Phase 4 21092
The New Ebb Tide, London Phase 4 44053
Globe-Trotting, London Phase 4 SP 44059
The New Limelight, London Phase 4 SP 44066
Hawaii, London Phase 4 SP 44087
Foreign Film Festival, London Phase 4 SP 44112
New York, London Phase 4 SP 44141
Beatles Songbook, London Phase 4 44142
Simon & Garfunkel & Jimmy Webb, London Phase 4 44151
Plays Bacharach, London Phase 4 44158
Chacksfield Plays Rodgers & Hart, London Phase 4 SP 44223
The Glory That Was Gershwin, London Phase 4 44254
TV's Golden Hits, Compleat Records 671020-1
---
Search for Records and CDs
New CDs
Used Records and CDs


Search GEMM for old recordings by Frank Chacksfield.
---
S p a c e A g e P o p M u s i c
Home · Listener's Guide · The Songs · Who's Who · Liner Notes · Selected Tracks · What's New · Search
© spaceagepop 2015. All rights reserved.