---
Born 19 March 1912, Hamburg, Iowa
Died 10 October 1964, Miami, Florida
---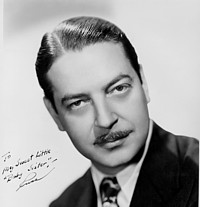 Largely self-taught as a composer and arranger, Case worked as a freelancer through most of the big band era. After World War II, he went to work for NBC radio and later moved into television. He wrote and conducted incidental music for scores of now-forgotten shows like Pulitzer Prize Playhouse.
He appeared live leading a studio orchestra on several short-lived variety shows, backing singer Julius LaRosa and country star Eddy Arnold. He served briefly as the director of pop music for RCA Victor, during which he arranged one of Perry Como's biggest hits, "Till the End of Time." At the time of his death, he was the arranger for "The Jackie Gleason Show," having arranged a number of Gleason's albums from the late 1950s and early 1960s. He also recorded instrumental albums under his own name, and his cover of "Doll Dance" was included on one of the recent compilations of space-age bachelor pad music.
---
Recordings
International Case, Vik LX-1064
Dances Wild, Vik LX-1085
Fiery Popular Dance Rhythms, Rondolette SA 162
Cleopatra (selections from the score), Hurrah Records H-1041
Russ Case features a showcase of Stephen Foster, Hurrah Records H-1056
Three of a kind romantic mood music (with Percy Faith, David Rose), Design DLP-901
---
Search for Records and CDs
New CDs
Used Records and CDs


Search GEMM for old recordings by Russ Case.
---
S p a c e A g e P o p M u s i c
Home · Listener's Guide · The Songs · Who's Who · Liner Notes · Selected Tracks · What's New · Search
© spaceagepop 2015. All rights reserved.