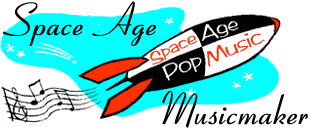 John Buzon
---
Organist whose trio recordings for Liberty can be found on a number of Capitol's "Ultra Lounge" CD compilations. Buzon abandoned the usual keyboard trio format, using a second lead instrument--the saxophone--instead of a bass. The result is an appealing blend of lounge and rock that swings and sizzles. Check out his version of "Mr. Ghost Goes to Town," from Inferno!, one of the top five cuts among the hundreds on the "Ultra Lounge" series.
---
Recordings
At the Band Box, Band Box LP 100
Inferno!, Liberty LST-7108
Cha Cha On The Rocks, Liberty LST-7124
---
Search for Records and CDs
New CDs
Used Records and CDs


Search GEMM for old recordings by John Buzon.
---
S p a c e A g e P o p M u s i c
Home · Listener's Guide · The Songs · Who's Who · Liner Notes · Selected Tracks · What's New · Search
© spaceagepop 2015. All rights reserved.